5 à 7: Montreal's top 11 happy hours
So, in Montreal, happy hour is a big deal. So big in fact, that it's officially at least two hours (they have to have it in French and English, you see), and is known as 5 à 7. The bars & restos here really get into it, throwing out offers that'll make all the fancy cocktails, five-star cuisine, and sexy social interactions both accessible and affordable to the common man for a couple of glorious turns of the clock each night. Here's a breakdown of the best bets in town…
Best for craft beer specials: Helm
Mile End
There's no argument: a buttery, peppery, malty craft brew is well worth an extra loonie/toonie. But despite Montreal's long list of microbreweries, you'll have trouble finding a pint under $7, no matter the time of day. That is, unless you visit the generous microbrasseurs at Helm -- all brews go for $5.25, like the St. Viateur stout or the hoppy Van Horn, affordable even on a PBR-level budget. Le Réservoir comes in at a close second, a Plateau mainstay with artisanal pilsners and weizens at $5.50 a pint and $3.50 a glass.
Best cocktails (you couldn't afford otherwise): Mechant Boeuf
Old Port
One of the most bar-filling 5 à 7s in the neighborhood, this happy hour heats up as the Old Port offices empty out. Each libation will cost you a mere $7.50, which is quite a deal considering the heavy pours and top-shelf materials including Grey Goose, Sapphire, and Patron.
Best for delish food specials: Cartel
Mile End
Serving fun, sharable plates inspired by the world's most awesome street foods, Cartel features recipes from Mexico, Chile, India, and Thailand. And if you drop by between Mon & Weds, the menu offers the best prices in the city, hands down. Load up on $2 tacos and $5 margaritas (Tues), $1 oysters with $5 Champagne (Weds), or 2-for-1 tropical cocktails (Mon) from 5 straight through 'til 11p.
Best to impress your OkCupid date: Le LAB
Plateau
Let's face facts, you're looking for potent drinks and low lighting. You know what this is. Le Lab's schtick is equal parts kitsch and class, with mixologist in silk vests muddling with laboratory precision. Get a load of the vaguely racy-sounding coquette Coeur de Femme (elderflower, Saint Raphaël red, Ardbeg whisky), and watch the 'tenders' signature flame-throwing and bottle twirling as they make it. Usually priced at $15 a pop, a highball of liquid courage will run you only $10 at happy hour.
Best to impress your Match.com date: En Cachette
Latin Quarter
You're probably going to marry this person, and eventually give them half your stuff, so why not start with some half-priced booze? Lauded for their spot-on Old Fashioned and crisp gin-cucumber, this speakeasy's heavy curtains and twinkling chandeliers make for an ideal tête-à-tête. With a happy hour that runs well past 7, you can sip two pints for $10 or $8 specialty cocktails until 10p any night of the week.
Best for hockey night: La Taverne Normand
Plateau East
On any other night, it's an innocuous neighborhood dive. On hockey night, La Taverne is an ice-based sports fan's promised land -- they have beer specials, a big screen, and each table picks a jersey number; if your player scores, Normand himself brings you free shots and high fives.
Best straight-up savings: Pub Cock n' Bull
Downtown
This English pub has all the trimmings: wood paneling, Guinness posters, buzzing neon, and mozzarella sticks (as are traditional). But it's their happy hour that shuts down all the competition. You can't do better than $3 pints and $16 double pitchers.
Best place that has a pinball machine: SUWU
Plateau
Follow the horn rims and skinny jeans to this unmarked bar at the corner of Prince Arthur and St. Laurent. An interior dressed in antique sofas and, yes, pinball machines, they're permanently rocking old school hip-hop, and their happy hour has better prices than any bar in its class (we're looking at you, Sparrow). Try the suggestive cocktail Big Booty Ho (it has cachaça & apricot brandy) or any beer or wine, all half-priced from 5 à 7.
Best for broke-ass college kids: L'Escalier
Latin Quarter
A maze of interconnected rooms, you'll find everyone from Guevara devotees to beat poets laughing and philosophizing on mismatched chairs and floor cushions, and you may well taste ramen in the air, but that's not what you're getting -- the kitchen serves delicious vegetarian nachos ($5.25), hummus ($2.50), and végé pâté sandwiches ($6.95) with super-cheap brews ($14 Boréale pitchers) at happy hour and beyond.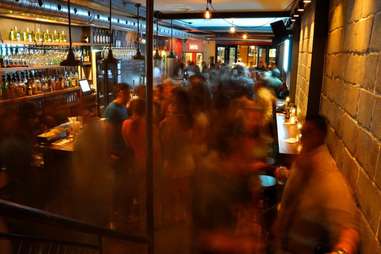 Best all-round-er: Le Pourvoyeur
Jean Talon
Welcoming and unassuming, this pub gourmand has a lively, diverse crowd, with genuinely good bar food and solid happy hour deals -- you can grab a pint of St. Ambroise for $5.50 or shot of Jameson for $2.50, and admire the large range on tap that you now may well be willing to pay full price for.