There are some things that Montreal just does better than anywhere else, and it seems that opening new bars is one of them, because over the past year they've been popping up faster than chanterelles after a Quebec rainstorm -- but not all drinkeries are created equal, so we tracked down only the 11 best to open in 2014...
La Petite-Patrie
With its beautiful décor almost entirely handmade by the six owners, a constantly changing selection of the best and rarest microbrews in Quebec, and some of the more impressive food we have tasted in a Montreal brasserie, it's no wonder that Isle de Garde draws a crowd from across the neighbourhood -- and beyond. You can come by any day to sample the house English Brown Ale or the home-smoked pork, or visit on a Wednesday or Friday to taste a beer from a freshly opened cask.
Notre-Dame-de-Grâce
Montreal is known as one of the mixology centers of the world, but newcomer Le Slang has already distinguished itself from the rest with an impressive menu and even more jaw-dropping drinks. From Monday to Saturday, head bartender Brynley Leach concocts incredible cocktails that challenge our taste buds and imagination, from Basil Sesame Caesar to an exceptional Old Fashioned. Take the rum and Cokes elsewhere.
Plateau
Tucked away on the second floor of a non-descript building on Ave Mont Royal is the freshly minted Fitzroy. With a great look that treads the line between industrial décor and island-chic, Fitzroy offers a beautiful view of the city, pool tables, big-screen TVs for watching the Habs, and two fully stocked bars for those looking for a classy, but laid-back afternoon.
Gay Village
Tucked on a slowly gentrifying corner of Rue Ontario Est with only a simple sign bearing its name, Grenade does not look like much from the street. But step inside and you will find a beautifully modern spot, w/ mood lighting, and a stunning heated terrace that looks like it was transplanted from a spectacular Thai resort. The place is packed full on weekend nights, so come early if you want a spot to sip on creative cocktails or taste some Asian-inspired street food.
Downtown
There is no shortage of izakayas in Montreal, so any new Japanese bar opening in Montreal better stand out. Well, Biiru did just that this year with terrific food, a selection of Japanese beer, and an inviting, welcoming atmosphere. In a crowded scene where people go to izakayas to make an appearance, the quality and service at Biiru are outstanding.
Mile End
Done up in copper and wood with an upscale steampunk feel, Brasserie Lorbeer is the younger, more approachable sister of Laurea restaurant. Try a signature beer-infused cocktail, fried chicken with smoked gravy, or a beer degustation sampler for some of the specialty beers Lorbeer has teamed up with local West Shefford Brewery to produce.
Mile End
Anabel Bar et Vin is where you go for a truly excellent glass of wine or cocktail, paired with a bite of food that actually is as good as it looks. This elegant bar became a best-of contender for the easy class, the $1 oyster nights on Thursdays, and fantastic menu which Chef Jose Mariano Crespo has put together.
 
Chinatown
With its shiny, neon-green pineapple logo, an unusual location in Montreal's Chinatown, and some of the more tropical cocktails we've seen outside the Caribbean Islands, Le Mal Nécessaire is certainly making itself known. Then again, you pretty much have to if you're going to make a Tiki bar succeed in the middle of a Canadian winter. Whether you go for a drink served in a coconut or a regular glass, it's hard to go wrong with anything on offer at this unique joint.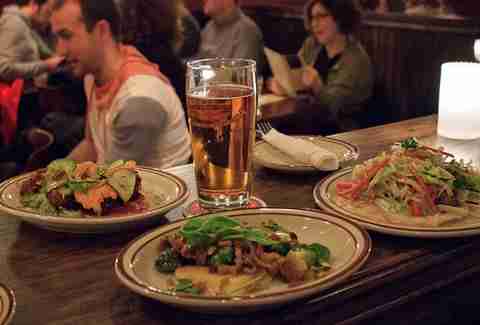 Mile End
Bishop and Bagg makes the list for being an authentic, traditional British pub in the heart of St. Laurent. The beer here is great (including the house Burgundy Lion Ale) as are select wines, traditional whiskeys, and gin. Though they adamantly resist being called a gastropub, Bishop and Bagg also serves great, eclectic food, including homemade pickles, spiced nuts, and whole, 90lb pigs taken apart right there in the basement.
Old Montreal
When the popular Toronto cocktail lounge SpiritHouse decided to open a Montreal outpost, I imagine quite a few voices rose in cheer. Led by a mission to make the after-work martini de rigueur once again, the just-opened Montreal SpiritHouse is already making a splash as a classy 5-to-7 hangout. Here you will find seasonally changing cocktails, a focus on Negronis and pre-Prohibition classics, alongside well-made margaritas and an impressive selection of hard liquor.
Gay Village
You wouldn't think that you'd need a Canadian-themed bar in the heart of the country, but according to the founders of Moose Bawr, you'd be wrong. This is a fun place to share a pitcher of sangria, grab a pimped-out hot dog, watch the game, or just laugh at the cheeky puns on the sign posted outside. And you don't even have to be Canadian to get in.