So it turns out the language wasn't the only tongue-pleasing thing the French bought with them to Montreal -- they also brought a ton of wine, and left the city with a love of boozy grape juice. These are the 11 best spots living up to that legacy...
Downtown
"Grand" is one of the best terms to describe Pullman. Located close to Place des Arts, it boasts three full floors and a 150-person capacity, a decadent menu of tapas-style shareable plates, and, most importantly, a wine list with over 450 wines to enjoy. What really drives the point home, though, is the giant wine-glass chandelier hanging in the wine bar.
Old Port
Unlike most other spots in the Old Montreal area, Philémon exudes a distinct hipster vibe, started by the fact that there's almost no sign outside the bar (you need to head down a short alley to get to the entrance) and made complete by an in-house DJ spinning the latest tracks throughout the night. It boasts a solid wine list that covers a variety of regions, many of which can be enjoyed by the glass, and there are cocktails too, just in case.
Mile End
When translated, "buvette" means tavern, and Buvette Chez Simon is definitely inspired by the traditional tavern layout, with a bit of a dining hall feel thrown in. Serving a selection of tapas-style plates inspired by French cuisine within a cozy atmosphere, along with a variety of cocktails, beers, and (naturally) dozens of wines by the bottle, Buvette Chez Simon is an all-around great bistro that can also be considered one of Montreal's better wine bars.
Little Burgundy
A sister-establishment to Joe Beef and Liverpool House, Le Vin Papillon shares one feature with its sibling restaurants that makes it an amazing wine bar: high quality everything. Focusing on organic Old World wines (originating from unusual places like Croatia and Hungary), all of which are private imports, Le Vin Papillon's selection is something to behold, and largely unparalleled in Montreal.
The Plateau
A new addition to the Montreal wine bar-scene, Rouge Gorge opened its doors this past March in the Plateau, and has received a lot of positive reception. Despite having a smaller wine list than most other Montreal establishments that have been open longer, you can still find plenty of quality vinos to enjoy at Rouge Gorge. A bit more suited to the Plateau way of life, Rouge Gorge is open 'til 3am, much later than most wine bars, and has a really great patio space.
Old Montreal
Formerly Le Piano Rouge, Mimi La Nuit is a relatively new Old Montreal speakeasy-of-sorts, where you can enjoy a great cocktail or a good glass of wine. You won't be taken aback by the amount of wines available at Mimi La Nuit, though that can definitely be a blessing in disguise when you're not exactly a wine aficionado, and besides, all of those on Mimi La Nuit's wine list are of high quality. Pair whatever you choose with some of Mimi La Nuit's food offerings, which range from simple and comforting to refined and sophisticated, and you're in for a great night of good drinks, good food, and cool vibes.
Little Italy
Exclusively serving natural wines, so those made with little to no technological or chemical intervention during the wine-making process, Pastaga is a Little Italy wine bar that has been wowing clients since 2012. Just as much a restaurant as it is a wine bar, Pastaga prepares small-plate cuisines crafted by expert chefs, with each and every dish simply begging to be paired with a full wine glass. Don't worry if you have no clue what type of food goes with what kind of wine, as the staff at Pastaga are incredibly knowledgeable. No doubt your server will be able to give you the perfect wine pairing to whatever edible delicacy you're going to enjoy.
Mile End
What sets Le Comptoir apart from most other wine bars is its almost confusing inexpensiveness. Why confusing? Well, for the amount of high-quality food (the wine bar is also a charcuterie, with a variety of meats made in-house) and wines available, you'll be wondering how Le Comptoir rakes in a profit. Don't get too caught up in their business model, though, and just enjoy the curated wine list focusing on smaller vineyards, with most options offered by the glass, and the expertly made meats available at Le Compotoir. Your wallet will thank you later.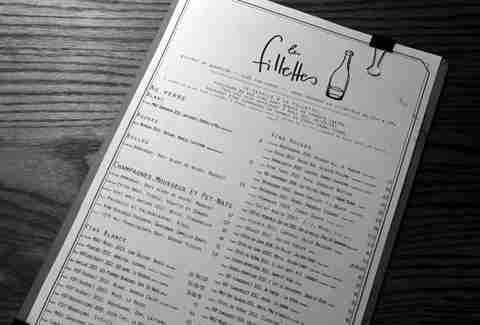 Outremont
Outremont lost one of its iconic culinary staples when Paris Beurre closed last year, but residents of the neighborhood couldn't stay sad too long, as Les Filettes quickly came in to replace the old eatery. The name itself points to Les Filettes' strong focus on wine, with a "filette" being a term used for 370ml bottles of wine. Managed by the same sommelier of Paris Buerre, Les Filettes features a fairly short wine list that is constantly being updated, along with a food menu that features lighter dishes of fish and vegetables. One can't help but also mention the spacious outdoor terrace of Les Filettes, a prime spot to soak up some sun with a glass of wine in the summertime.
Old Montreal
From the wine list to the food to the decor, Accords is possibly the ideal wine bar in Montreal. Located underground, with stone walls and all, Accords makes you feel like you're dining in a giant wine cellar, and equipped with one of the largest natural wine selections in the entire country, that isn't far from reality. Indulge in a great glass of wine while nibbling on Accords ever-changing seasonal menu, with everything from the bread to the desserts made in-house, and you'll have a quality Montreal wine bar experience, guaranteed.
 
Little Italy
Newly opened, you should keep Goût4U on your wine-loving radar, even though the wine bar is so fresh on the scene the joint doesn't even have a liquor license yet. Once it does, however, Goût4U promises to be a "taste laboratory" where Italian wines and foods will be joined together in unparalleled ways. Some of this hype may just be very good marketing, but no one can resist the urge of high-quality and creatively prepared Italian wine and food pairings, so keep your eyes peeled for when Goût4U can start pouring out the red and white.
Sign up here for our daily Montreal email and be the first to get all the food/drink/fun in the City of Saints.