Montreal has plenty to offer the wine connoisseur, the craft beer lover, and the mixology enthusiast, but sometimes you don't want all the frills, like those fancy working toilets, and non-neon lights. Sometimes you just want a dive bar. And thankfully there are plenty to choose from in the city, each with its own unique appeal...
The Plateau
Enjoying the great outdoors -- or drinking on a terrasse as it's done in Montreal -- is a crucial aspect to the summer season. For all those who don't like an overcrowded outdoor space or enjoy terrasses devoid of all class and social airs, then La Petite Idée Fixe is the dive for you. Grab an incredibly affordable 40oz bottle of Labatt 50, a few friends, and enjoy some pleasant day-drinking at this terrasse-boasting dive. And in the wintertime?There's pool!
Best for surprisingly good pub food: Madhatter
Downtown
Eating at a dive bar isn't usually the most pleasant of experience. But at Madhatter, surprisingly, it is. Why "surprisingly"? Well, Mad Hatter doesn't exactly have the ambiance of a fine-dining institution (and is barely on par with even the greasiest of greasy spoons). Just know any time you're ordering that the food is quite delicious, especially the Elvis burger, an original creation that combines a ground beef patty, bacon, cheddar, onion rings, and peanut butter into one delectable heart-stopper.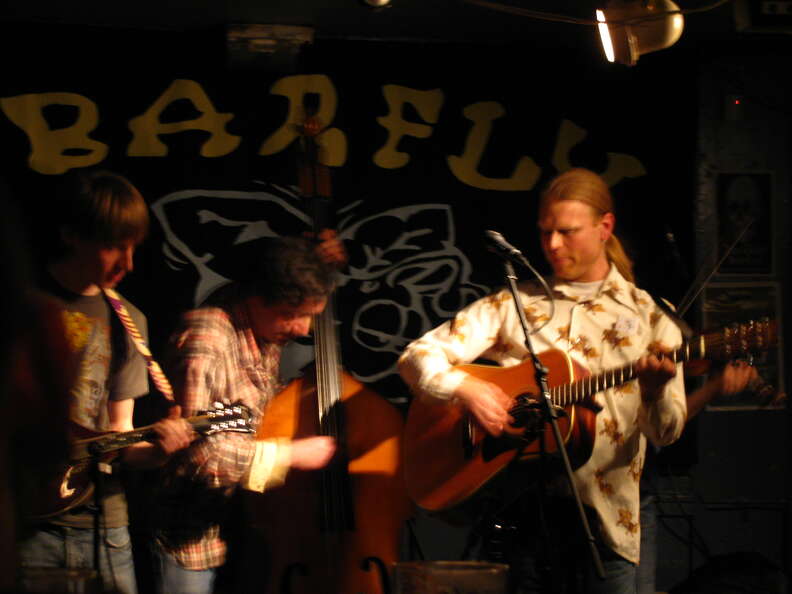 Best for listening to live Bluegrass: Barfly
The Plateau
Dim and dirty in the very best way, Barfly is always booming quality tunes (a different band plays almost every night) and pitchers of beer scatter the tables. If you're looking for the best night to check out the place, try ending the weekend off right and head to the bar's weekly Sunday bluegrass jam.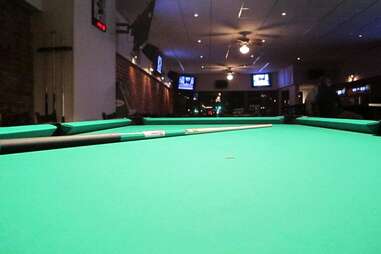 The Plateau
St-Denis St, where you can find Brasserie Cherrier (the bar gets its name from the nearby intersecting road "Cherrier") is a pretty busy avenue, especially on the weekends. You can find inebriated folks of every sort walking up and down the bar-and-restaurant-packed street, and Brasserie Cherrier's small terrasse gives you the perfect vantage point to gaze upon the beautiful, chaotic sloppiness. Much like any decent dive bar, Brasserie Cherrier also boasts cheap beer, decent music, and pool tables, but nothing beats the fun of talking smack with friends about passing bros while sipping on a pint.

Mile End
Yup, you guessed it, Snack 'n Blues is a dive bar devoted to blues music and the art of snacking. Never too full, you can head to Snack 'n Blues almost any night and grab a seat, listen to some quality vinyls being spun, and eat from some of the many snack bowls to be found littered around the bar. Keep in mind, though, that if you look even a little bit on the young side, the bar staff may get on your case to buy a drink, as apparently they hate youthful mooches who only come to enjoy the free snacks. Be warned.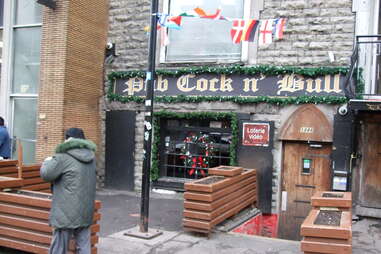 Downtown
Concordia students flock to Cock n' Bull for two very simple reasons: it's close to campus and the beer is as cheap as it gets. While you may not be able to go to class, get silly, then go to class, you can still partake in the $20 4-litre pitchers of beer doled out by Cock n' Bull. You can also look forward to plenty of live shows, with some sort of musical entertainment playing almost every night, but it's the quaint divey charm and cheap beer that'll keep you coming back.
Saint-Henri
Hipsters pride themselves on dressing like they aren't trying at all, and dive bars actually aren't trying at all, so the two seem to make sense together. That's basically what's going on at Bar de Courcelle, a hip remaking of the old Saint-Henri dive. You'll still find simple and rustic décor, along with a decent selection of beer, but unlike most dives, Bar de Courcelle also offers a selection of pretty cool cocktails and higher-class eats like a charcuterie platter.

Best for enjoying mass amounts of insanely salty popcorn: Bifteck
The Plateau
Right on the main strip of Saint-Laurent, Bifteck is a needed respite among the many clubs and dancy bars found in the area, as the place is outfitted solely with tables where you can actually have a conversation. Offering all patrons very solid deals on drinks, it easily makes its money back through one incredibly clever business method: oversalted but entirely free popcorn. No one can resist the allure of free popcorn, and the amount of sodium on those pleasant white puffs only makes you thirstier, and so you drink even more beer, and receive even more popcorn. It's a beautiful cycle.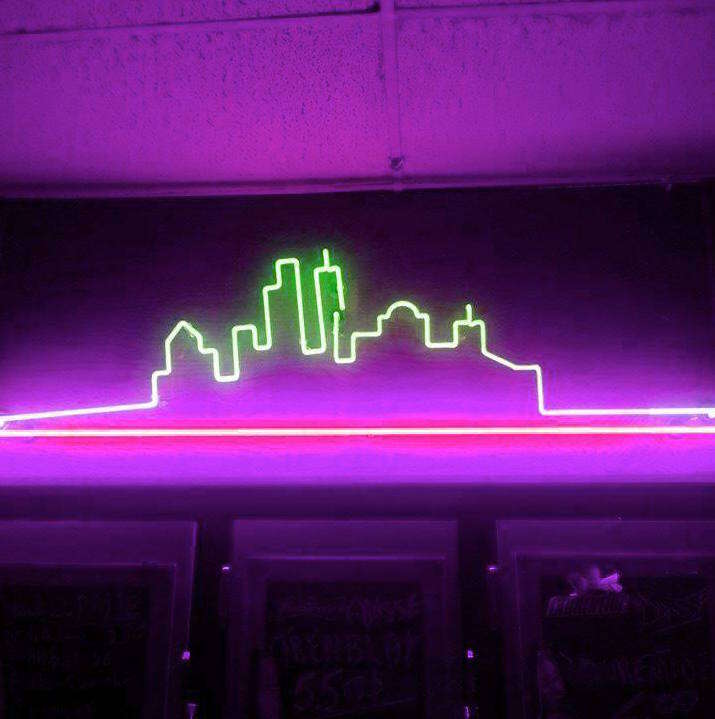 Rosemont
Simple and old school, Brasserie Beaubien isn't anything spectacular, which is what makes it such a quality dive bar. The bar does, however, play venue to a variety of shows, including musical performances by bands from POP Montreal. If you don't happen to head to the bar during POP, rest easy, because you'll still get the grungy vibe and cheap beer.

Best dive to see any kind of sports event on several screens: Champs
The Plateau
Major sporting events can mean not finding a spot in almost any bar, especially when it's hockey season in Montreal. Or, if you're into less-popular sports, you might not find a bar that's actually screening the game at all. Enter Champs: the dive bar solution to both problems. Despite having tons of television screens suspended on every wall, Champs is rarely packed to capacity, meaning you'll always find a seat. Plus, the bartenders are usually willing to change the channel (the place has satellite) to whatever network you'd like to see.
Best dive when you want to get carded and feel young: Maz Bar
Notre-Dame-de-Grâce
Serving beer for longer than almost anyone can remember, Maz has been a staple dive bar of NDG for years upon years. Originally called "Ma's," named after the owner Ma Heller, the bar changed its name in an effort to seem trendy, though any appeal has long since been lost. Don't take that as an insult towards the bar though, because the quiet, grungy atmosphere (pool table and air hockey included) is a relaxing break from the other watering holes to be found in NDG. Make sure to bring your ID if you look even a little young though, as you will get carded.

Best to hear some metal-guitar shredding: Crobar
Downtown
Don't bother heading anywhere else on Crescent St if you want to hear some live tunes, because even though Crobar may not look (or smell) like the prettiest of venues, it definitely attracts some fairly talented rockers. Expect to hear tunes more on the head-bangers side of the musical spectrum; Crobar's stage is open to practically any kind of tunesmith, making for some pretty fantastic jam sessions.
Sign up here for our daily Montreal email and be the first to get all the food/drink/fun in the City of Saints.
Michael D'Alimonte is a Montreal writer who will never, ever, ever get tired of neon and cheap beer. Follow him on Twitter for proof.