There's a fine line between pride and regret, and a Bad Decision Bar is the place where that line is crossed, drowned in gold tequila, danced on, and finally told it looks sexy by some bros wearing Ed Hardy tees. Montreal has at least 10 of them, and here they are:
Chez Serge
Mile End
Synonym for bad decision: mechanical bull. Always seems like a good idea, but you don't look nearly as sexy doing it as the blonde chick on right before you who had a vague sense of balance and self-awareness. 
Bar Waverly
Mile End
This bar used to be a brothel. Not... that... long... ago. 
Pub Cock n' Bull
Downtown
Who goes to a place called the Cock n' Bull to make good decisions? Not you. Not these people. Get your drunk on in this dive of an Irish pub that serves cheap beer, Chinese food, and defends the rights of babies.
Madhatter Pub
Peter-McGill
You really only need to look at this bar's logo to know that this place is a great idea, but you probably won't come to that conclusion until you've reached the bottom of $20 worth of their $1 beer specials. Or, actually more like $11.
La Distillerie
Multiple locations
With drinks the size of fish bowls, you were dead before your ship ever sank into this fine establishment.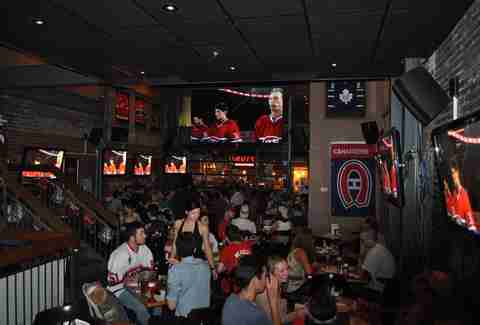 Peel Pub
Downtown
You'll come away knowing that they stock banana-flavored condoms in their bathroom, and desperately wishing you hadn't found out the way you did.
Le Belmont
Jeanne-Mance
Any place where you can get hammered and then do a karaoke rendition of "Bombs Over Baghdad" to the tune of "My Way" in front of a cheering crowd is a pretty solid option, surely?
Korova Bar
Jeanne-Mance
The old 7-Up machine is converted into a Pabst Blue Ribbon dispenser, and next to it, there's a random color photo booth to help eternally record any horrific embarrassment it may unleash.
Abreuvoir
Latin Quarter
Another day, another drink deal, another morning reeking of hair spray, regret, and God knows what else.
Royal Phoenix
Mile End
Among the many lethal combos you'll find at this place, there's: beer + shot deals (beer before liquor, so, it's totally cool) and unisex bathrooms. Wait, "u 'n i sex"? That's an amazing pun pick-up line! I'm gonna go try it with that feisty looking bar lady!