Montreal's 8 best (mostly) hidden bars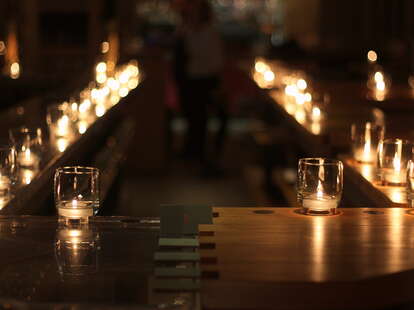 Katherine Sehl
Katherine Sehl
We all know that the Montreal drinking & dining scene has some great hidden gems, but not everyone knows that some of them are literally hidden. Well, there are, and they're great -- so here are the best hush-hush, speakeasy-style watering holes in the city...
Big in Japan Bar
The Main
It may be big in Japan, but it stays on the lowdown in Montreal. Even if you know the address to this place it's easy to walk right by its unmarked, nondescript grey door. Despite this, the place is packed to the hilt on any given night with extremely good-looking people sipping on old-fashioned cocktails, ultimately making it Montreal's best worst-kept secret (except for that thing about the mayor. You know the one.).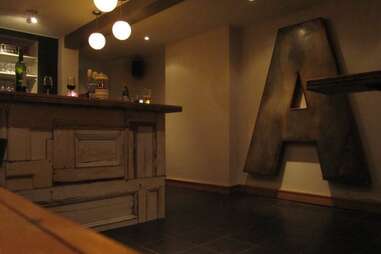 Le A Bar
Plateau
If, like most Montrealers, you frequent Romados or Café Neve, you've probably walked past A Bar on numerous occasions without even noticing it's there. If you have noticed it, you probably assumed the tiny bar -- hiding in behind its modest terrasse -- was the home of some really awesome person who hosts parties every night and has really good taste in lighting. Go for the cheap wine, stay because of the cheap shooters.
Le Saint-Elisabeth
The Village
You wouldn't expect to find a traditional pub down a random seedy street in Montreal's village, and that's partially why Le Saint-Elizabeth feels like an insider's secret. The other reason? Stowed away towards the bar's rear is one of best patios in the city, a true urban oasis complete with illuminated, vine-crawling firewalls.
Bar La Remise
Plateau
Qualifying more as a hidden gem than a literally hidden spot, even those who notice the sign in its out-of-the-way Plateau locale might not go, but that would be a mistake -- La Remise is the neighborhood hole-in-the-wall to end all neighborhood hole-in-the-walls, and it boasts the biggest and best karaoke selection in the city, with a regular crowd that absolutely rocks it each weekend.
Alexandraplatz
Mile-Ex
Definitely feels like you're on the wrong side of the tracks when you're out looking to score a late-night libation at Alexandraplatz in the industrial area of Mile-Ex. Converted from a run-down garage to an amazing German-style beer garden, Alexandraplatz is rumored to be the spot Jay-Z & Beyoncé kick back at when they're in town. Look for an unmarked door on the street with the street numbers 6731 on it.
Labo Culinaireat theSAT
Latin Quarter
Since the SAT's part dance club on the main level, part techno culture center, and has a pseudo kitchen lab restaurant upstairs, it's easy to forget that it also boasts a pretty fine bar with a ridiculously awesome rooftop terrasse. Skip the extensive wine list for one of their wacky, yet sophisticated cocktail concoctions.
5295 / Le Bar Sans Nom
Parc-Ex
This bar flies so under the radar that it doesn't even really have a name. Some call it after its street address, while others call it "the bar with no name", because they're extremely literal. But don't mistake this for a no-name-brand quality experience. Think plush leather couches, strong cocktails, and rich mahogany.
Wings 'N Things
Notre-Dame-de-Grâce
There're a few reasons Wings 'N Things is hard to find. First of all, it's in the middle of Timbuk-nowhere, Montreal. Secondly, not only is there no obvious Wings 'N Things sign to draw you in -- the bar's actually in a by-day Japanese restaurant. And thirdly, it's not immediately obvious that this is not a franchise of the US chain, but a wholly independent operation reopening after a 23-year absence.