Seeing as Tim Hortons exists, it almost seems strange to some people's ears to hear that there are other coffee shops in Montreal... and that they're better. Well, it's true, and we've rounded up the city's finest examples. Here's where to go for your joe:
With great attention to detail, only the best in single-origin coffee, and an atmosphere that just encourages you to put your coolest self forward, Le Couteau embodies the best in today's third-wave coffee culture. Come here for a long work session or the best cup of espresso on St. Denis.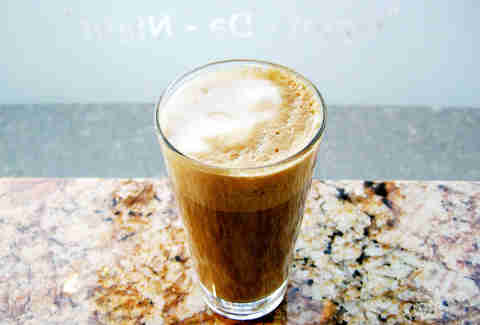 Having opened in 1970, Café Olimpico is not exactly a craft coffee shop -- there are no fancy labels, well-researched provenance, or flavoured syrups to be found here. However, the simple quality and fun, lively atmosphere ensure that a steady stream of the city's coolest people sip iced coffee on Café Olimpico's terrace in the summer or pull up a chair in front of a soccer game in the winter.
The granddaddy of third-wave coffee in Montreal and founder of Café Myriade, Anthony Benda has completely reinvented craft coffee in the city. There are now three locations to choose from, but we prefer the original cramped little coffee front on Rue Mackay. And if you're hungry, there's a variety of viennoiseries and croissants to go along with your delicious cappuccino (or in the summer, the best iced mocha in the city).
The first coffee shop in Montreal to serve your coffee like a beer: foamy, cold, and available on tap year-round. And it can even be mixed into cocktails. Though nitro coffee may be Paquebot's claim to fame, it definitely isn't the only thing worth trying at this cute little coffee bar in La Petite-Patrie. So if you've always wanted to drink your coffee like your Guinness, or you're just looking for something a bit off the beaten path, give this newcomer a shot.
Café Névé is truly one of the chilliest coffee shops around. You'll find a communal working space, delicious food, and people constantly streaming in and out of this Plateau mainstay.
Another cute café in the Plateau, La Petite Cuillère wins us over with its mismatched furniture, old-fashioned tea cups and saucers, and coffee-with-friends kind of vibe.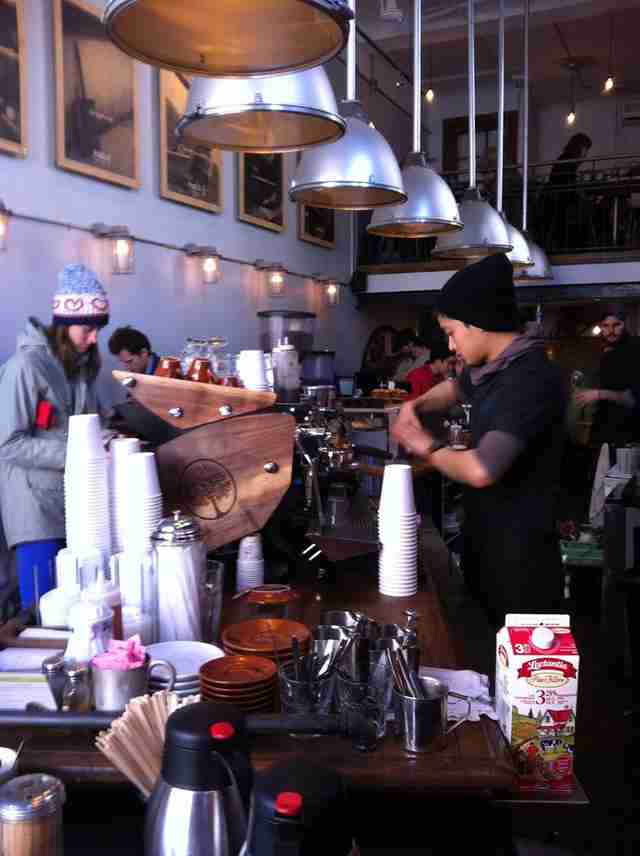 Pikolo Espresso Bar has become known throughout Montreal as a place of coffee excellence. This high-end café only serves single-origin coffee, with each bag offering a truly unique taste. Everything else on offer is either homemade or locally produced -- and the results are pretty spectacular.
A bustling coffee shop in the heart of the Plateau, Café Plume is a surefire bet for a working lunch and for a catch-up meeting with friends. Local art adorns the walls, setting a pleasant atmosphere that is only matched by the warmth of the excellent lattes.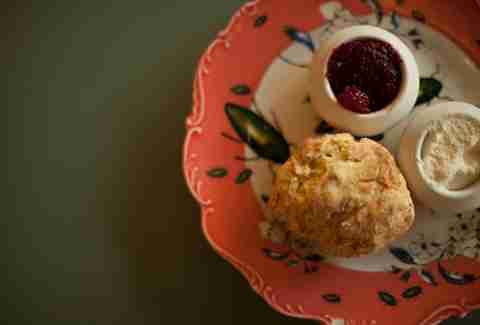 No matter what time of day you go there, Arts Café is always filled with people -- the mark of a truly great coffee shop. Although it's not limited to just coffee (there are shows, live music, and more), Arts Café delivers on the promise its name holds, serving up one artistic cup of java after another.
This Mile End spot is a beautifully designed space that evokes serenity and gives you the push you need to engage in productive bursts of creative work. The latte here is unlike anything you've ever experienced, and the Japanese siphon-made coffee is a work of art.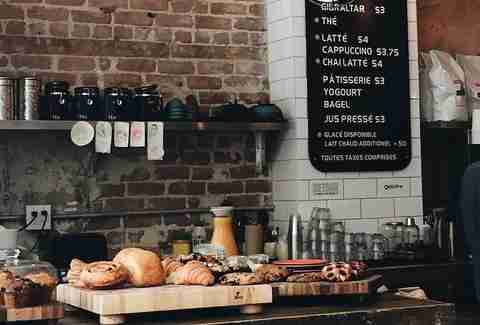 A neat little coffee shop with a selection of baked goods, freshly squeezed juice, and excellent brews -- what more could you ask for from your neighbourhood craft coffee shop?
With stark white walls, beautiful blond wood tables, and a selection of unique, mouth-watering toasts, Buck 15 is much more than an espresso bar. It's become a well-attended breakfast spot where coffee connoisseurs hobnob with working moms and Atwater Market shoppers. And what's more, it's completely delicious.
Sign up here for our daily Montreal email and be the first to get all the food/drink/fun in the City of Saints.
Ksenia Prints is a Montreal-based freelance writer, photographer, and chef. Follow her delicious goings-on At The Immigrant's Table.