It's a well-known fact that Montreal has a killer cocktail scene. So much so, in fact, that Canada's premier mixology competition, MADE WITH LOVE (MWL), started right here in 2009 as a way of showcasing the craft of the coolest people in the city -- its bartenders, obviously. Since then, MWL grew to include eight Canadian cities and two destinations in Mexico, and an American expansion is rumoured to be in the works. Meanwhile, the city's best bartenders got their big breaks competing in it. Here's who you need to know.
<em>Mile End</em><br />
Sabrina Mailhot is a mixologist set on breaking the industry's glass ceiling. Known as a hospitable and highly respected bartender, Mailhot works hard to make the industry a true community where bartenders support each other at work and events. Warm and fuzzy feelings aside, Mailhot is also happy to shake people's perceptions of what British cocktails taste like at the bar of Bishop &amp; Bagg.
<em>Plateau</em><br />
One of Montreal's undisputed mixology giants is Fabien Maillard, the founder, owner, and master mixologist at <a href="http://barlelab.com/&quot; target="_blank">Le Lab</a> comptoir à cocktails. Maillard was one of the earliest participants of MWL, later taking a backstage seat later and allowing his "labtenders" to have the spotlight. MWL helped Le Lab achieve worldwide fame, making Maillard a household name for Canadians who give a damn about cocktails. With more than 15 years of experience behind the bar, Maillard is now content to rest on his laurels and let his bartenders and restaurant shine, but his skills and reputation remain unparalleled.
<em>Ahuntsic-Cartierville</em><br />
Jonathan Elbaz, the bartender at Le 132 Bar Vintage, was well known <em>before</em> he won People's Choice at MWL 2014, but there's no doubt that the title took him and his bar on rue Fleury Ouest to the next level. Now, Elbaz is mentioned in the same breath as the best for his refreshing cocktails and use of natural ingredients.
<em>Downtown</em><br />
Though she's worked in restaurants since the age of 14, Rachel Osborne is not content limiting herself to just being a bartender. A tattoo artist and painter, she is described as a true rockstar, versatile and disciplined. Her extravagant flare, grunge style, and work ethic truly make her stand out in the largely male-dominated space of craft cocktails.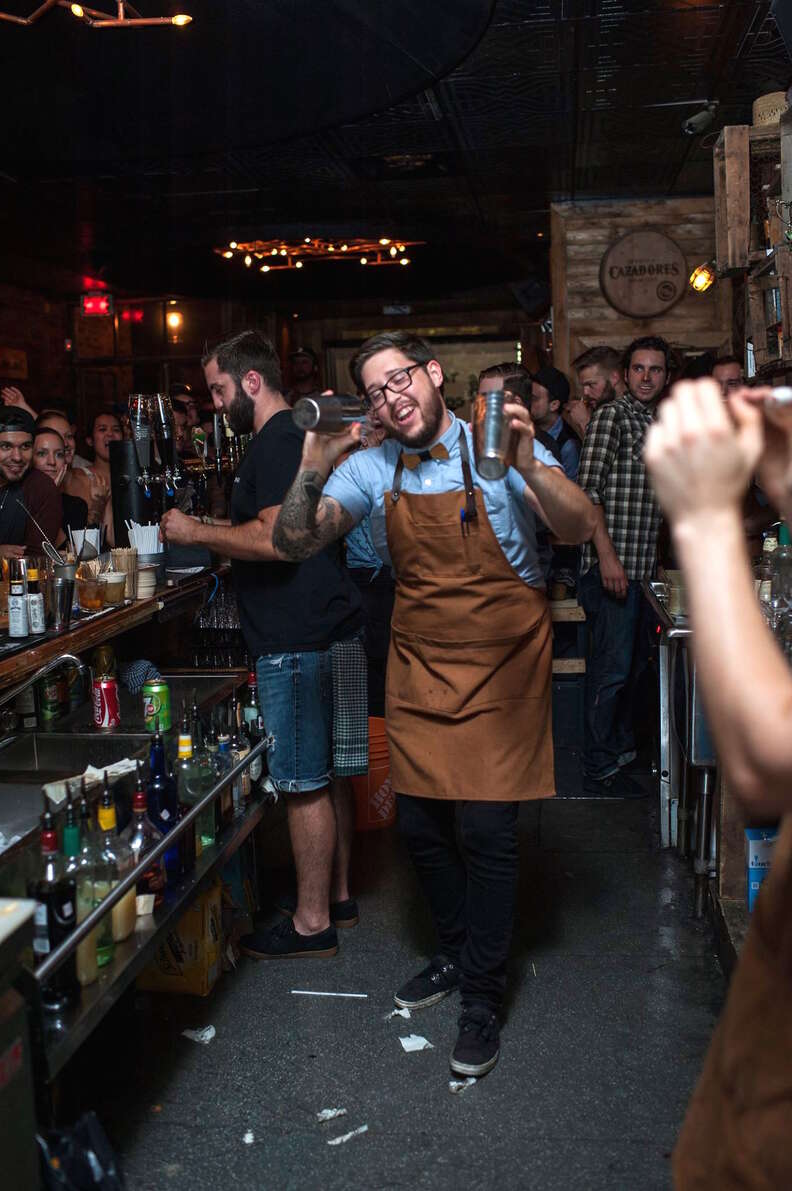 <em>Chinatown</em><br />
Pierre-Hughes Marois is a member of the newest generation of Montreal bartenders, indelibly leaving his mark with his outgoing and friendly attitude along with his drinks. After helping cement Taverne Midway's reputation as a leading cocktail bar in the city, Marois moved on to showcase Montreal at worldwide events and international mixology competitions.
<em>Le Petite-Patrie</em><br />
The 2013 MWL Judges' Choice winner, Pierre Gadouas turned heads again when he won People's Choice in 2015 by a very large margin with his cucumber, chamomile, and Hendrick's-based concoction (<a href="https://www.facebook.com/enjoymadewithlove/photos/a.1196238097058571.10…; target="_blank">just LOOK at it</a>). Though ArtGang MTL defines itself as an art gallery rather than a true bar, Gadouas can be caught slinging his impressive, unique drinks at its many special events and openings.
<em>Gay Village</em><br />
The winner of Judges' Choice in 2015 for his Asian-inspired Stockton Sour, Tom Albani has managed to make quite a name for himself in the short time he's been on the bartending circuit. Albani stands out for his ability to balance a cocktail by finding the perfect ratio between alcohol, bitters, sugar, and dilution. Even in Montreal's demanding cocktail scene, this is considered a culinary gift -- and that's before we even talk of Albani's garnishes.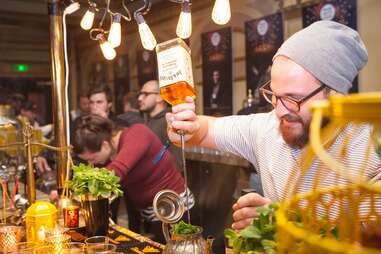 Jonathan Homier
Brand ambassador, Jack Daniels
Formerly of Bartender 1, a mixology school that has since closed down, Jonathan Homier arrived to claim second place in 2014 -- and moved on to land one of the best brand ambassador jobs in the world of spirits. He credits his stint on Montreal's cocktail stage for helping him claim international attention with his intense decorations and drink presentations.
Romain Cavalier
CIRKA Distilleries (address and info)
Côte Saint-Paul
The former bartender at Henri Saint-Henri now has one of the top jobs in the Montreal spirits market as the head bartender at CIRKA Distilleries. Cavalier won Judges' Choice in 2014 with his forest-inspired Pineau des Charentes cocktail, which helped propel him to the top of the city's mixology food chain -- and onto the radars of Jack Daniels. Cavalier credits MWL with his big break, and this city with feeding him constant inspiration for his roster of unusual drinks.
<em>Downtown</em><br />
Another veteran of the early days of MWL, Brynley Leach has been a contender, a judge, and a guest at the competition as it's grown throughout the years. His current day job is heading the bar at Jellyfish, one of Montreal's hottest new restaurants, where he pours his smoke-infused and bacon-spiked creations.<br />
<br />
<em><a class="vortex-open" data-campaign="5339" href="https://signup.thrillist.com/&quot; target="_blank">Sign up here</a> for our daily Montreal email and be the first to get all the food/drink/fun in the City of Saints.</em>