In 2016, good bars proved themselves as more-than-necessary aids for coping with what often seemed like a bad episode of Law and Order: SVU. Montreal's top bartenders became our magical healers, doling out carefully measured elixirs in beautifully garnished glasses, designed to ease our worries away and transport us into a world of ever-flowing liquor. Montreal's best bartenders of the year make a mean drink, have a flare for the dramatic, and an eye for the unique; without further ado, here they are.
Kate Boushel
St. Henri
Located in the back alley behind Foiegwa, the Atwater Cocktail Bar has a well-developed sense of humour rivalled by its cool. The hottest newcomer to Montreal's cocktail scene, this place has quickly garnered an intense following justified by its friendly bartenders, one of which is the inventive Kate Boushel, fun atmosphere, and quirky drinks. We recommend the Dame Nature, a herbaceous and citrusy drink with fennel, green grapes, thyme and aquavit.
Jen Agg
Gay Village
Though Jen Agg is not the bartender at Agrikol per se, it's impossible to talk about this Haitian eatery and bar hotspot without acknowledging the intense contributions of Agg's masterminding. After completely changing Toronto's cocktail scene at The Black Hoof and Rhum Corner and moving to Montreal, Jen Agg joined forces with her husband Roland Jean, and Arcade Fire's Win Butler and Régine Chassagne to open the city's first trendsetting Caribbean bar. Expect a lot of rum, great music, and bright, bold flavours.
Philippe Letellier
Ahuntsic-Cartierville
You may not want to trek all the way to Ahuntsic just for a drink. But the creations of Philippe Letellier and the rest of the team at 132 Bar Vintage, which build on lesser-known but up-and-coming spirits like mezcal, aquavit, and pisco with homemade syrups and unusual flavour combinations, make it all seem worthwhile. Add to that dark decor replete with a taxidermied boar head, a fun but discerning crowd, and great music, and you have all the makings of a great night out.
Michael Rizk
Chinatown
When Le Mal Necessaire initially opened, some wagging tongues went off about the fit of a shiny neon pineapple in the heart of Chinatown. But in the years since, Le Mal Nécessaire became a mecca for a more risk-taking, fun-loving crowd in this strip of dumpling soup and hand-pulled noodle shops, thanks to Michael Rizk and his team. With a 1960s tiki theme and drinks that are more of a revelation than a mere concoction, served in single glasses or by the pitcher, Le Mal Nécessaire is blazing a trail through the city with its adventurous attitude.
Dominic Pomrenski
Gay Village
With the look of a Vietnamese street food shop, a medley of bumping beats, and colours that could produce an epileptic seizure even in the most stoic of bar goers, Le Red Tiger is loud, proud, and brash. The drinks demonstrate that it doesn't have to be hard to balance many competing flavours in one glass. Pair a cold drink with a complementing warm, spicy noodle bowl, and you'll understand why Dominic Pomrenski, leading the bar menu, deserves a place of honour on this list.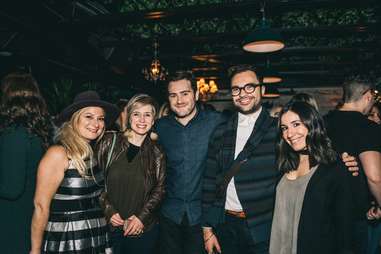 Lawrence Picard
Downtown
Mixed drinks in pitchers have a bad rap as watered down punch at garden parties, or disgusting, sugary Mai Tai concoctions that leave one with a killer hangover and a vague recollection of where their underwear went. But at the industrial-jungle-chic inspired Kampai Garden, bartender Lawrence Picard is reinventing the batched pitcher cocktail like you've never seen it before: bold, daring, and perfectly balanced.
Valérie Chagnon
Downtown
Peruvian and Japanese cuisines are not exactly what you'd call natural bedfellows, but under the careful guidance of Valérie Chagnon, pisco and fresh fruit combine to produce stunning combinations that would put the best vacation spot to shame.
Daniel Boulianne
Old Montreal
The newest addition of the bars on our list, Cold Room chief bartender Daniel Boulianne is still making his mark at the helm of this speakeasy. But despite the hidden entryway (marked only by a doorbell) and relative rookie status, Boulianne has already drawn some of the city's hippest and youngest drinkers to the streets of the Old Port with his promises of resurrected and refreshed classics that use a lot of fruit vinegar shrubs and and forgotten ingredients. If you're still unconvinced, know that the bar is housed in an actual vintage cold room, circa 1877.
Sign up here for our daily Montreal email and be the first to get all the food/drink/fun in the City of Saints.
Ksenia Prints
is a freelance writer and food blogger, photographer, and recipe developer for At the Immigrant's Table who loves exploring Montreal's dining scene. Follow her exploits in the kitchen and beyond at
@immigrantstable
.