Gabrielle-Jacques
Gabrielle-Jacques
Sure, Summer in Montreal isn't exactly insanely long, but we do it really well. And part of capitalizing on the heat is knowing that all happy hours, brunches, and booze-induced naps will, from this month forward, take place outside -- preferably on a sunny terrasse. Thankfully nearly every bar or restaurant has one, but with that many, how to choose? Well, we've done the hard work for you, and power-ranked the best eight in town…
8. Le Sainte-Elisabeth (address and info)
Latin Quarter
It's not officially Summer until you've sipped a shandy in the brick-walled patio of Le Sainte-Liz. Creeping ivy and a long beer list give this place inimitable ambiance and appeal. A symptom of its own popularity, it's often impossible to get a table. The only solution: arrive early, drink all afternoon.
7. Terrasses Bonsecours (address and info)
Old Port
This terrasse has, probably, the best view in the city. With the Old Port skyline spread out before you, lounge on the sexy patio couches under undulating palm fronds. What holds it back? Weak sangria and, as the night progresses, an escalating frat-party vibe. Unless super-tan undergrads and EDM are your thing, don't stick around past 11pm.
6. Coop Touski Cafe de Quartier (address and info)
Centre Sud
Grab a picnic table in the secret garden for a copious brunch or hearty menu du jour and rub elbows for some of the best -- and most organic -- food in town. Plus? Local beers are crazy-cheap ($3.75 a pint?!). Touski's Eastside locale keeps it off the radar, but inconvenient for Downtown dwellers. Pro or con? That's for you to decide.

5. Le Réservoir (address and info)
Plateau
Overlooking the cobblestones of Duluth St, this cozy rooftop terrasse welcomes the Plateau's beautiful and mustachioed elite. Microbrews, like the crispy Weizen or malty Scotch Ale, are delicious and reasonably priced, plus there's the fantastic brunch menu (homemade donuts; veal tongue grilled cheese) and small plates. However, it's tiny. People stake out prime real estate and camp out all evening. But can you blame them?

4. Terrasse Nelligan (address and info)
Downtown
Classy en tabarnak. Take the elevator to the fifth floor for hand-made cocktails overlooking the Downtown skyline. It's a happy hour mainstay for power suits. But you'll have to pay to play, kids. Those fresh-squeezed raspberry mojitos will run you $15 a pop.
3. Blanc de Blanc (address and info)
Mile End
This laundromat-turned-café has an Andalusia-style terrasse with hanging vines and flowering trellises. Kill time during the spin cycle with a sharp cheddar + avocado panini and flirty convos with hot Mile-Enders. The lack of beer and spirits is the only thing keeping this leafy refuge from topping the chart.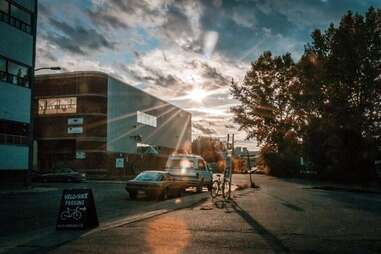 2. Alexandraplatz (address and info)
Little Italy
North of the high rises, this terrasse gets full sun nearly all hours of the day. Witness a beautiful sunset while sipping an artisanal soda cocktail or local cider. Its back-alley location and minimalist biergarten benches create a friendly atmosphere that's free of pretension. Plus, there's a taco stand. What would give it an edge? More beers on tap.

1. Terrasse St-Ambroise (address and info)
Griffintown
BBQ, brats, and microbrews by the water's edge? This place does everything right. Located along the Lachine Canal, St-Ambroise's sprawling terrasse has ample seating, cheerful parasols, twinkling lights, and flowing taps. In fact, the entire McAuslan Brewery is sitting right behind you. Take in the urban landscape of crumbling silos and refurbished factory lofts in the city's most actively gentrifying neighborhood. Clearly number one.