Admittedly after enough to drink, ALL bars begin to look sorta beautiful. But there are a few which, thanks to design, history, or sheer imagination can intoxicate the senses before you even order your first round. These are Montreal's most beautiful bars...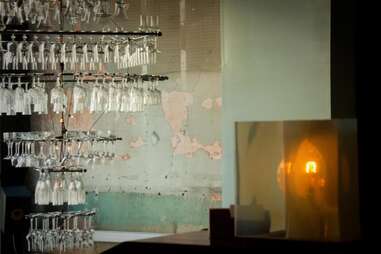 Downtown
Though the chandelier made out of wine glasses may be Pullman's most recognizable feature, it is by no means its most beautiful one. This sleek bar boasts an extensive wine menu, great bites, and a setting that will make you feel like a modern-day Rockefeller, thanks to all chrome chairs and beautifully polished surfaces.
St. Henri
Loïc has only been around for a few short months, but it's already making a name for itself for its streamlined-but-vintage appearance. Serving only carefully-curated local products, a meticulous selection of wines and a few exceptional cocktails, it pares everything down to its beautiful, bare basics.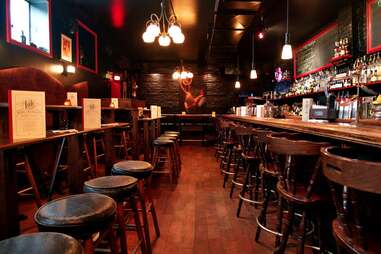 The Plateau
One of Montreal's best-known bars is a sight to see. Its beauty lies not just in the banquette seats, the red-and-black colour scheme, or even the elaborate bar, but also in the pyrotechnics put on by its team of trained mixologists, who utilize fire, smoke, and mirrors in the making of their truly one-of-a-kind cocktails.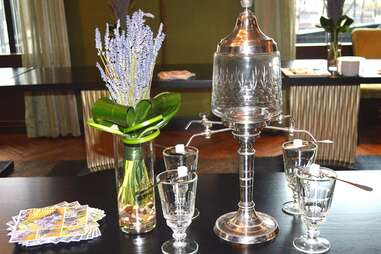 Old Montreal
This beautiful old-school bar is dedicated to celebrating one of the most infamous libations in history: absinthe. Partake in a full absinthe ceremony, or try any of its green-fairy-laced cocktails and feel like a regular bohemian.
Plateau
With a unique look that treads the line between industrial décor and island chic, Fitzroy offers casual pub goers a beautiful place to play pool, watch the Habs or spend a classy, laid-back evening.
Downtown
Tucked away in a dark back alley, Le Sainte-Élisabeth may not look like much from the outside. But when you pass through the little bar and step out onto the terrace, you will find a little piece of shaded, wooden paradise, with dozens of tables arranged artfully between trees and trailing vines that go all along the encircling walls. It's one of the prettiest places you can find to enjoy a casual drink with friends.
Mile End
Done up in copper and wood with an upscale steampunk feel, Brasserie Lorbeer has clearly paid a lot of attention to its look. But thankfully, you don't have to -- it's strictly casual, and surprisingly affordable, too.
Downntown
Dominion Square Tavern looks like it was taken straight from the 1920s and plonked in modern-day Montreal... which it basically was. First opened in 1927, the décor is all bentwood, tarnished mirrors, and warm, soft neutrals, while the classic cocktails on offer are, although pricey, excellently made.
Mile End/ Outremont
Anabel Bar et Vin is a straightforward, elegant wine bar that wins you over with its clean, Parisian simplicity. This is where you go for a truly excellent glass of wine or cocktail, paired with a bite of food that is as delectable as it looks.
Sign up here for our daily Montreal email and be the first to get all the food/drink/fun in the City of Saints.
Ksenia Prints is a Montreal-based freelance writer, photographer, and chef. Follow her delicious goings-on at The Immigrant's Table.