The eight best brasseries in Montreal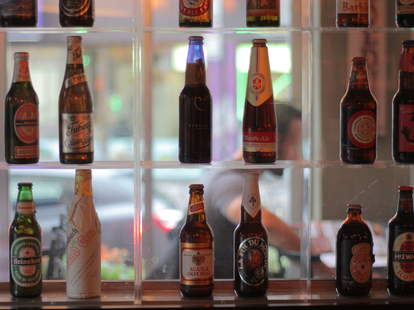 Brasseries. To the French, they're a nice restaurant. To the French-Canadians, they're a nice restaurant, a dive bar, and a brewery, and they're far more awesome than each of those things -- so put on your sneakers, jeans, and reasonably nice shirt, and check out our list of the best eight brasseries in Montreal.
Credit: Katherine Sehl
1. Le Saint Bock
The great thing about brasseries like Le Saint Bock is that they adore beer so much, they often cook with it. Case in point: le burger caramélizé à la bière Trappiste. Translation: beef marinated in beer, smothered in beer cheese, topped with beer-caramelized onions, and put on a bun -- it'll probably give you a hangover... over your belt.
2. Vices & Versa
There're too many good things to say about this place, so we're just going to list 'em: pulled pork poutine, a huge garden terrasse, 35 Quebec-only microbrews, pulled pork poutine, and gourmet hot dogs.
Credit: Katherine Sehl
3. Les Enfants Terribles
They may be slightly more upscale than your average brasserie, and a little more focused on food than beer, but their salmon tartar is no joke (it's half-smoked, and comes with fresh jalapeños), and that's not to mention their white Parmesan mac & cheese.
4. Helm
What does Helm mean, you ask? It's an acronymic recipe for beer. That's how obsessed the people behind this trendy Mile End microbrasserie are with their barley pops, brewing seven varieties on-site. They're also fixated on food (they have a grilled-cheese laden "Comfort Food Menu") and ping-pong (they have a table).
Credit: Katherine Sehl
5. Bières & Compagnie
The beer menu here is probably longer than the last book you read (there are 100 plus), and is definitely longer than their food menu, but with all-you-can-eat mussels, an extensive menu isn't exactly necessary.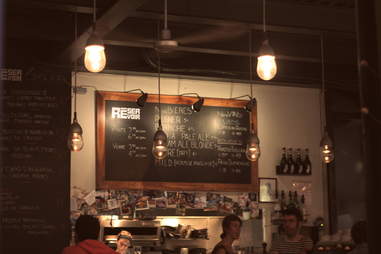 Credit: Katherine Sehl
6. Reservoir
A no-nonsense, downright delicious brunch spot by day (homemade donuts, anyone?), and a brewpub by night, they've got seven taps pouring out their own Pilsner, wheat brew, and seven percent Scotch Ale.

7. Brasserie Capri
If you're looking for an authentic brasserie experience then you've found it here. This is the least pretentious place on the list, with the most decent prices while not compromising quality. Their menu boasts traditional Quebecois classics like fall-off-the-bone pig's feet and knuckles.
8. Burgundy Lion
The Burgundy Lion's definitely a shade more pub than brasserie, but their dozen beer taps and high-level food earn them a solid place on this list. Besides, if the culinary gods from Joe Beef drink and dine here, you definitely should.