In a city like Montreal, where every Metro stop has a great bar, you may not feel like you need to leave the 514 area in order to get a great drink -- but take it from us, there are some great drinks to be had out there, and these 10 spots may make you reconsider a trip out into Quebec proper...
Recommended Video
Charleston: The Ultimate Local's Guide
Sherbrooke
Part art gallery, restaurant, club, mixology bar, sports bar, live music venue -- Le Tapageur doesn't let a minor identity crisis get in the way of a good time. Things are at their best when the Canadiens play, not only for its energetic atmosphere, but for the cheap beer and glorious bar food.
Quebec City
Savini is not only a great restaurant with an impressive martini list, but it is also known for its great wines. Its floor-to-ceiling cellar stocks almost any vino you could hope for, incl. a 2005 bottle of Pavillon Rouge du Château Margaux from Margaux, France. And if you don't know/care what that is? Don't worry, the cocktail list has you covered.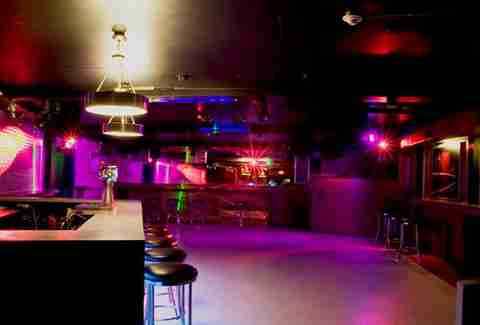 Longueuil
The Montreal Metro's Yellow Line does not take you to Narnia, but it does go under water, then to La Ronde amusement park, back underwater, and finally to Longueuil. This short adventure is definitely worth it once you arrive at Barachico; a bar where nobody cares how you're dressed. They just care if you can sing karaoke.
Bois-des-Filion
Tucked away North of Montreal lies a bar whose beer menu is so vast that they literally named their bar "beer menu". The grand menu includes over 30 Belgian numbers, and close to 40 brews that are made right here in Quebec. Go on a Wednesday for The Just for Laughs comedy night and order their beer-battered fried calamari with Dieu du Ciel's Aphrodisiaque cocoa and vanilla stout for dessert.
Sherbrooke
Quebec's first microbrewery definitely deserves a visit -- opened back in '86, Golden Lion has been brewing & selling spectacular beers like its Lion's Pride dark brown British-styled ale, and a Blueberry Wheat beer with accents of blueberry and watermelon.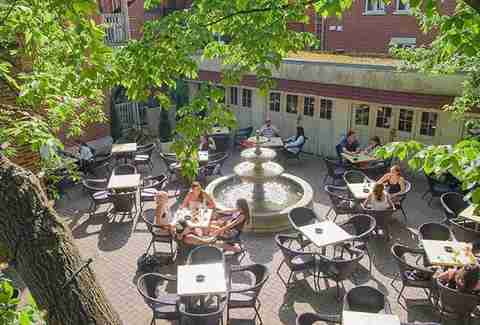 Longueuil
Hate being crushed at the bar, and then having to ruthlessly compete for the bartender's attention? This isn't a problem at Bungalow Bar Salon. Their bar is shaped like a serpent and has several 'tenders working within the curves. Head outside to their relaxing garden-like terrace and meditate with your beer in hand.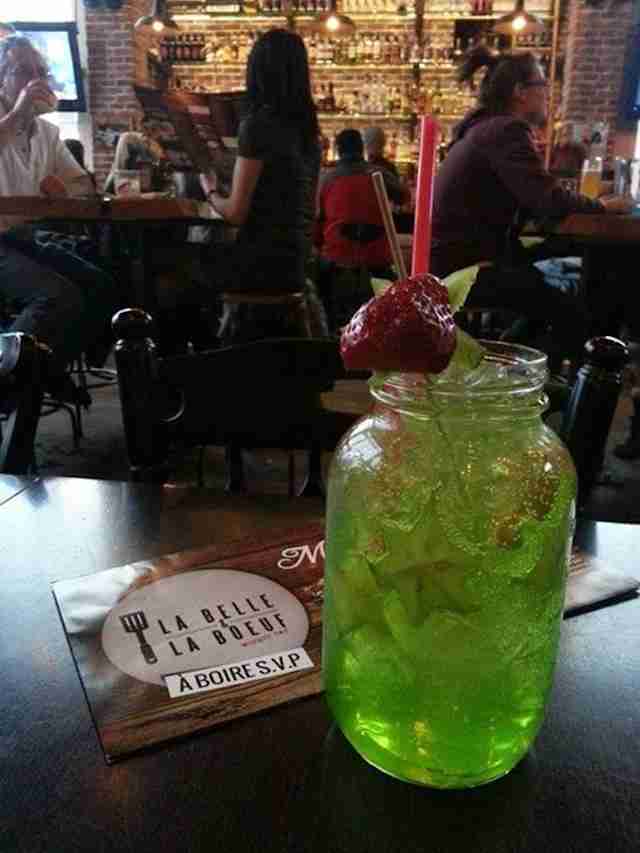 Boisbriand
Yup, it's called Beauty and the Beef. This is where to go if you want your rock music played loud, a Kool-Aid pickle, and your drinks in 1L Mason jars. And if you're hungry/insane, order the Epic burger: four beef patties, Brie cheese, smoked bacon, a fried Kit Kat bar, peanut butter, mushrooms, and port sauce. If you finish it, you'll have your picture put onto their wall of fame and you'll receive a bottle of Pepto.
Quebec City
Chateau Frontenac is one of the most iconic buildings in Quebec, and one of the chateau's newest drinking holes is a wine and cheese bar named 1608; named after the year Quebec was founded. Its cheese cellar houses over 30 Quebec fromages, and to help you find the right wine to go with whatever you pick, there's a damn iPad to go through the pairings with you.
Sherbrooke
Sherbrooke's old train station was transformed into something super useful: Siboire's brewery. It has taps armed with fresh Irish red ale, oatmeal stout, and India pale ale, which are brewed in-house, and the menu also includes the weekly 10th line beer; a Quebec-brewed beer from another microbrewery.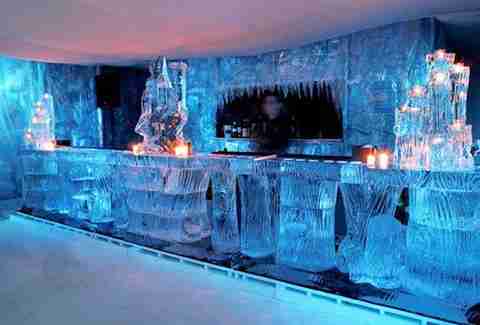 Quebec City
Yes, this entire bar is on the rocks -- the walls, floors, and even your glass are made out of ice. Thankfully, there's a roaring central fireplace, some maple whiskey, and a menu of house cocktails, too...