A Montreal hipster is a complex creature. You'll find them playing old-school arcade games, riding mechanical bulls, or rapping along to '90s hip-hop ironically, but like, totally not ironically. In salutation to their cause, we've given a gluten-free power-ranking of the 14 hipsteriest bars in the city, which paradoxically will mean that the true hipsters can no longer hang out at, like, the top five. So, sorry about that.
Saint-Henri
Portraits of two-headed animals on the wall? Check. Bulldog in top hat painted onto a metal door? Check. Sticky pudding while watching the Habs or British football ? Absolutely.  Burgundy Lion's British hipster vibe does not end there. Their fascination with whiskey has led it to having one of the grandest collections in North America. It currently holds over 400 whiskeys and looking to expand that number. Take that, Brooklyn.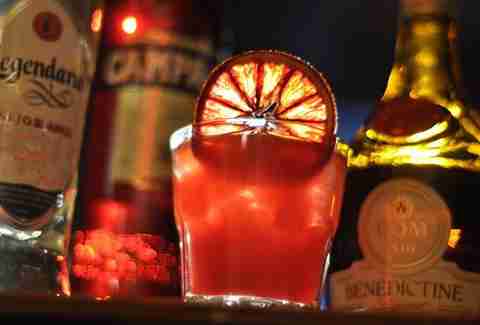 Rosemont Petite-Patrie
Most Montrealers assume hipsters are confined to the Plateau alone. But no! Rosemont Petite-Patrie has been seducing hipsters with Bar Le Jockey -- walls covered in wood and brick, a hockey game playing in the background, and genuine flair. Definitely request an original creation from the bartender (ahem, mixologist) like the Smokey Caesar; with Tabasco, chipotle, dehydrated jalapeños rehydrated in tomato sauce, Karnatzel sausage, and Montreal steak spice.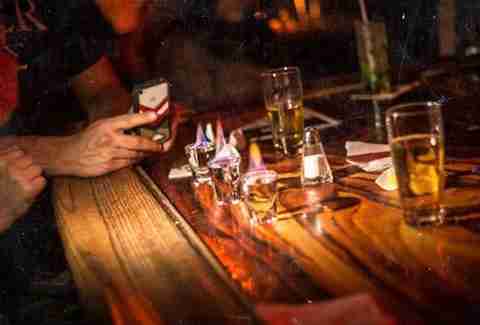 The Plateau
The first of many hipster joints in the Plateau, BAR inc. is a dive bar with balls (disco balls that is). Mirrors on the ceiling, exposed brick, and decorative garage doors adorn the bar. And one thing the bar is known for is its five beer bucket specials, or as they're known to hipsters, beer cheapness that puts PBR to shame.
The Plateau
Apartment 200 is a loft party meets an old-school arcade, with a little reading nook that looks like it came straight out of a Sherlock Holmes book. It doesn't make sense on paper, but works beautifully together. And for the gourmet hipster, every Thursday, Apartment 200 will be shucking oysters and offering Champagne for happy hour.
The Plateau
A difficult sell for the bio-hipster, this bar revolves entirely around bacon. Drinks are made with bacon-infused vodka and are garnished with bacon roses. Everything on the food menu includes bacon, incl. the 100% bacon hot dog, bacon caramel donuts, Jäger poutine with bacon, and the Brutus salad... which comes in a bowl made of bacon.
Quartier Latin 
While pairing old-school hip-hop with a speakeasy doesn't sound doable, En Cachette has proved that you can have your 10-year-old Laphroaig whiskey from a vintage couch and some Notorious B.I.G. and still look super classy doing so.
The Plateau
Ostrich heads adorn the walls, and during the holiday season, each ostrich -- both the normal-looking ones and creepy ones -- get their own Santa hat. If that isn't enough, try Bílý Kun's (pronounced Billy Coon) apple absinth martini, made naturally with German sun-ripened apple schnapps.
Rosemont Petite-Patrie 
Yes, this place has a Nintendo corner, where you can play games like Star Wars Episode I: Racer and Diddy Kong Racing, and yes, it is dominated by people in skinny jeans. Add to this the swing seating, and the Lucha Libre wrestlers on the walls, and you have yourself a bona fide hipster bar.
Various locations
If you ever wanted to go to a bar and say "I would like my drink in a 1L Mason jar and I want Goldfish crackers with it, please", as you hum along to some '80s rock and Motown, then this is it. Most drinks come in the aforementioned 500ml/1L Masons, and this season's list is focused on Wild Turkey Kentucky bourbon and gin.
The Plateau
This is the place where hipsters go to have their drink knowledge blown out of the sky, with mixeds like Jerky Lab Jack, which tastes like beef jerky and comes under a mini clothes line with a clipped piece of homemade beef jerky... and this is just the start of its hipster-trapping (and award-winning) cocktail program.
Mile End 
Most will recognize Chez Serge's mechanical bull from the Montreal Canadiens's mascot Youppi! losing a bet with Tonight Show host Jimmy Fallon. Besides bachelor party goers and a sad Youppi!, Chez Serge is filled with tattooed hipsters looking to drink from sand pails followed by rides on the bull.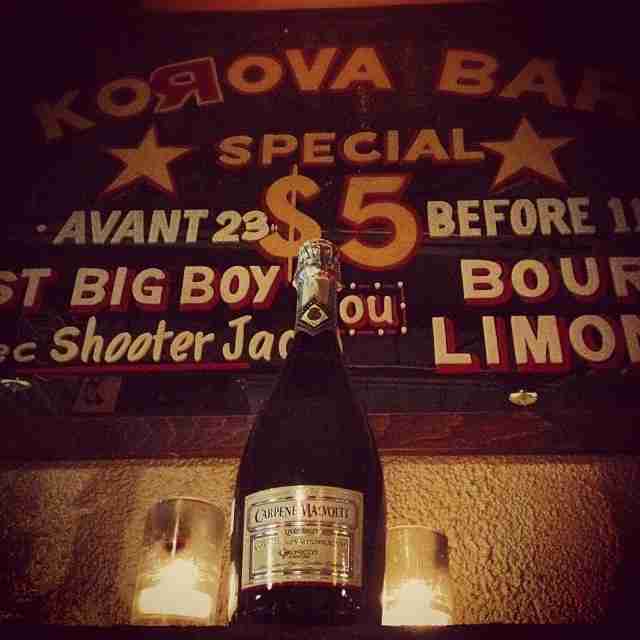 The Plateau
A pool table, great music, walls with elk heads, and a photo booth are just some of the reasons why Korova is always full of the too-cool. Black-rimmed glasses and neon colors abound, and if you want to blend in, just ask the bartender for the Jenga set and some shots.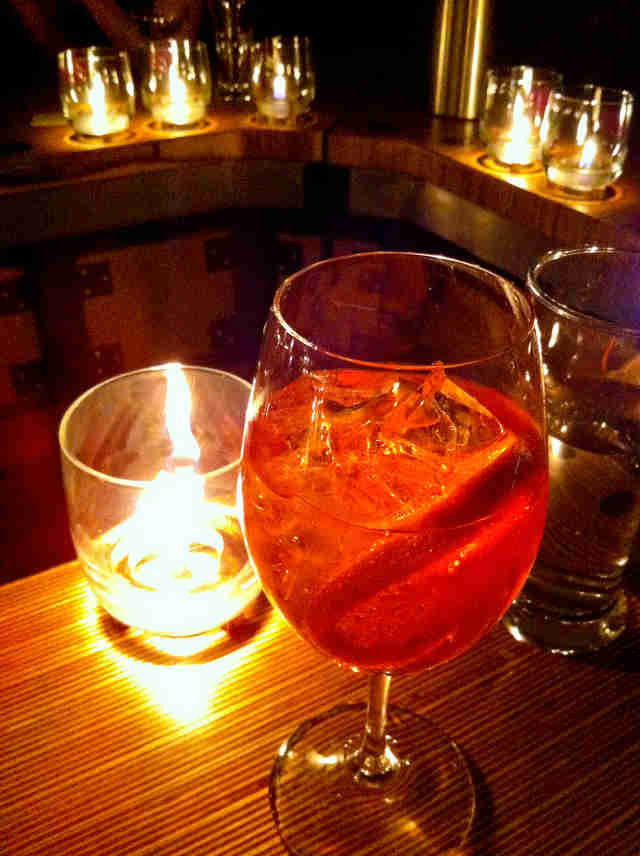 The Plateau
Why is this the second-most popular hipster spot? Big in Japan Bar is a secret. To find the bar, you must go to the corner of Saint-Laurent and Rachel and look for a gray door with no signage. Once you open the door, separate the red curtains, and you'll be transported to a Japanese-style speakeasy. Taking from the Japanese custom, the ceiling has hanging whiskey bottles with the names of the individuals who have purchased them and will come back to finish the bottle.
The Plateau
Ever wanted to get your hair cut and enjoy a drink at the same time? The Blue Dog Motel is not a motel, but it is a bar and a barbershop. Before heading to the bar section, hipsters will schedule the Royal Deluxe treatment, which includes a haircut and a hot towel shave with their choice of either whiskey or beer.