The ultimate Montreal beer crawl
The Quebecois are no amateurs when it comes to passionately striving towards independence… from sobriety. And Montreal's booming craft brew scene is no stranger to helping their noble pursuit, so we've put together a short crawl of the very greatest beer-making spots in the city.
1.La Terasse St. Ambroise5080 Rue Saint-Ambroise
Start your crawl off by day-drinking at La Terasse St. Ambroise. Sip on one of their six year-round ales, or sample one of their seasonal brews, and take in the picturesque view of the Lachine Canal while you're sober enough to appreciate a thing like that.
2.Brutopia1219 Crescent St
Now, take a short jaunt to Montreal's first ever brewpub (dating back to '86), Brutopia, before 8pm to takeadvantage of their $5 happy hour. With eight house-brews on tap, it won't be too hard to get pretty hoppy on the cheap.
3.Le Cheval Blanc809 Rue Ontario Est
It's important to hit up Le Cheval Blanc before things get too sloppy, because ordering from their menu of more than 20 handpicked international beers and eight of their own ales gets a little complicated when you're slurring your words.
4.Dieu du Ciel 29 Avenue Laurier West
Having brewed literally hundreds of beers in their time, the French-Canadian beer gods of Dieu du Ciel will make at least 15 of them available on any particular day, and always include perennial faves like their crazy-popular stout Aphrodiasque, which will likely make pretty much everyone look more beautiful.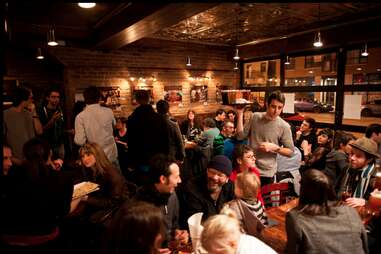 5.Vices et Versa6631 Boulevard St. Laurent
From here, it's just a short walk to Vices et Versa, where your brew crawl will be saved from imminent black-out with these three words: pulled pork poutine. This spot isn't actually a brewery, but gets a pass thanks to the fact it has a menu that includes 33 crafts which are all from local Quebecois micros.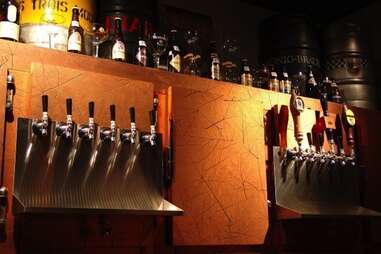 6.Broue Pub Brouhaha 5860 de Lorimier
You're not done yet -- jump in a taxi and use your best drunk-French to direct the cabbie to Brouhaha so you can take on their selection of self-made ales, as well as over 300 other beers.