These Are the Most Popular Tequilas in America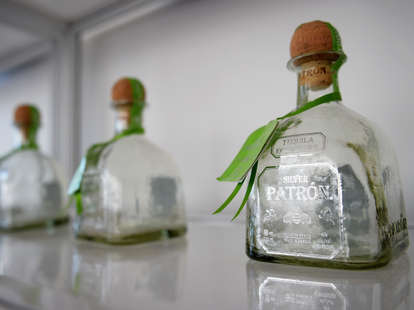 Tequila is hot. It has consistently been one of the fastest growing spirits for the last several years, with lots of focus in the "super premium" portion of the tequila market, which has grown more than 700 percent since 2002. But it's not just the pricey stuff that is making it into glasses all over the country. Here are the 10 most popular tequila brands in the United States, by the number of nine liter cases sold.
Cases: 305,000 Cases
It doesn't hurt when your tequila is the official tequila of 30 restaurants that are, themselves, named for a tequila drink. And that is the case for Margaritaville Tequila, beloved by parrotheads everywhere. It's not the fanciest agave spirit out there, but Jimmy Buffett fans tend not to care about such things.
Cases: 357,000
As one of the first real "premium" tequila brands, Don Julio and its squat bottles have made themselves a reliable top-shelf choice with quality blanco, reposado and añejo bottlings. If you're looking for someone to thank for the recent explosion in high-quality tequila, it should be Don Julio.
Cases: 516,000
El Jimador is one of the best selling tequilas, not only in the United States but in Mexico as well. And, if you're drinking on a budget, the blanco bottle makes a hell of a Margarita. It's a newer label from the historic Herradura tequila house, so it has almost 150 years of experience behind it.
Montezuma Tequila
Cases: 630,000
When you're talking about the most popular anything, you're going to get some clunkers. One undeniable fact about the current state of tequila drinkers is that some of them like to shoot the cheap stuff. And that's why Montezuma is in the world. When you see Montezuma tequila in the wild, it is most likely a mixto tequila—one that has additives instead of being made with 100-percent agave.
Cases: 695,000
Juarez is another bargain basement bottle for anyone reliving their college days. It comes in both silver and gold (both mixtos) and can be had for a little more than 20 bucks per handle.
Cases: 785,000
Despite its massive volume, Familia Camarena may be less familiar to you than some of the bottles behind it on this list. But it's carved out a serious space for itself in the agave market, earning top marks at more than half a dozen spirits competitions in 2017.
Cases: 1,090,000
Named for the year that the tequila was first rested in barrels and sold to the world, 1800 spun off from the Cuervo brand in the '70s and has staked a place of its own as an affordable yet sippable tequila.
Cases: 2,247,000
Sauza makes a huge jump—more than double the sales of 1800—because it is the jefe of the cheap Margarita. You can find Sauza everywhere from dive bars to baseball stadiums. But don't let the low, low prices put you off because Sauza's 100% agave blanco bottle actually makes a delicious cocktail.
Cases: 2,475,000
Patron is the most recognizable bottle in the business (it looks suspiciously like the Don Julio bottles that came four decades before in the late '80s, but all's fair in love and tequila). Patron established a reputation for being both a quality, everyday tequila for some and the epitome of the special occasion tequila for others. The blanco can go in a common Sangrita, and the high-end Roca line can be sipped in celebration on special occasions.
Cases: 3,515,000
Whether you love tequila or hate it, unless you've gone your entire life refusing to drink it, you've had a shot of Cuervo. Jose Cuervo Gold is the most commonly seen Cuervo, but now that more and more people are getting into higher end tequila, they have 100-percent agave blanco and reposado bottles as well.