It's no secret that Nashville's known as a great place to drink a cold, cheap beer out of a longneck bottle -- preferably in a honky-tonk bar or on the outskirts of town close to a quarry or some other cliché. If you don't believe me, just listen to a country song. But there are plenty of fans of better beer here, and in addition to a burgeoning brewery scene, Nashville has some fantastic bars that serve up the best in local, regional, and national craft beers. Here's a 12-pack of choices you can't go wrong with.
West End
The Gold Rush used to be the primary meeting spot on "The Rock Block," the strip of music clubs that run up and down Elliston Place. The younger generation has moved from cheap bean rolls and citrus shooters at Gold Rush to nachos and craft beer at Hurry Back, an attractively modern alternative to the other, ahem, "well-loved" dives on the street. With more than two dozen draft lines pouring beers rarely found in typical beer bars plus a popular trivia night, Hurry Back is making sure that's exactly what you'll be doing.
Melrose and Sylvan Park
The specialty burgers at both ML Rose locations are some of the tastiest in town. ML also boasts an expertly curated list of craft beers to offer the perfect accompaniments. This is not simply a burger joint with beers, though. Management strives to find special seasonal options that are offered on a menu divided by style a boldness of flavor. With 34 beers on tap, they run the gamut from drinkably light to one-and-done heavy.
12South
This taproom was 12South back before 12South was cool. Long-time fans have remained fiercely loyal thanks to the dozens of craft drafts (including nitro taps) and coolers full of exotic canned and bottled beers that were pretty damn rare when this cozy spot opened more than a decade ago. Since this is a favorite spot for breweries to release new beers and participate in tap takeovers, keep an eye on its event calendar or you'll miss out!
Germantown
Despite the slightly bizarre regulations of the beer board that require patrons to remain inside the penned-in area of this open-air taproom like beer-swigging farm animals, The Picnic Tap has quickly garnered a reputation as one of the best spots to enjoy a local draft during a break from shopping for produce in the farm sheds at the Nashville Farmer's Market. PT tries to keep at least one beer from every brewery in town on tap, but that's getting harder to do as the number of options keeps increasing. It's a good problem to have. Their gourmet hot dogs are also a welcome splurge from all that kale and turnips.
Inglewood
Known as one the most raucous places in town to catch a Predators game on TV, Village Pub is pretty chill when the puck isn't in play. The 1940s house that has been converted into a comfy bar with plenty of light streaming in through large windows and a cozy crackling fireplace during the winter is a fantastic destination for friends looking to explore the world of local and regional brews in a welcoming environment. A large wraparound porch provides a beer garden vibe with at least partial protection from the elements.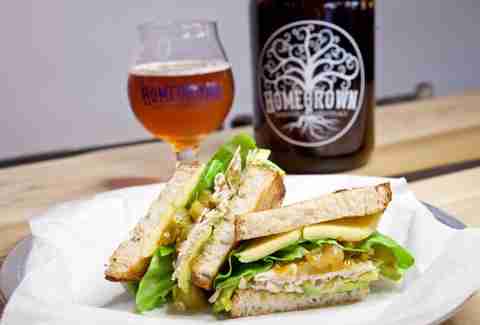 Donelson
Residents of this sleepy Nashville suburb have been working for a few years to rebrand themselves as a "hip Donelson," and the opening of this attractive craft beer bar and comfort food-centric restaurant has gone a long way toward making that happen. Twenty-four taps of craft beers, ciders, and locally roasted cold brew focus on the Southern region, but there are always a few "tourist taps" featuring something novel from outside the area. Many of these beers were previous unavailable in the hinterlands out past the airport.
Downtown
Based out of Memphis, the local link in a small chain of craft bars is the first place where many Nashvillagers first experienced beers that weren't brewed by one of the mega-corporations that dominated the industry for decades. More than 100 taps offer beers from around the world, and if you drink enough of them they'll engrave your name on a saucer and hang it on the wall for all to see. Just hope your boss doesn't notice how many plates feature your name. Comely servers also serve platters of sausages and pretzels to simulate the full Bavarian beer hall experience.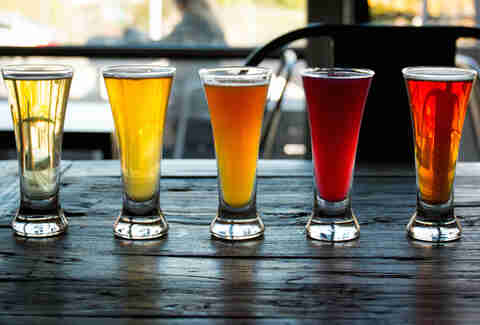 The Gulch
Sleek and modern, Hops + Crafts is a taproom for "New Nashville," the generation of drinkers who take notes on each pour and play "Cards Against Humanity" during their lunch break. Not that there's anything wrong with that. Large LED screens indicate what's flowing in the 36 rotating taps, and you can expect an interesting variety of regional craft beers to try out during any visit. Hops + Crafts have been called one of the best beer bars in the country, so you'll want to drop in to see what that's all about. "Tennessee Tuesdays" are a good time to visit with all in-state brewed pints at half off.
East Nashville
Three dozen draft beers, a full spirits bar, great sandwiches, and darts: Need we say more? We're going to anyways. Those taps feature beers from around the world including rare German, Czech, and Belgian brews. There is also a selection of exotic cans to supplement the draft collection. As well as Coors and PBR, if you must. The beer menu at The Hop Stop is notable for the florid description of the flavors of each item, quite helpful considering some of the beers might not be familiar to neophytes.
Melrose
This Melrose hangout is the one-stop shop for serious beer lovers, with an attached liquor store to augment the retail supply of popular craft beers available on tap or packaged. The back room sells books and supplies for home brewers, and you can always find like-minded individuals discovering a new fave in the convivial taproom. The knowledgeable staff working the taps are among the best in town at suggesting something novel to fill your growler with -- including some very interesting sours and barrel-aged beers.
Midtown and Downtown
A beer bar for both serious connoisseurs and casual boozers, the multiple locations of Broadway Brewhouse have become neighborhood fixtures. But the two locations that actually have Broadway street addresses are the ones most frequented by tourists and locals alike. The Downtown location offers 72 taps stretched along a 60ft long bar, so it's a great spot to enjoy a beer from a long list of options. Try a Bushwhacker to forget about the day's troubles. Or, hell, drink two Bushwhackers and stop caring about days in general.
Downtown
The punny name of this Downtown joint refers to both its subterranean locale and the fact that they sell a metric shit-ton of beer. With more than 50 draft options and over a hundred others available by the bottle, you're liable to discover something you love at the Beer Sellar. There's even a section of the menu labeled "Domestic Macro Drafts," a euphemism for Bud/Miller/Coors. Hey, tourists are people, too. Just steps from Lower Broad and a quick stroll to Nissan Stadium or Bridgestone Arena, The Beer Sellar is a popular place to party before or after big Downtown events that still offers a little bit of cover from the thickest parts of the masses.
Sign up here for our daily Nashville email and be the first to get all the food/drink/fun the Music City has to offer.