It goes without saying that the strip of Lower Broad downtown is dominated by bars sitting shoulder-to-shoulder on both sides of the street, so visitors don't have to go far to find a drink. But locals tend to frequent watering holes outside of the bachelorette zone, preferring neighborhood spots without a country music star's name emblazoned on the side of the building. For a proper cocktail served by an expert mixologist, you might need to get off the beaten track, and here are some of our favorite tracks to beat it to.
East Nashville
The Highland Heights neighborhood around Golden Pony was once a bit of a food and drink desert, but it has certainly improved with the recent addition of restaurants, a craft brewery taproom, and this new retro 1960s-inspired cocktail bar. In addition to classic drinks, Gold Pony features inventive agua frescas like cucumber/cantaloupe or strawberry/watermelon that guests can torque up with their choice of spirits. Pair a few cocktails with a selection of shareable small plates for a festive happy hour or stretch it into a full meal.
East Nashville
Named after a Beatles' song title, Martha My Dear took over the space formerly occupied by Overlord, and visitors can still detect a bit of an Anglo/Franco vibe in the ornate decor of this classy cocktail and wine bar. Even if the furniture is fancy, the cocktail recipes are more down-to-earth, featuring three to four ingredients instead of the shaker show exhibition at some other craft cocktail emporiums. The prices reflect the thoughtful menu planning, especially during happy hour with discounted wine, beer and cocktails. They may cut costs, but they don't cut corners.
West End/Vanderbilt
Walking into Fable is like entering a fantastic steampunk-inspired cocktail and cigar bar that feels like a trip into Lewis Carroll's absinthe den. The downstairs lounge and dining area is intentionally dark with gilded accents to create a sultry vibe, while the top floor is more open and airy. The balcony off the upstairs bar is a great place to enjoy a cigar from their humidor and a crafty cocktail from their seasonally-changing drink menu. Among the highlights are a half dozen variations on the classic Old Fashioned, but don't try to taste through them all in one visit.
Melrose
The downstairs bar in the lobby of the converted art deco-style movie house that is Sinema is pretty dreamy, but head upstairs to the dead sexy lounge for a real treat. Boasting one of Nashville's best whiskey collections and a fun menu of inspired drinks like the rummy "Farewell to Arms" and the smoky and fruity "Sing to the Moon," the master mixologists at Sinema know how to put on a show. They also offer an extensive menu of creative non-alcoholic adult beverages that go far beyond most "mocktails."
East Nashville
Walk through the front door of this East Nashville hotspot and you'll find yourself in a magical, mystical world where robots rule a Polynesian paradise. Yeah, you read that right. The drinks trend toward tiki, and the gestalt is more Fritz Lang-ish. Together they mesh for a truly unique experience. Patrons are limited to just one Robo Zombie apiece, but that's all you'll need to get where you want to go. The bonus of being able to enjoy the amazing food from the Maiz de la Vida food truck parked out front puts Chopper over the top.
Downtown
Chef Sean Brock's downtown restaurant is an homage to the classic elegance of hotel dining, and the beverage program at The Continental is deadly serious about honoring the traditions of iconic spots like The Waldorf and The Ritz on their menu of historic cocktails with the occasional modern twist. The Vesper Club is a distinct bar experience within The Continental offers a remarkable martini menu along with an hour-long Grand Tasting experience journey through a flight of globally-sourced caviar and accompanying cocktails.
East Nashville
Situated in a classic yellow East Nashville bungalow, Rosemary & Beauty Queen really does feel like being invited into someone's home for an evening of fun and frivolity. Well, if your host invited pumping DJs in to entertain and added an outdoor deck with another bar and swings to sit in while you sip on seasonal cocktails or partake in cheap craft beer deals and shot specials.
East Nashville
Like the original location in the Lower East Side of New York City, Attaboy features some of the nation's most talented mixologists behind the stick who create custom cocktails without the benefit of a predetermined menu. After a quick psychological assessment interview by the bar staff, enjoy the cocktail you didn't know you needed. You can always express your preferences, but it's better to be surprised. Attaboy was a finalist for the James Beard Foundation's national Best Bar Program in America award last year, so you know they're on top of their game.
Buena Vista
Brought to you by the team behind the popular pizzeria/craft beer bar Slim & Husky's, EC&MG exudes the same playful attitude as its sister restaurant. Serving Southern-inspired tapas and elegant cocktails in a lovely ambiance accented by works from local artists, this chill spot has quickly become a neighborhood hang. Power Hours from 5 pm until 6 pm on Fridays are a particularly popular time to stop in for great deals on wine and spirits.
Wedgewood-Houston
Bastion actually boasts two bars. One is the intimate space before diners have the pleasure to enjoy a menu at the small tasting restaurant at Josh Habiger's amazing, award-winning chef's table. But the Big Bar at Bastion only offers one food item, probably the greatest nachos you'll ever encounter in Nashville. The remarkable melange of vegan or rotisserie chicken chips and cheese and queso and cotija cheese and pickled onions, jalapeños, olives and sour cream is absolutely revelatory, but don't let them distract you from the inventive and affordable cocktails that the talented mixologists slide across the bar to intelligent patrons. The vibe of the amiable bar space is like being invited to a garden party at Josh's house under lights strung across the yard, but with even better drinks.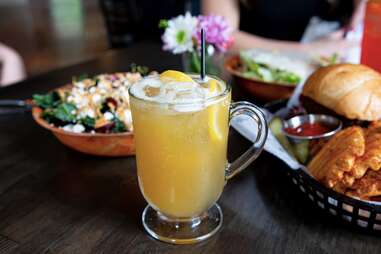 Germantown
When the popular Manhattan watering hole Mother's Ruin announced they were opening a second location in Music City, Germantown residents wondered how the new neighbors would fit in. They needn't have fretted, because the staff at Mother's Ruin knows how to please with delectable bar food like those addictive Old Bay Waffle Fries and a menu of fun cocktails that are designed to be prepared and poured quickly and in volume. It's become an irreplaceable hang for people that like good food and strong drink without the wait or the pretentiousness of some other cocktail bars.
Germantown
Even after chef Ford Fry opened up his Nashville location of The Optimist after an almost interminable delay, there was still more to look forward to with the announcement of Le Loup. True to the seafood-centric focus of the restaurant below, Le Loup serves oysters, clams, mussels, and a few other small plates that are the perfect accompaniment to the menu of inventive cocktails. In addition to elegant highballs and other drinks served straight up in a coupe glass or over rocks, the bar offers a fun selection of various iterations of the martini throughout history. Sipping on a vesper with some raw oysters and mignonette in the lush lounge-y atmosphere of Le Loup is a perfect way to put the troubles of the day behind you.
East Nashville
This nautically themed bar and restaurant is reminiscent of Captain Nemo movies throughout history, complete with windows that look like portholes and walls festooned with tropical prints and aquatic color schemes. The drinks menu features tiki classics, and the food offerings are also straight-ahead Polynesian fare. They offer a $2 "Happiness Upgrade" to their already excellent piña colada with the addition of coffee grounds and a sherry floater. Go ahead and splurge.
Midtown
The whole concept of the Kimpton Aertson's main drinking and dining spot, Henley, is intended to be like being welcomed into a convivial Southern home, and the bar is appropriately stationed near the front door next to the patio. The bartop is cozy enough to allow for constant interaction with your barkeep who will craft up the cocktail of your dreams or offer a specialty from their ingenious menu of custom creations. Respectful of both the craft and the needs of the customers, Henley strives to create exactly whatever experience you're looking for.
East Nashville
The Fox is what happens when a few friends come together and decide to build their own kick-ass bar. The vibe is like settling in for an excellent post-dinner drink in a really rich friend's library, decorated with old volumes of literature and history and plush velvet seating. They accept reservations for early seating, but after that you're on your own to wait your turn. Their Left Handed Banana with local bourbon and chocolate blending with banana and bitters makes the wait worth it.
Chris Chamberlain is a Thrillist contributor.