With the immense boom of new restaurants and bars in Nashville comes an expanded list of revelrous happy hours. But not all happy hours are created equal, and you surely don't want to waste those precious few hours of booze-filled joy at the wrong place. Fear not! We've come to the rescue to help you find the best happy hours in 12 of Nashville's greatest neighborhoods.
Recommended Video
Florida Keys Seafood Festival
Sambuca
When: Daily, 4:30-6:30pm
One of the few things that Nashville does better than happy hour is good live music. At Sambuca, you get the best of both worlds. The rooftop patio overlooks Nashville and is the perfect spot to unwind after a long, exhausting day at work. Happy hour specials include $3, $4, and $5 food and drink specials, with great prices on appetizers and handmade pizzas.
Village Pub and Beer Garden
When: Monday-Friday, 4-6pm; Saturday-Sunday 11:30am-1pm
East Nashville has a vast abundance of truly good happy hour spots, and at the top of the list is Village Pub. Its daily happy hour features half-off draughts. If you're headed that way, we recommend stopping in on a Monday to partake in Village Pub's Mule Monday, when mule cocktails are half off all day long.
12South
Embers Ski Lodge
Address and Info
When: Monday-Sunday, 3-6pm
If you're like so many others who worked hard through the winter and missed prime skiing season, you can at least enjoy a nice drink at Embers Ski Lodge and pretend that you spent a nice long day on the slopes (instead of at work). Embers' happy hour is daily, and includes big boy pours on all whiskeys, two-for-one drafts and bottles, and $6 wines by the glass.
Downtown
Flying Saucer
Address and Info
When: Daily, various times
If your criteria for happy hour includes a wide variety of beers to choose from, the Flying Saucer is your go-to spot Downtown. It has different specials each night, including a pint night, a local beers night, and an American pint night. For just $18, you can join the UFO club, which gets you a t-shirt and a card to swipe each time you visit which will track all of the different kinds of beers you have enjoyed. Tasting 200 different beers gets your name included in the ring of honor up on the wall.
Germantown
Germantown Cafe
Address and Info
When: Monday-Friday, 3-7pm
For the days when work leaves you needing not only a strong drink but also a quick bite to eat, Germantown Cafe has some of our favorite happy hour snacks. Its daily happy hour includes $5 specials on cocktails and appetizers, as well as seasonal beer specials that vary throughout the year. We recommend a plate of the Big Easy Frites, house-made fries covered in crawfish étouffée & créme fraîche.
Green Hills
Crow's Nest
Address and Info
When: Monday, 11am-10pm; Tuesday-Friday, 2-6pm
For the warmer months when happy hour is best experienced outdoors, Crow's Nest is the perfect spot. Its patio is one of the biggest in the city, and it features a rather extensive list of happy hour specials, with $2 off wine by the glass, local and craft brews, as well as $2 off appetizers. House drinks are only $3 AND domestic and import beers are half off.
Melrose
Sinema
Address and Info
When: Monday-Thursday, 4:30-6:30pm
If you're in the mood for a good, inexpensive craft cocktail, Sinema has the happy hour for you. It's well-rounded, with $6 craft cocktails, beer, and wine by the glass. It also offers a full menu of happy hour concessions for sharing (or not for sharing, if you prefer). And Sinema's rock 'n' roll-meets-Hollywood atmosphere provides a cool-yet-relaxing experience that's perfect for unwinding after a long day.
SoBro
Etch
Address and Info
When: Monday-Friday, 4-6:30pm; Saturday, 4-5:30pm
Happy hour at Etch is known as "Etchy Hour," and while it might not be the cheapest happy hour in the city, it's still one of our favorites. Its happy hour menu includes specials on some signature cocktails, as well as bites such as lamb frites or octopus & shrimp bruschetta.
Midtown
Corner Pub
Address and Info
When: Monday-Friday, 3-7pm; Sunday, all day!
Your happy hour list isn't complete unless it includes at least one good bushwacker joint on it. Corner Pub is that joint. During happy hour, bushwackers are $5, drafts are $1 off, and wines and wells are half off, also.
Sylvan Park
Park Cafe
Address and Info
When: Monday-Thursday, 4:30-6:30pm; Friday-Saturday, 4:30-6pm
For a happy hour so good that it "accidentally" turns into dinner, you can't go wrong at Park Cafe. Not only does its happy hour include $5 bar bites -- including goat cheese pizza -- but it also coincides with the start of dinner service, where you can get $7 burgers on Tuesdays and $1 oysters on Mondays. Its drink menu includes $5 wines and $5 specialty cocktails.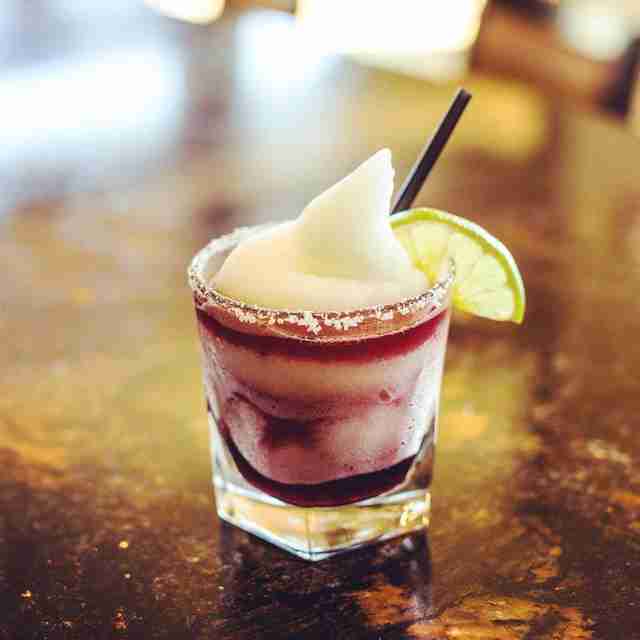 West End
Americano
Address and Info
When: Sunday-Thursday, 3-6pm
After particularly rough days, nothing hits the spot quite like tapas and a fresh margarita. Americano does its happy hour with various specials throughout the week, including Tapas Tuesdays, where select tapas are half off and sangria and margaritas are two-for-one.
Hillsboro Village
Amari
Address and Info
When: Tuesday-Friday, 4-6PM
We recently named Amari one of the best new bars in America, and its happy hour also fits the bill. This speakeasy-style lounge and bar is located above its Italian sister restaurant, Savarino's. Amari can be a bit difficult to locate if you don't know where you're going, since there are no clear signs directing you upstairs. But just ask for Amari and someone will direct you to the hidden staircase. Once there, you can enjoy happy hour specials like $5 glasses of wine, $5 well cocktails, and half off bottles of wine on Wednesdays.
Sign up here for our daily Nashville email and be the first to get all the food/drink/fun the Music City has to offer.
Brita Britnell is a Nashville-based food blogger and photographer who spends her days waiting for happy hour to begin.