Thanks to Nashville's status as a party destination, it's gotten pretty darned expensive to drink in this town. The already stratospheric prices of cocktails at some luxury boutique hotel bars get hammered with additional fees including sales, alcohol, and hospitality taxes that lead drinkers to wonder if they ordered that Old Fashioned from Ticketmaster. Fortunately, there are still a few great drinking deals in Music City at good ol' happy hour. If you're looking to drink on the cheap, here are some of the best bargains in town, organized by neighborhood for your convenience.
12South
Josephine
When: Monday-Friday from 5-7 pm (bar only)
The deal: If you wonder why Jospehine has become one of Nashville's favorite dining destinations, look no further than their happy hour deals, including food specials like a $6 burger made with a Porter Road Butcher beef patty on a Martin's potato roll; their version of a boilermaker, "The Music City" (a can of Hap & Harrys and a shot of George Dickel) for just $8; a rotating Coupe du Jour cocktail for $9; and a sommelier's choice (sparking, white, or red wine) for $7.
Berry Hill
Stay Golden
When: Monday-Friday from 4-6 pm
The deal: This stylish bar/coffeehouse/restaurant shows out during their weekday afternoon Golden Hour with a rotating selection of food and drink specials, including $2 off wine, $1 off beer, plus classic cocktails and menu items for just $8. It's a great place to wait out the rush hour traffic of the neighborhood.
Capitol Hill
Oak Bar
When: Daily from 3-5 pm
The deal: They're happy to give you a head start on happy hour at Oak Bar, one of the classiest watering holes in town. Blow off the last two hours of the work day to enjoy selections of snacks from the Capitol Grille kitchen and $2 off select wine, beer, and cocktails for an afternoon delight. 
Capitol View
M.L. Rose
When: Monday-Friday from 3-6pm
The deal: More than just a fantastic burger and beer joint, (although they are great at both) M.L. Rose offers a full bar and happy hour specials of $1 off appetizers, liquor, wine, and beer. On Tuesdays, the deal gets even sweeter with two-for-one craft beers from 3pm until close and double tall well drinks until 10pm.
Chestnut Hill
The Listening Room Cafe
When: Monday-Friday from 11am to 5:30pm
The deal: Not only is The Listening Room Cafe a premiere performance venue for local singer/songwriters, but it's also a fine place to day drink thanks to "Happy Days" deals of $3 drafts, $4 mimosas, $5 bloodys, $5 house wine, and $5 house cocktails.
East Nashville
The 5 Spot
When: Friday from 6-8:30 pm
The deal: This popular gathering spot for East Nashville's music scene throws a helluva party every Friday with "Tim Carroll's Rock 'n Roll Happy Hour." There's no cover charge to watch some of the city's best rock bands play for tips, plus $2 ice cold tall-boy beers. Food trucks park out back if you need party sustenance for the rest of the night.
Eighth Avenue
Mangia Nashville
When: Monday-Thursday from 4-7 pm
The deal: This convivial Italian eatery offers changing nightly specials Monday through Thursday, but the $3.50 draft beer deal remains constant. Other treats to expect include half-price Martini Mondays, $4 house wines on Wine Wednesdays, and discounted apps and wine specials on Thursdays before the karaoke kicks off at 8. 
Farmer's Market
The Picnic Tap
When: Thursday from 4-8 pm
The deal: Thursdays at The Picnic Tap are "Pint Nights." Take advantage of the ample parking at the Nashville Farmers' Market to enjoy $4 featured pints, buy the beer and keep the glass deals, plus other free swag and live music.
Five Points
Five Points Pizza
When: Monday-Friday from 2-6 pm
The deal: This popular slice shop on the east side is especially attractive during their weekday happy hours when you can pick up any slice plus a draft beer for $8 or go a little more basic and grab a slice of pepperoni or cheese pizza along with a High Life or PBR for only five bucks.
Germantown
Butchertown Hall
When: Sunday-Thursday 2-6 pm
The deal: Take a trip to Texas Hill Country at this smoked meat emporium which showcases $6 margaritas and palomas, $4 and $5 beer deals, and $5 wines plus small plate food specials during its hours of happiness.
The Gulch
Peg Leg Porker
When: Thursday-Saturday from 4-6 pm
The deal: Unlike other places that try to draw customers in during their slow nights, at Peg Leg Porker they like to throw down during prime party time, especially in their new upstairs play lounge they call "The Pig Pen." If you need convincing to climb all those steps, how do these grab you: $2 Old Milwaukee cans, $1 off local drafts, $6 Watermelon Frozés, and $6 for a Kool-Aid pickle margarita. Does that last one sound weird to you? Don't knock it until you've tried it!
Lockeland Springs
Lockeland Table
When: Community Hour six days a week, Monday-Saturday from 4-6 pm
The deal: Neighborhood favorite Lockeland Table likes to call their special time "Community Hour" since a portion of sales goes back to local schools. They offer shareable dishes and glasses of wine starting at $6 plus a kids menu with healthy options, because Lockeland recognizes that working parents need to feed their kids while unwinding with a glass of wine after a long day.
Melrose
Sinema
When: Monday-Friday from 5-6:30 pm
The deal: The sultry bar in this upscale restaurant is the place to go for $6 well highballs, $6 Old Fashioned cocktails, $6 champagne cocktails, $6 select beers, $6 house wines, and $6 select bites from their food menu. Sixes are apparently wild.
Midtown
Union Common 
When: Monday-Friday from 4-7 pm
The deal: Union Common makes their happy hour deal easy to remember with half off on craft cocktails, wine by the glass, and small plate appetizers. Simplicity is bliss!
Music Row
The 404 Kitchen
When: Monday-Thursday from 4-6 pm
The deal: Gertie's Bar on the ground floor of The 404 Kitchen has, without a doubt, the best whiskey collection in town, but they showcase other things during happy hour, including half-price beer and wine by the glass and half-price signature cocktails including the Old Fashioned, the 404 Vesper, Margarita, and a darned fine Negroni.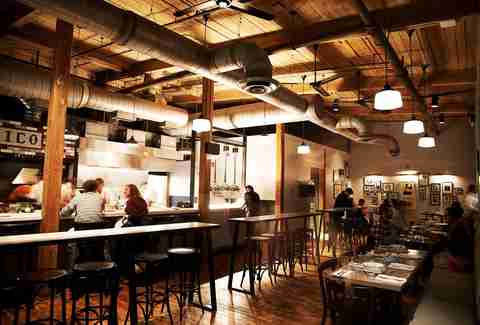 The Nation's
Nicky's Coal Fired
When: Monday-Thursday from 5-6:30 pm
The deal: In addition to rotating drink specials, this delightful Italian ristorante offers a half-off antipasti menu which includes rotating hot and cold appetizers including antipasti like lardo, Cotto, and Copa.
ONEC1TY
SandBar 
When: Monday-Friday from 4-7 pm
The deal: It's always happy at this convivial outdoor dog-friendly bar with its sand volleyball courts and drinks served in real coconuts, but in the first three hours after opening they up the ante by throwing in free Jell-O shots with the purchase of any boozy beverage.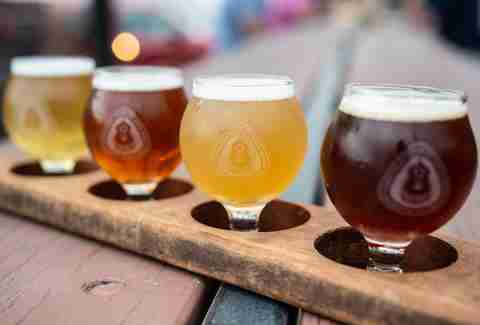 Pie Town
Tennessee Brew Works 
When: Monday-Friday from 3-6 pm
The deal: This stylish modern craft brewery and taproom serves great food, too. It's especially attractive during happy hour with discounted small plates like spinach dip, hot chicken hush puppies, and brisket street tacos plus $1 off drafts and $4 well drinks.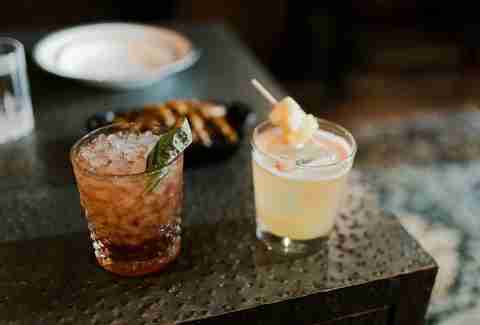 Printer's Alley
Black Rabbit 
When: Monday-Friday from 4:30-6:30 pm
The deal: Happy hour at Black Rabbit always features $5 select drinks plus other rotating specials like a burger, beer, and side dish deal for $15 on Tuesdays and Triple T Thursday where tacos, Tecate, and tequila will set you back just ten bucks.
SoBro
The Green Pheasant 
When: Monday-Saturday from 2-6 pm
The deal: This stunning modern Japanese restaurant gives 5% of their midday sales back to the community through local charitable organizations, but they also give some pretty good deals to their customers, too. Enjoy $5 house red wine, 2-for-1 Kirin Ichiban drafts and great deals on sake and shochu while knowing you're giving something back.
Vanderbilt/West End
Mason Bar 
When: Daily from 5-7 pm
The deal: This cozy bar in the lobby of the Loews Vanderbilt Hotel doesn't care what day of the week it is; they want you to be happy for at least a couple of hours. Special "craft on draft" cocktails are featured for $8 along with $5 deals on domestic draft beers including from the local favorites at Yazoo Brewing Co. Add on discounted hot chicken sliders and tuna tartare tacos to make a meal of it.
Wedgewood/Houston
Earnest Bar & Hideaway 
When: Monday-Friday from 3-6 pm
The deal: Tucked away on the ground floor of the Houston Station building, Earnest really is a hideaway with exposed stone walls and rough-hewn ceilings. Yet they still make it feel cozy, perhaps thanks to the $4 draft beers and $10 selected cocktail deals they offer during happy hour. The talented bar staff is always willing to help you find a new favorite.
Sign up here for our daily Nashville email and be the first to get all the food/drink/fun the Music City has to offer.