It used to be that access to a rooftop was a real special treat for Nashville bar patrons, and they flocked to those rare aeries in droves. Now, a rooftop terrace is pretty much the ante to get into the Music City bar game. The recent spate of Downtown celebrity-themed bars and honky-tonks has introduced many more opportunities to see the teeming masses of Lower Broad from above. It's telling that since we last updated our list of best rooftop bars, only one is a repeat member of this roster of a dozen spots to get a little altitude while you improve your attitude. 
SoBro
Standby for frozen drinks and looking down on rowdy crowds
Acme is the only returnee to this list, and it's a well-deserved position. Its prime location at the foot of Lower Broad offers a unique perch to look up and down the Cumberland River as well as all the craziness below stretching up Broadway to the Bridgestone Arena. Featuring fun frozen drinks like the moonshine-based "Mule Kicker," plus live DJ dance parties on the weekend, Acme truly is the acme of rooftop bars.
Downtown
Private cabanas and a pool atop a boutique hotel
Bobby is a Downtown boutique hotel that seeks to stand out in a crowded hospitality market, and their rooftop is definitely a differentiator. In addition to private cabanas where you can sip a cocktail or cold beer poolside, Bobby features one of the most novel bars in the entire city. During the construction of the hotel, they shut down the entire street below to crane up a vintage 1956 Scenicruiser bus where guests can hop aboard to take a trip to tequila town or a gin journey.
Downtown
The highest rooftop on Broadway, with music to boot
With the rooftop arms race that's going on Downtown, every venue looks for something to brag about. At Dierks Bentley's Whiskey Row, they boast "The Tallest Rooftop Bar on Broadway," thanks to the fact that their building happens to be on a small rise on the high side of the street. There's more to love at Whiskey Row than just the altitude thanks to a separate entrance from the street that allows guests to head straight upstairs without fighting their way through the crowds, and great food, drink, and music once they arrive on top.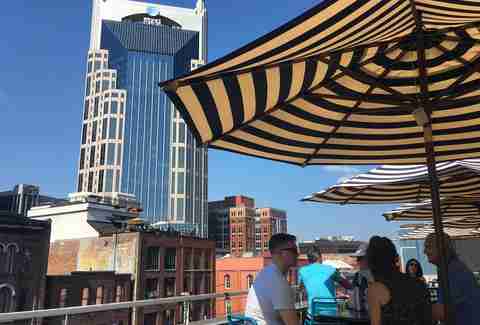 Downtown
Axe throwing, shuffleboard, astroturf, and more
From the same team that brought you the entertaining Pinewood Social with its bowling alleys, craft cocktail bar, coffee shop, and dipping pools, Downtown Sporting Club is another "choose-your-own adventure" sort of venue. Like at Pinewood, there is fine dining, great coffee, sporting entertainment (axe throwing instead of bowling in this instance), and convivial bars. The key differences are on the top two floors where DSC offers more than a dozen luxury hotel rooms and a rooftop oasis from the madness below. With artificial grass and lots of foliage, shuffleboard courts and comfy outdoor furniture for lounging, the rooftop is an ideal place to get away from it all without having to leave Downtown.
Downtown
Swanky rooftop terrace for cocktails in a vintage space
While not technically a "rooftop," the wraparound terrace on the fourth floor of the Fairlane Hotel offers a unique perspective above the business district of Downtown. The tony hotel is located in a renovated bank building from the 1970s, and both the hotel and their Ellington's restaurant exude a cool Mad Men, mid-century vibe. Unleash your inner Don Draper as you sip on a classic cocktail or a martini from your elevated position in the former executive suite level of bank headquarters.
SoBro
Live music and DJs at a country music party spot
In Nashville, "SoBro" stands for "South of Broadway," but at the FGL House there are always plenty of Southern Bros in attendance as they worship at the altar of their heroes: Florida Georgia Line. It's all in good fun though at this multi-level entertainment complex where the music is pumpin', the bass is thumpin' and the drinks are flowin', especially at the popular Cruise Rooftop Bar. A tight menu of tasty bar food adds to the fun, and live musical acts or DJs provide the soundtrack.
SoBro
Sleak spot with a pool, Asian fusion cuisine, and upscale cocktails
Perched 27 stories above Downtown atop the luxe Westin, L27 is one of the most chi-chi spots in town. The menu of food and drinks is literally elevated, thanks to its location, but the Asian fusion-inspired food offerings are perfect for enjoying poolside at L27. That pool is truly an architectural marvel with a glass wall offering a view of downtown without having to towel off.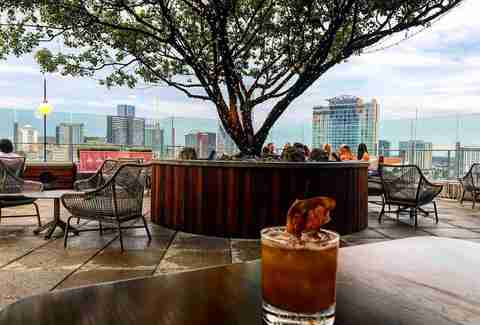 The Gulch
Floor-to-ceiling windows, elevated bar food, and boozy punches to share
The Thompson Hotel in the Gulch has the benefit of being close enough to Downtown to make it an easy walk, scooter trip, or Lyft but still offers enough distance from the mayhem of Lower Broad that it's a nice alternative to lay your head at night. Their L.A. Jackson rooftop bar is another prime amenity with floor-to-ceiling windows revealing a wraparound vista of the city and the rolling hills beyond the urban core. The food menu features fantastic classic bar snacks like smoky chicken wings and a delicious double-stack cheeseburger, and the drinks are great, too. Groups of six or more can order large-format punches for the table to share.
Downtown
Online seat reservations at a fancy, multi-story honky-tonk
It seems like all that Blake Shelton touches turns to gold, and his lucky streak continues at his mega-popular Ole Red multi-story honky-tonk at the corner of 3rd and Broadway. The Lookout is Ole Red's rooftop feature with a full menu of surprisingly fancy food and drink and what they describe as "a VIP patio vibe." So much so, in fact, that they offer priority seating with online reservations so you can be treated as VI even if you're just normal P like the rest of us.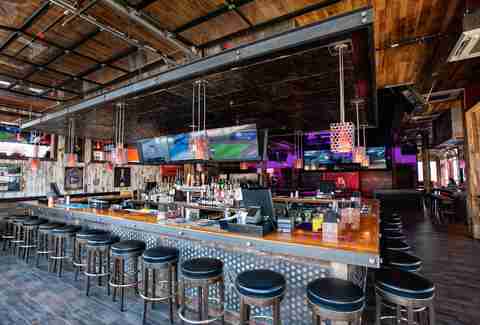 Downtown
Two bars with distinct menus share one roof
While these two rooftops are ostensibly separate venues, you can pretty much just walk from one to the other across the top of the building they share. On Luke Bryan's side of the roof the menu skews toward sushi, an unusual choice for a landlocked state, but whatever... Jason Aldean features downhome Southern fare from skillets of cornbread to meatloaf and steaks. Both bars offer plenty of fun, though, with live music and extensive beer and liquor selections.
Downtown
Double-decker roof with a dance floor, comfortable seating, and dog-friendly grass
While it may have "underground" in its name, it's the rooftop at this Gavin- and Joey DeGraw-owned complex that really stands out. They claim their open-air terrace is the city's tallest (take that, Dierks!) and that it is the only double deck rooftop on Broadway. All boasting aside, it really is pretty impressive with an indoor penthouse section featuring a huge wall of video screen and an LED dance floor opening up onto those two decks. The lower upper level is divided into all sorts of spaces for lounging around in comfy sofas while the tippy top actually has a grass-covered green roof and declares itself to be dog-friendly if you have a friendly dog.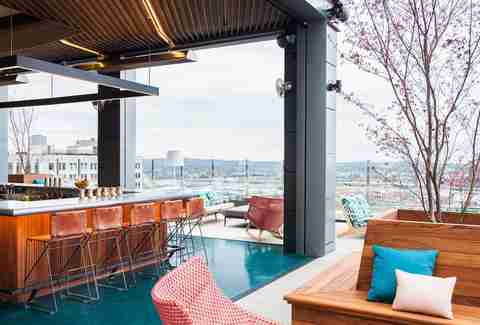 Downtown
Fireplaces, couches, a killer cocktail program, and a covered bar area
The Noelle is another of Nashville's relatively new boutique hotels that stretch along 4th Avenue, and their Rare Bird Rooftop Bar is a real standout. The bar area is covered to allow for some protection from the elements, but still open on multiple sides to bring in the expansive view of Downtown from atop its lofty perch on the 12th floor. Two working limestone fireplaces are surrounded with couches to extend the party into the nippier weather of autumn, and the cocktail program of creative drinks rivals any other in town.
Sign up here for our daily Nashville email and be the first to get all the food/drink/fun the Music City has to offer.