The beer boom is a real phenomenon in Nashville and the surrounding region. Breweries are popping open faster than PBR cans at an ironic '90s-themed hipster tailgate party, and local craft-beer lovers' choices are growing geometrically as the new breweries experiment with new recipes. Some of the best options are seasonal specials while others are stalwart constants. So here's a list of some of the best brews to choose when you're on your next taproom crawl.
Recommended Video
The Definitive Eggnog Recipe You Need for the Holidays
Big Juicy Dank
Mantra Artisan Ales
Franklin
Most of the beers from this Franklin-based brewery are worthy of the hunt, but this particular hoppy, citrusy IPA was especially sought after. Brewed as a collaboration with a group of other local beer geniuses as a special treat for attendees at the recent Southern Brewers Convention in Nashville, some cans were actually available outside of the convention center and the Mantra taproom. So if you see it, drink it!
Farmer's Beat
Tennessee Brew Works
Nashville
Never really got into beets? That's fine, we feel you. Those red roots can tend to taste sort of like dirt, but in the hands of the talented brewers at TBW, it contributes floral aromas and berry flavors to this farmhouse ale. You know what Pink Floyd said, "How can you have any pudding if you don't drink your beets?!"
The Forty Four porter
Black Abbey Brewing Company
Nashville
There's no better way to celebrate or drown your sorrows about the presidential election than with a pint from Black Abbey's POTUS series of beers. Originally named POTUS 44 after Barack Obama, the brewers cheekily describe this porter as being "liberally infused with Kenyan and Hawaiian coffee, and it has a little bit of smokiness that just won't quit." Thanks to a collaboration with coffee from local roaster Frothy Monkey, there's enough java and chocolate character to this beer to make it worthy of pairing with breakfast or dessert.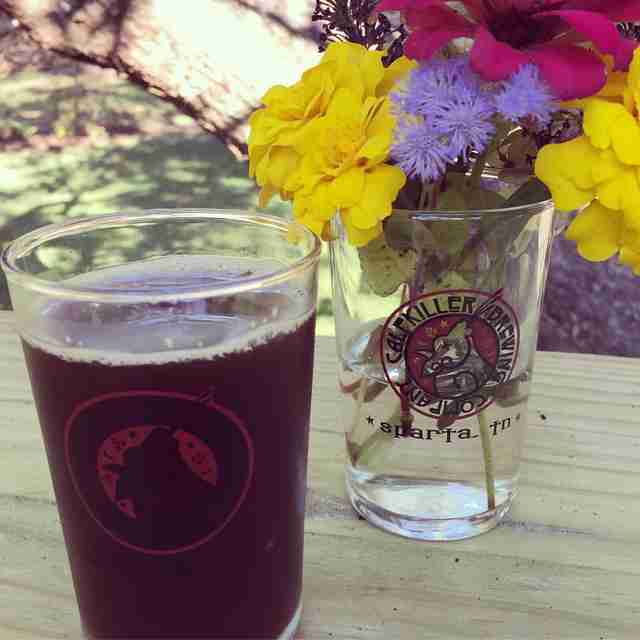 Scorched Hooker
Calfkiller Brewing Company
Sparta
In their tiny Sparta-based brewery, brothers Dave and Don Sergio are certainly not bound to traditional brewing styles. Their constantly rotating roster of recipes may not be everybody's cup of tea or pint of ale, but they are never boring. They brew a popular Scorned Hooker amber ale that is a fortunate find when available, but the winter edition of the Hooker is even more desirable. The Scorched Hooker has darker smoked hops and is almost copper colored. Dark, hoppy, and smoky, it's a hell of a beer.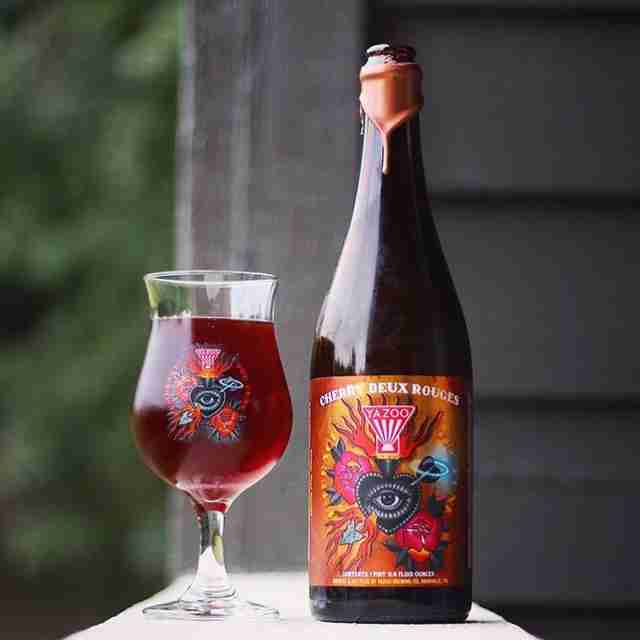 Deux Rouges
Yazoo Brewing Company
Nashville
Part of Yazoo's wildly popular series of sour beers which they bottle under the Embrace the Funk label, Deux Rouges is a Flemish sour red ale aged in oak wine barrels that previously held Merlot. The tart beer that emerges after a 13-month wood nap is redolent of leather and oak with strong notes of cherries and other dark fruits. It's reminiscent of some really rich entrepreneur's library full of old books and leather upholstered reading chairs.
Lovebird
Jackalope Brewing Company
Nashville
Jackalope fans love Lovebird so much, the brewers wish they could make it more often. However each batch uses more than 200lbs of fresh berries, so it's a pretty expensive process that lends itself to being more of a special occasion beer. Besides, you'd definitely prefer that they make it when the strawberries and raspberries in the kettle are at their freshest, so it's always a spring release. The resulting pale pink Hefeweizen has a delightfully dry finish as the juicy fruits fade away after a deep draught.
Amber Ale
Gerst
Nashville
Gerst isn't actually a brewery anymore, per se, but historically the original Gerst Brewery was one of the dominant players in the beer game between the end of the Civil War and the beginning of Prohibition. Once the largest production brewery in the Southeast, Gerst now lives on as an homage beer which was reborn as a Yazoo product in 2011. Nobody has the original recipe for Gerst Amber, so the brewers at Yazoo made their best hunch at recreating it. It turned out to be a damn fine guess.
Evil Octopus
Mayday Brewery
Murfreesboro
This black IPA is brewed with eight different hop additions, one for each leg of its namesake cephalopod. Inky black and full of roasty malts, Evil Octopus has a dry, slightly bitter finish. It's even better when sampled as part of the Murfreesboro brewery's entertaining tours where they promise, "We don't taste beer on this tour. We f*cking DRINK beer!"
St. Charles Porter
Blackstone Brewing Company  
Nashville
As the oldest continuously operating brewery in the region, Blackstone sometimes gets taken for granted for being so steady. But overlook them at your peril because you don't want to miss out on this particular beer, the most-awarded brown porter ever at the Great American Beer Festival. With hints of chocolate, coffee, and nuts, it's like a brownie in a mug.
Chicken Scratch
Little Harpeth Brewing
Nashville
They're all about the lagers at Chicken Scratch, and also big fans of celebrating local purveyors. This particular beer is light on the palate and features locally grown and milled corn and the only variety of hops that is native to the United States. The result is sweetly corny, like your uncle that still tells knock-knock jokes at Thanksgiving dinner. It's also slightly grassy, like your nephew who keeps going back for seconds and thirds and fourths of the mashed potatoes.
Wishing Well Coffee Stout
Southern Grist Brewing
Nashville
Operating almost more like a coffeehouse than a brewery, Southern Grist makes very small batches of beer that they serve only in their own taproom. They rarely repeat a recipe, preferring to offer new options all the time, at least until they rotate around again on the seasonal calendar. As if their delicious coffee milk stout wasn't rare enough, there was one tiny batch that lucky taproom patrons got to sample a version of that was infused with chocolate Thin Mint cookies through a Randall system attached between the keg and the tap. Keep visiting and maybe you'll be that fortunate, too.
Peanut Butter Milk Stout
TailGate Beer
Nashville
Although it sounds like a tricked-up novelty recipe with a combination of flavors aimed at people who don't really like beer, the Peanut Butter Milk Stout from TailGate started out as a one-off experimental beer brewed on their tiny pilot system and has grown to a year-round canned offering brewed in large quantities. We should have guessed it would blow up crazy large when it won a grand prize in its category at the World Beer Awards in 2015.
Applewood Smoked Grätzer
Corsair High Gravity Beer Lab
Nashville
Wait, isn't Corsair a distillery? Yes it is, but you can't make great whiskey without brewing a good beer first. So Corsair hired an excellent local brewer, Karen Lassiter who used to (wo)man the tanks at Boscos, and turned her loose with basically carte blanche to brew whatever she wanted. She experiments with ancient Egyptian, Norse, and European recipes, and this traditional Polish wheat beer is a real winner. Made with a blend of traditional two-row malted barley and other malts that Corsair smokes themselves over applewood, this smoky Grodziskie is unlike anything else you'll ever drink in town.
Sign up here for our daily Nashville email and be the first to get all the food/drink/fun the Music City has to offer.