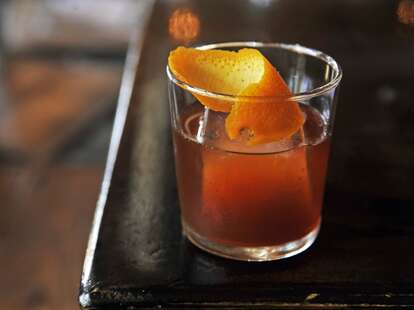 It's true what they say about Tennessee's capital: it's a drinking town with a music problem. And the drinking part of that equation can be largely attributed to the brown booze that flows like water down South. And seeing as Kentucky's own Bourbon Country is just up the road, it's no surprise that many of Music City's best bars take whiskey very seriously. With that in mind, here are the best bars to find a glass of good stuff.
Downtown
This intimate spot, housed in a shipping container in the heart of the Gulch, barely fits 40 diners, but that doesn't keep 404 from filling every nook and cranny with obscure brands and bottles ("you won't find Beam here", we were told). Chef Matt Bolus is a huge whiskey fan and an expert in brown liquor from all over the world, so you'll find more than 150 varieties, many hailing from lesser-known whiskey destinations like New Zealand or France. So grab a stool, put your tasting hat on, and order some bites off the menu while you're at it.
Downtown
The Hermitage Hotel's long-standing bar has exceptional offerings and is where you'd go to splurge on, say, a bottle of Pappy if you're into that kind of thing. Due to the caliber of clientele it regularly entertains, Oak Bar is one of the most high-end drinking spots in town, so expect a more expensive -- not to mention, older, more mature -- collection of whiskeys here. (And don't forget to peek in the swank, Art Deco men's room, even if you're a lady -- it's got a global reputation thanks to its sleek interior and fancy-pants shoeshine stand.)
SoBro
James Beard winner Sean Brock expanded his well-received Husk brand to include Nashville when he opened his second outpost in 2013. But while the food is definitely deserving of all its accolades, the bar is just as worthy as a stopover (some even claim it outshines the dining room). Housed downstairs, it's less formal than the restaurant and leads out into a spacious patio. In addition to an impressive variety of bourbons, ryes, and international whiskeys, Husk distinguishes itself with a cabinet full of vintage whiskeys that can be ordered by the ounce. Some of these rare brands haven't been available for many years, so it might just be a once-in-a-lifetime taste.
East Nashville
You know a place is legit when the city's celebrity chefs frequent it as their local watering hole. (We've spotted Sean Brock of Husk, Philip Krajeck of Rolf & Daughters, and a handful of their fellow food-smiths here). It may be tiny, but No. 308 packs a punch with its roster of cocktails and dive-like ambiance. The bartenders mix up house-made syrups that they give a jolt of soda carbonation, then pair them seamlessly with the wide variety of whiskeys on offer. Recommended: the coffee soda swirled with a few slugs of bourbon.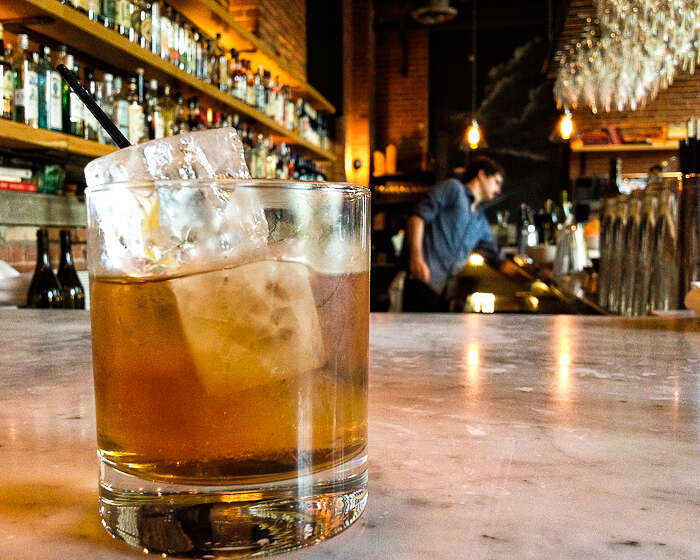 Germantown
You may get a kick out of the aesthetic of Rolf & Daughter's bar staff -- the handlebar mustaches and accompanying swagger could not be more pronounced if they tried -- but they sure excel at the mixology part of the hipster equation. They're known for taking classic drinks and taking them up a notch. Take heed and order Rolf's spin on an Old Fashioned, featuring Belle Meade bourbon, Laird's Applejack, smoked maple, and Angostura bitters.
East Nashville
There's nothing pretentious about this East Nashville hang, tucked away between Main St and Woodland around the corner from Edley's Bar-B-Que, but don't let the simple exterior and decor fool you. This is absolutely the place to procure a properly mixed cocktail -- or a beer and a shot -- accompanied by great burgers, cheap sliders, and a tot-centric menu of side dishes. The whiskey collection is impressive, and you can occasionally even find a bottle of Pappy hiding on the top shelf.
12 South
Brandy served from a St. Bernard's collar cask might seem like a more appropriate spirit to serve at this kitschy recreation of an après-ski lodge where you can cool down in the ultra-hot 12 South neighborhood. But whiskey is the focus of the impressive selection of bottles perched behind the birch log decorated bar with three pages of the menu listing more than 100 varieties of whiskeys from America, Scotland, Canada, Ireland, and Japan. You can even enjoy a "shot ski" of four shot glasses served up simultaneously for you and three friends.
8th Ave
In addition to a whimsical dining menu and a list of cocktails whose cheeky names are as much fun to read as they are to drink, this massive restaurant/bar in a converted theater is simply dead ass sexy. The offerings at the upstairs and downstairs bars vary slightly, but both offer an impressive variety of cocktails and whiskeys. Plus, either spot is the perfect place to enjoy a perfectly chilled Manhattan made with top-shelf ingredients and served up -- naturally -- in the proper glassware.
East Nashville
When it comes to the volume of whiskey consumption per capita, it's tough to beat this East Nashville neighborhood favorite where locals bend an elbow at the bar and enjoy dozens of different whiskeys ranging from Kentucky stalwarts to exotic single malts from around the world. Management is committed to stocking both affordable bourbons and expensive rare finds, so there's something for any budget at Mickey's (plus a damn fine fried bologna sandwich).
Germantown
Of all the Southern-inspired farm-to-table restaurants in Nashville with fantastic whiskey collections, Silo is another one. But seriously, Silo is a favorite Germantown destination for fans of fine corn whiskey thanks to their selection of rare bourbons like the Buffalo Trace Experimental Series and limited-edition single barrels from Four Roses and Colonel E.H. Taylor. There's also plenty of Scotch and Irish whiskeys, but the domestics are the real highlights of the list.
Sign up here for our daily Nashville email and be the first to get all the food/drink/fun the Music City has to offer.
Chris Chamberlain pretty much only adds water to his brown water, unless it's time for a pregame football drink. Then he might add a splash of ginger ale. Tip one back with him: @CeeElCee.