Tennessee may be synonymous with whiskey and moonshine, but at one point in our state history, grapes were poised to be the local cash crop. Our reign of wine ended with Prohibition, and didn't make a return until the late '70s. Today, Tennessee has more than 40 wineries and 150 vineyards producing award-winning wines from locally grown grapes. Here are some of the best wineries to visit around Nashville.
Arrington, TN
Arrington Vineyards opened its cellar doors in 2007 to bring a little bit of Napa to the Nashville countryside. Its sprawling 92-acre property features 16 acres of vines with chambourcin, vidal blanc, viognier, corot noir, and vignoles grapes. An old farmhouse that remained on the property and once served as a hog farm was converted into a tasting lodge upstairs and tasting cellar downstairs. They expanded their free "Music in the Vines" concert series, which takes place in the Grand Barn (only open until November) if you visit on the weekends. There's also something to be said for a quiet weeknight picnic under the stars.

Try the Antebellum red blend, which is aged in French oak barrels, then transferred to Tennessee whiskey barrels for a smoky finish. The Petite Noir is made from 100 percent Tennessee-grown grapes, and the Encore is a port-style dessert wine made with grapes grown at the vineyard.

Tasting schedule: Monday-Thursday 11am-8pm, Friday & Saturday 11am-9pm, Sunday 12pm-8pm.
Nashville, TN
The Belle Meade Plantation is a worthwhile tour whether you're a visitor or a local wanting to know more about the rich history of this 200-year-old mansion. Over the years, the plantation became known as a premier thoroughbred breeding farm, tied to some of the most notable horses in racing history, but also for its Southern hospitality and homemade wines. Since the opening of the Belle Meade Winery in 2009, guests can learn the full history of the plantation the proper way -- with a glass of homemade vino in hand. Tours of the property come with a complimentary group tasting. Private tastings and food & wine pairings are also available.

Tasting schedule: Open seven days a week. No reservations needed for group tastings. Private tastings and pairings can be reserved online or by calling the tasting room at 615.356.6164.
Nashville, TN

Although it's not technically a Tennessee winery, City Winery is the only urban winery in Tennessee. The Nashville winery and concert venue is the sister spot of the company's New York and Chicago locations (as well as a recently opened Atlanta location with Boston expected for 2017.) Whether you visit for dinner or a show, be sure to reserve some time to tour the winery, which directly sources up to 50 taps throughout the venue. The wines are available for purchase by bottle or growler, and tours come with a voucher for a complimentary glass on your next visit. There's also a combined tour available with City Winery and its neighbor, Tennessee Brew Works, to satisfy your group's grape and hops cravings in one afternoon.

Tasting schedule: Open seven days a week, starting at 3pm.
Centerville, TN
According to owners Joey and Gail Chessor, Grinder's Switch Winery is "a hobby grown out of control." Their family estate in Centerville, TN, features six acres of vineyard plus two acres for muscadine grapes, a winery with a 15,000-gallon tank room and a tasting room converted from the family log cabin. Last year, it opened a second tasting room in Marathon Village. Tastings are free if you visit the winery, but there's a small tasting fee for flights of their dry and sweet wines at Marathon. And wine slushies to finish!

Tasting schedule: for Centerville location: Sunday-Thursday 10am-5pm, Friday & Saturday 10am-6pm; for Marathon location: Sunday-Thursday 12pm-5pm, Friday & Saturday 11-6pm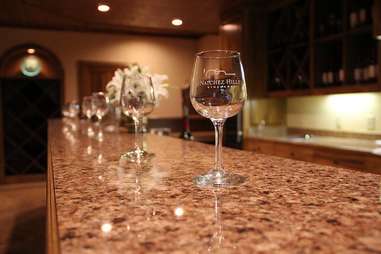 Hampshire, TN
Take a day trip just south of Nashville to experience the beauty of historic Natchez Trace and finish at the boutique family vineyard and winery Natchez Hills. You can sample their collection of small batch wines in the tasting room, or enjoy a bottle on the patio overlooking the vineyard. Natchez Hills also has a bed & breakfast down the street for overnight stays, and it comes with a complimentary tasting at the vineyard. The Natchez Hills Winery at Fontanel is a 3,000sqft satellite tasting room with live music other special events tied to the multiple attractions at Fontanel Nashville.

Tasting schedule: for the main location, Wednesday-Sunday 12pm-5pm; the Fontanel location is open seven days a week from 11am-7pm.
Manchester, TN
Beans Creek Winery opened in 2004 as a product of nine local families with a shared passion for winemaking and pride for Tennessee wine. Their 30-plus wine list is made primarily using grapes grown throughout Middle and East Tennessee -- muscadine, chambourcin, vidal blanc, noiret, and chardonel, to name a few -- and ranges from dry to sweet, as well as including sparklings and port.

Tasting schedule: Monday-Thursday 10am-6pm, Friday & Saturday 10am-7pm, Sunday 1pm-5pm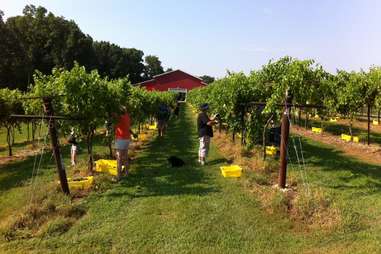 Hampshire, TN
Another great winery to visit in Hampshire, Amber Falls Winery & Cellars produces a wide range of dry red and white blends as well as novelty fruit wines. Their Music on the Ridge concert series and annual Cajunfest attracts visitors from all over. They even produced a Cajunfest wine infused with Cajun spices to commemorate the event.

Tasting schedule: Monday-Saturday 10am-6pm and Sunday 12:30pm-6pm
Clarksville, TN
Celebrating 30 years of Tennessee winemaking, Beachaven Vineyards & Winery is a family-owned and -operated endeavor that began with Judge William O. Beach. Judge Beach was an amateur winemaker and led the charge in changing state legislation in the '70s, reviving the Tennessee wine industry that laid dormant since Prohibition. With his son-in-law, Ed Cooke, the pair began their vineyard and opened the winery in 1986. Ed and Louisa Cooke continue the family business today. Tours and tastings are complimentary for visitors as well as their Jazz on the Lawn concert series, running May through October. The live music event is a vineyard tradition and draws crowds of thousands to picnic on the lawn every summer.

Tasting schedule: Monday-Saturday 9am-6pm and Sunday 12pm-6pm
Springfield, TN
Opened in 1999 by proprietors Ross and Deborah Proctor, Château Ross Winery is a private winery and 13-acre vineyard just 40 miles north of Nashville. They mainly produce full-body reds, but do offer small batches of their chardonnay in the tasting room. On the way there, visit the historic town of Cross Plains, the first settlement in Robertson County, and stop at the old-fashioned soda counter in Thomas Drugs.

Tasting schedule: Private tours and tastings available by appointment only
Sign up here for our daily Nashville email and be the first to get all the food/drink/fun the Music City has to offer.
Kendall is a Nashville native and lover of all wine that comes complimentary.