What is a Bad Decision Bar, you ask? Well, it's the place where "one last drink" turns (several hours later) into "Why are there McNuggets in my pockets? And whose pants are these?". Here are just some of the best places in Nashville to lose yourself, your mind, your keys, and thankfully, your memory (at least until those delightfully abundant tagged photos pop up the next day).
Near the Fairgrounds
It's that best bad decision bar that still holds a special place in your heart for a short, but critical list of reasons -- they serve $2 beers (literally that's your only option), it's located in a double-wide trailer decorated for your favorite holiday, and the karaoke never stops. And no, it's not your impaired vision at play, Santa actually lives there.
Midtown
Locals tend to favor this dive on weeknights for the cheap drinks and low-key atmosphere, but occasionally, can't resist a last call on the weekends. Plus, it's primetime to catch the drunken college girls on the floor trying to look through the peephole to the skeleton underneath. And inevitably enough, you too will get down and aid them in their search, even if you technically know better.
Downtown
Only two reasons you will catch a local here on weekends: they are craving some tater tots and it's super, super-late OR grabbing a beer at last call and dragging the net for any unsuspecting tourists. 10 points if you snag a member from one of the several, surrounding bachelorette parties. Ok, $3 pitchers make a solid third reason.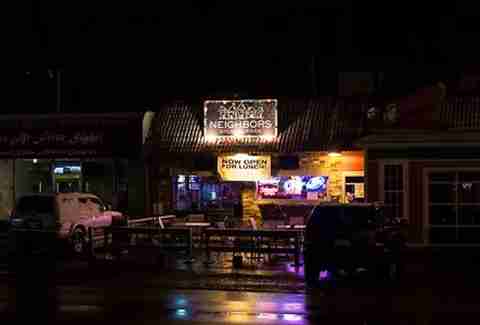 Sylvan Park
A likely spot for the West side residents to end up, Neighbors is the place where everyone knows your name, or at least the name they've decided to call you when you couldn't pronounce your real one. Like "table dancer" or "emotional drunk", for instance.
Downtown
More than likely, you're not even sure you're at The Stage. All honkey tonks tend to blur into one at this point, but the recipe for disaster remains the same; cheap drinks, a decent band hitting your classic country sweet spot, and stairs. Damn it, the stairs. Plus you're on Lower Broad, which is bad enough. And don't take it personally when at least three people try to fight you before you get to the bar. ("Where are you from?" "Not Ohio.")
Midtown
Rebar is another subconsciously desirable spot for Bushwackers at the end of the night, thanks to an extensive patio with cornhole and other games. But when you find yourself trying to smoke your cigarette backwards while watching some suited up coworkers whose happy hour turned into eight hours of regret? It's time to go home.
East Nashville
If you're driving down Gallatin, you've probably missed it several times. But hopefully at this point you're in a cab and he knows exactly where to drop you off. The drinks are stiff and always on special. There's pool, darts, and arcade games, and a venue in the back with bands somehow getting drunker than you, and probably breaking up mid-show.
Midtown
No need to differentiate with names, no one's a winner if you're closing down either of these side-by-side bars. But for those needing to remember where they left their ID... if you vaguely recall urinating into or around a silver throne? You were at Winners. If you found a piece of popcorn somewhere on your person/in your hair at work the next day? Losers.
East Nashville
Almost all can claim stumbling out of this place if they attended a 'Keep on Movin'' (aka 'Motown Monday') party. And even if you partook in one too many shotskies (always within arm's length of the bar) or tried doing The Twist and twisted your ankle instead, you still rolled out happy, and possibly with a stranger in a Michael Jackson jacket, plus glove.
Downtown
How did you get here? Honestly, if you ended up in Printer's Alley when the clock shows a single digit, chances are this isn't your first bad decision of the night. Don't get me wrong; this New Orleans-style blues bar can be a blast. So why stop now when you can dive deep into a Hurricane Bucket, Jell-O shots, or the cement at the bottom of the stairs?
Sign up here for our daily Nashville email and be the first to get all the food/drink/fun the Music City has to offer.