Courtesy of Tennessee Whiskey Festival
Courtesy of Tennessee Whiskey Festival
Fall has only arrived when drinks with pink umbrellas and light mixers are replaced by whiskey drinks and not a moment sooner. It's the ultimate warming drink, bracing one for the chill of autumn and steeling one for the winter ahead. And there's no better place and time to celebrate the arrival of fall and whiskey season than Chattanooga this weekend.
The Ninth Annual Tennessee Whiskey Festival takes place in Chattanooga, Tennessee on Saturday, September 30 at First Horizon Pavilion, just across the street from Finley Stadium, home to the Chattanooga Mocs and FC Chattanooga. Scheduled to be on site for the event are some of the biggest names in brown water—Jack Daniels, Jim Beam, the heavyweights—but also some of the boutique houses pumping out quality product that rivals (and in some cases, surpasses) the big boys.
Like Nelson's Green Brier, a Nashville-based brand launched after two brothers discovered their great-great-grandfather's long-lost legacy of distilling, reviving a brand that had been defunct for over a hundred years. Like Old Dominick, which touts itself as the first whiskey legally distilled in Memphis since Prohibition. Like Blade and Bow, which considers itself the spiritual successor to the legendary Stitzel-Weller distillery—you might know it as the brand home of brands like Old Fitzgerald, Old Weller, and Pappy Van Winkle.
The four-hour event has three levels of entry—VIP, Tasting, and Designated Driver. For the VIPs, there are lounges with cigars, full bars, and heavy appetizers. Those in the general populace get the tasting glass and accommodation at every booth; food vendors will also be on site. Those with Designated Driver tickets get to do a solid for their friends and laugh at what will likely be at least some hilarious antics throughout the event—it's a four-hour whiskey tasting, after all. Somebody's liable to get loose.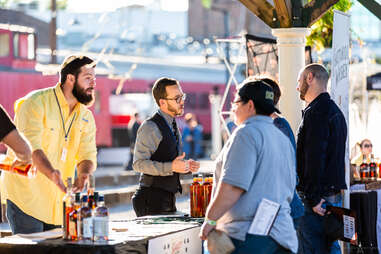 Drive Time:
2 hours from Nashville
2 hours from Atlanta
2 hours from Birmingham
More Things to Do in Chattanooga:
The Tivoli is truly a historic spot; even if you've no interest in Fantasia, it might be worth stopping in just for the venue. Other live music haunts for your time in the Scenic City would include the Unknown Caller (a speakeasy accessed via old-style phone booth) or The Signal.
To get out of the hotel before the whiskey festival, check out the Tennessee Aquarium (it is, in fact, the best one in the state by a considerable amount) or Lookout Mountain, which is actually home to three attractions in one (including Rock City and Ruby Falls). Skip the latter two and take in the gorgeous view across seven states when you peer out from Lookout Mountain. Closer to the festival itself would be Southside Social or Chattanooga Brewing Company, both of which are lower-keyed places to do a bit of pre-gaming if that's your thing.
If you want to stick around a bit later on Sunday before you head out of town, Chattanooga FC is hosting its final home match of the NISA regular-season, with a block party kicking off in the afternoon near Finley Stadium.
Where to Eat and Drink in Chattanooga:
Friday night, make it Pickle Barrel. Have the fried pickle spears, enjoy the rotating beers on tap and avail yourself of the rooftop area, which should be plenty cool enough that close to the river as September draws to a close.
There's really only one way to begin Saturday: at Maple Street Biscuit Company, which offers massive, delectable breakfast sandwiches and assorted early-morning culinary delights.
Moving on to Saturday evening; you've been at the festival, you had some food there, but it's time to find a great dinner to soak up some booze and ease you into a delightfully chill evening. If you fancy an Uber (or have someone in your party who can drive you), head over to Sugar's Ribs, which has been recreating the old-school roadside rib joint on the east side of town for more than 15 years. If you don't feel like the drive, walk about 500 feet to Naked River Brewing and Barbecue for some of Chattanooga's most outstanding and original eats and drinks; a nice MoonPie Stout pairs well with their take on a Crunchwrap Supreme.
You wake up Sunday. You might be a bit hungover. You're definitely not looking forward to driving a few hours back home. Go across the river to Milk & Honey (if you're a coffee person, theirs is the best) or to Aretha Frankenstein's for another hearty breakfast like the Elephants Gerald (a Belgian waffle with vanilla ice cream and pecans soaked in syrup, dusted with cinnamon).
Where to Stay in Chattanooga:
Chattanooga has every conceivable hotel chain in the area, but if you're looking for a little luxury without breaking the bank, check out Hotel Clemons. Formerly Bode Chattanooga, Hotel Clemons is in the heart of downtown, walkable to a number of restaurants and bars and to the historic Tivoli Theater (playing the weekend of the Whiskey Festival: Fantasia). Hotel Clemons is less standard hotel and more upscale boutique apartment, with large kitchen and living areas accompanying one, two, or three bedroom suites. Drive in early on Friday and try to hit their complimentary happy hour before you head out for the evening.
Colby Wilson is a Thrillist contributor.