While national Prohibition didn't become law until 1920, the temperance movement swept into Tennessee more than a decade earlier. Political wars raged as residents voted on which counties would be "wet" or "dry." Spokesmen rose to champion each side, and tensions built to a boiling point. When, in 1908, Edward Ward Carmack, voice of the prohibitionists, was gunned down in Nashville at the corner of Seventh Avenue and Union Street by an anti-prohibitionist (and the son of his greatest political foe), both sides went wild.
The state passed its no-sell rule in 1909, forcing urban liquor sellers to make gin in bathtubs and deals with the mob for imports, while moonshiners took to the hills as distillers cleared out of town. Even the big-name producers temporarily moved their operations out of state to avoid the long arm of Prohibition.
We'll spare you the details, but Tennessee worked it all out. The big-name producers returned. Bona fide moonshine distilleries became legal in 2010. But the same inventive spirit with which Tennessee distillers survived Prohibition now exists in the Prohibition-themed cocktail bars that have distinguished themselves in Nashville's cocktail scene. While original speakeasies were known for using strong flavors to mask subpar liquor, the speakeasy-style bars on this list are popular for their award-winning cocktail programs. So sidle up to the bar, give these spots a shot, and raise a glass to the 21st amendment.
South Inglewood
The lush, art deco decor of Fox Bar and Cocktail Club makes you feel like you're in Jay Gatsby's house rather than in East Nashville. The low ceilings, private booths, and intimate seating arrangements also make it a prime location to hole up with your honey and sip cocktails made with seasonal ingredients from local farms. If you'd rather make conversation, park yourself at the marbleized bar to confer with a bartender about one of their many inventive cocktails. Try the Pumpkin Fizz (apple brandy, gin, roasted pumpkin, egg white, nutmeg, angostura bitters, sparkling wine, lemon stock) and if you're feeling peckish, order Fox's award-winning vegan charcuterie board.
East Nashville
Visitors to the Nashville installment of legendary New York cocktail bar Attaboy might marvel at its windowless, cinderblock façade -- a far cry from the architecture of its Big Apple predecessor. But Nashville's Attaboy is making its own reputation. Just this summer, it was shortlisted by the Spirited Awards as Best New American Cocktail Bar. Despite its accolades, Attaboy is not overly exclusive. A painting of a rooster riding a chopper tips visitors off to the bar's location, where they're greeted by a sign marked "Please knock gently." If the bar has space and the door person has inclination, patrons will be ushered through a black curtain to the dimly lit, menu-less bar. After a quick interview with the bartender, guests can take a load off at one of the blue velvet booths or swap stories on bar stools. (Ask the bartender about the mounted baseball bats.)
Downtown
Even employees of Nashville hotel Noelle are instructed to "speak easy" of Hidden Bar. But here are two hints about how to get there: a two-way mirror and a storage closet. Once you find this subterranean lounge, your efforts are rewarded with a cocktail menu that dazzles -- literally. When guests order one of three large-format drinks, such as the Emotional Rescue (Haitian rum, Puerto Rican rum, pineapple rum, sparkling wine), the pitcher is presented with a sparkler sizzling on its top while the bartender plays that drink's signature song (Emotional Rescue gets Blue Swede's "Hooked on a Feeling"). If you're looking for something a little less lit, the rest of Hidden Bar's cocktail, beer, and draft wine list is accessible yet still interesting.
Downtown
One might say Prohibition was a terrible magician -- it couldn't make the liquor disappear. But House of Cards, Nashville's new magic and dinner venue, is full of amazing magicians ready to mystify. It even requires a disappearing act to get in. Guests are ushered through an entrance in the Johnny Cash Museum, and, abracadabra! -- you're plunged into a plush entertainment lounge. Choose from a list of magic-themed cocktails or the classics, which House of Cards elevates with its house bitters and a cast of local liquors. Once you've got a drink, prepare to be amazed as you watch magicians do some sleight of hand at one of the dark wooden tables or mosey over to make a request from the self-playing piano. In the back room, buy an entrée in order to see the full magic show to finish off a spellbinding night on the town.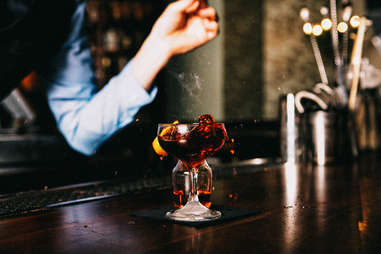 Music Row
Named for Tennessee Governor Malcolm R. Patterson, who famously said, "For a state... to attempt to control what the people shall eat, drink, and wear... is tyranny, and not liberty," Patterson House is the godfather of Nashville speakeasies. It put the city's cocktail scene on the map when it first opened its doors in 2009 and the bar's luxe aesthetic and inventive drinks have been winning awards ever since. A pyramid of beautiful liquor bottles rises from the heart of the room, exemplifying the centrality of fine, handcrafted cocktails to its overall vision. The bar's rules, such as "Please be patient, each cocktail is hand-crafted, and quality takes time," and "Enjoy the company that you keep," remind guests that though the room has a free and speakeasy vibe, everyone is there to have a high-class time. Order from the menu, which is grouped by liquor, or confer with the bartender. Need a recommendation? Ask for the Greenpoint, a nod to NYC's iconic cocktail den Milk & Honey (where the drink was created).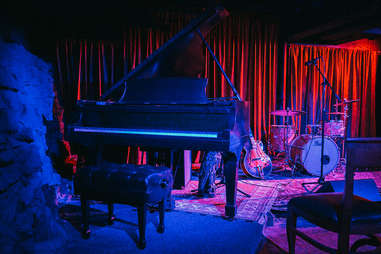 The Gulch
Rudy's is all the best parts of a jazz club with a dialed-up Jazz Age aesthetic. Yes, Rudy's has signage and is easy to find, but it also has a maroon-colored crushed velvet stage curtain, moody lighting, live music every night of the week, and a jazz piano happy hour. These elements, combined with its commitment to making traditional, early 1900s cocktails, cements Rudy's Jazz Room as one of Nashville's most authentic-feeling speakeasy lounges. Between the Sazeracs and the seafood-heavy menu, you'll feel like you've popped down to New Orleans, all while enjoying fine jazz in a secluded bar about a mile from Nashville's famous honky tonks.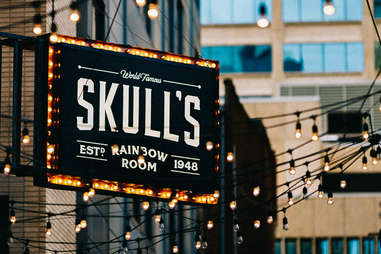 Printer's Alley
Skull's Rainbow Room doesn't require a password, but it does have an entrance in a cobblestone alley, a burlesque show, and folklore surrounding the murder of its namesake founder, David "Skull" Schulman. A Printer's Alley fixture for 70 years, the room's black and white stage has been graced by a wide variety of musicians -- Etta James, Elvis Presley, and Johnny Cash, just to name a few. Plus, its dinner menu and seasonal cocktail list make Skull's a downtown favorite for tourists and townies alike. Park it at the bar and try The Skull (rum, cream of coconut, pineapple, grenadine, ginger) while watching a late-night burlesque performance Wednesday through Saturday. And did we mention there's jazz every night?
Edgehill Village
There's no sign marking the entrance to Old Glory, instead visitors follow a vine-covered wall to a door marked with a golden pyramid. Down the gilded, spiral staircase they go, into the belly of a revamped 1920s boiler room, complete with intact coal hopper. A modern bar in a vintage setting, Old Glory boasts a seasonal cocktail menu complete with a variety of craft shots. From the Tic Tic Boom (house-made smoked cinnamon & ancho chile-infused bourbon) to the Nanerum (banana-infused rum), the bar is a locals' favorite for weekday hangs and weekend soirees.