Nashville has no shortage of great drinking spots. Or phenomenal bartenders that know WAY more about said drinking spots than you or I. Because of this very pleasant fact, we talked to some of Nashville's top barkeeps to find out their favorite watering holes to visit after hours. If you see them out, go ahead and buy 'em a round.
12 South
Picked by: Ryan Yamada, bartender at Sinema

"At Sinema I spend most of the night crafting cocktails. Whether I am muddling fresh mint and blackberries for our Style and Grace cocktail, or finding the perfect balance of flavors for one of our house-made tonics, a lot of thought and effort goes into the process. When I finish a shift and want to unwind, I like to turn that part of my brain off. I prefer to get a quick drink, so a boilermaker (shot and a beer) suits me. Just down the road from Sinema is Embers Ski Lodge. It's a casual bar with quick bites and beer and whiskey. Order me up a local draft and a shot of Jameson and we can cheers to a good night!"
Printer's Alley
Picked by: Megan Dillon, bartender and assistant manager of Embers Ski Lodge

"Great cocktails, cool haunted history, burlesque shows, and fantastic food. The vibe in this historic Printer's Alley bar with the stone walls, wood bar, and black and white checkerboard stage next to a baby grand piano sets the tone. Have Aaron or John mix you up literally anything, you won't be disappointed."
Midtown
Picked by: Tony, bartender at Kayne Prime

Tony's favorite after hours bar in Nashville is The Patterson House for "their great selection of craft cocktails." If you've never been to the Patterson House, slide it up to #1 on your to-do list and go ASAP. In fact, we love this bar so much that it made it on to our list of the Best Cocktail Bars in America. It's a cozy, speakeasy style cocktail bar that serves up a unique selection of wonderfully crafted cocktails, delicious appetizers, and enforces a strict no cell phone policy... which we're kind of into.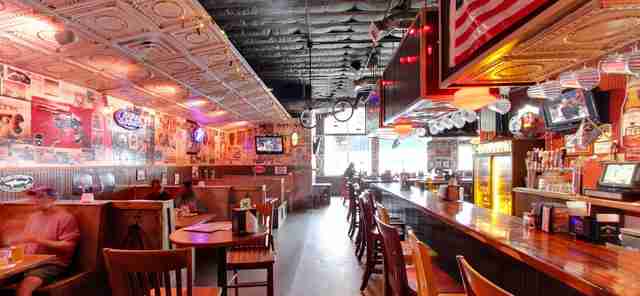 Melrose
Picked by: Kristin Hart, bartender at The Sutler

"When my shift at The Sutler is over, I like to head across the street to ML Rose. It's great that this neighborhood is growing its bar options. It's a mellow place where I can unwind with one of their rotating craft beers, and being able to grab a burger after midnight is always a bonus."
East Nashville
Picked by: John Peet, bartender at the Holland House Bar & Refuge

"Duke's is the perfect neighborhood spot for a shot and a beer after the work day is over. I usually opt for the Federali. A can of Tecate and a shot of Sauza for six bucks is a great deal, not to mention an unbeatable combination."
Music Row/Vanderbilt/Belmont
Picked by: Deb Henley, bartender at the Oak Bar

"There are so many options now for late night drinks in Nashville that it's getting hard to choose just one! If I had to pick a favorite (besides Oak Bar, of course) I'd say it's Jackson's near Vanderbilt. They have a wonderful patio, laid-back atmosphere, great cocktail creations and a late-night bites menu."
East Nashville
Picked by: Dennis Butler, bartender at 1808 Grille & Grant Fisher, bartender at Party Fowl

Dennis Butler picked 308 because it's "sophisticated, with creative cocktails at a reasonable price; there's knowledgeable, friendly bar staff, great music, ambiance and energy. And it's walking distance from 5 points area of East Nashville." Grant Fisher also chose No. 308 as the perfect after hours bar and recommends ordering the Queen Lily.
Midtown
Picked by: Sam Stoppelmoor, sommelier at Union Common

"I can get a unique glass of wine, a sour beer on draft, and a craft cocktail on par with Patterson House. There are not many after-hours bars in town that can boast both quality and diversity in their beverage program."
Melrose
Picked by: Cristina Plascencia of 5th & Taylor

"It has managed to stay a Nashville original, even in the ever changing landscape of a growing city. Even better, they never run out of hot boys, cold drinks or billiards tables."
East Nashville
Picked by: Lindie, bartender at Saint Añejo

Lindie likes 3 Crow for "the relaxed and diverse atmosphere." There's no doubt that it's a local's favorite spot for both a late-night drink and a bite. Located right in the heart of East Nashville's 5 Points, this bar pretty much always has something going on and is a destination spot if you're looking for a cold Bushwacker.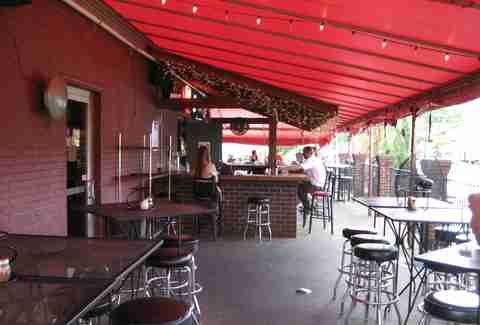 12 South
Picked by: Megan Dillon, bartender and assistant manager of Embers Ski Lodge

"Ma Familia! Next door neighbors is an understatement. This is the "Cheers" of 12 South Ave. Great 2-4-1 special on Tuesdays and Sundays, hand tossed pizza, local brews on tap, a fire pit on the back patio, and great people to sing 'Kumbaya' with."

Sign up here for our daily Nashville email and be the first to get all the food/drink/fun the Music City has to offer.

Brita is a Nashville based food photographer and writer who will go to any Nashville bar after hours as long as they have cold Jackalope beer. Follow her on Twitter @bbritnell.