I take the term dive seriously. When I say it, I mean a "cash-only, locals mostly, careful where you set your purse down, limit your liquids or be prepared to squat" dive. But we've gotten a little loose with the term as of late. Alas, time marches on, and the honorific title and testament to seediness has come to encompass basically any neighborhood bar. In an attempt to restore the term to its former glory, we've rounded up the greatest dives in all of Nashville for you, in order from dive-iest to most neighborhood-friendly, and sung their praises below. (When you get through all of those, make sure to check out the best dives in the entire nation.)
Est. 1970 | Inglewood
Cash-only NASCAR bar with karaoke
At first glance, Turn One looks like it should actually be called Wrong Turn. One section of the front of the building is completely boarded up, and there's no way to peek in scope the scene. Still, with its mismatched office chairs and NASCAR décor, the bar finishes at the top as one of Nashville's grittiest dives. Beers are served from a normal, home refrigerator, pool is free, and the bar hosts karaoke on Friday and Saturday night. You can get a cold one faster than a pit crew can change a tire, but pace yourself -- food options are limited.
Est. 2008 (open since 1968) | Inglewood 
$13 buckets, karaoke & pool
Four neon signs welcome visitors to Fran's Eastside, but coming in through the front door will for sure flag you as a first-timer. It will also put you on display on the karaoke "stage," a small, clear area in the front of the bar in the middle of everything. Entering through the side door (adjacent the gravel parking lot) will situate you close to the pool tables where you can make a bee-line to the bar to mix-and-match six beers on a bucket of ice for $13. Regulars, hipsters & visitors are all welcome at Fran's which is open every day (yes, even holidays) until 3am.
Est. 2000 | West Nashville: Charlotte Pike
A classic dive with outsider music
Betty's has been a dimly shining beacon in West Nashville for the past 20 years. Some say the unusual building is built around the original structure -- two wagons with a roof between them, but it's hard to say for sure. Regulars in NASCAR jackets populate the bar during the day, and by night, Betty's supports Nashville's outsider music scene by hosting at least a couple shows a week (check Facebook for the schedule). These days, smokers are relegated to the porch, but the décor and pitchers of Bud Light clocking in at $9.50 secure Betty's as a Nashville dive institution.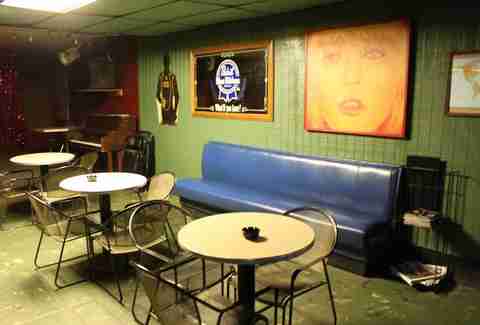 Est. 1978, open since 1897 | West Nashville
Longtime dive turned venue
Springwater has been slinging brews for over 40 years, but the space has served as a bar for thirsty Nashvillians since 1897. Today, the watering hole operates more as a venue than a neighborhood bar, and the low-ceilinged stage is perfect for intimate shows. The beer is ICE cold (like, you may need a napkin to hold it), and you can get Zima for $3. The website's list of confirmed and unconfirmed celebrity sightings is also a treat -- Al Capone (confirmed), Taylor Swift (unconfirmed).
Est. 2011 | South Nashville
Karaoke bar in a crumbling trailer that's somehow perfect
Opened by white-bearded Denzel Irwin ("Santa") in 2011, Santa's Pub is relatively young to be such a part of Nashville dive history. Constructed from a trailer or two, Santa's unusual layout alone a reason to pop in. Add cold, cheap, domestics (starting at $2 -- bring cash) and karaoke, and you've got your night made. Welcoming to all, weekend visitors should be prepared to pay a cover charge on the weekends. From 7-9pm on Sundays, visitors will hear the house band -- some of the best honky-tonk players in town. 
Est. 1973 | Hillsboro Village
Nashville's original dart bar
On your birthday at The Villager, you get free beer in a dog bowl. I cannot attest to the cleanliness of the dog bowl, the often-packed space shows regulars aren't worried about it. They mostly come to play darts, and a bunch of different dart leagues operate there during the week. Patrons also hit the Villager to grab a beer before/after a movie at Nashville's independent theatre, The Belcourt, which is located around the corner.  Be prepared to wash your hair after because you can still smoke in The Villager.
Est. 1944 | South Nashville
Pool, ping-pong & free popcorn
The smell of smoke used to hit you in the face as you walked down the stairs to Melrose. Now, it smells like popcorn. What natives affectionately called Old Melrose, a drinking den with free hot dogs and a dark, smoke-thick atmosphere, got a facelift in 2016. No smoking before 10pm is the biggest change, and, amazingly, the new ventilators actually have made things breathable for non-smokers. Melrose even has theme nights now -- Metal Mondays and Cheap Ass Wednesdays. This new iteration also offers 40s, snacks like the Hawaii 5-0, "deep fried spam bites with special sauce," and Frito Pie.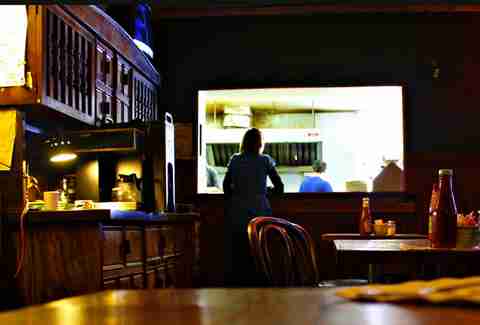 Est. 1927 | Belmont
Former lunch truck, forever favorite 
The way the light comes in the window at Brown's late on a Sunday afternoon is poetry. The only beer on draft is Budweiser. They have shoestring fries. Sports are on, but the volume is low, and sometimes there is live jazz. The waitresses will warn you about the toothpick that holds the cheeseburger together -- the same cheeseburger Brown's has been serving for over 85 years. It's open early enough to snag a burger on your lunch hour, and Vanderbilt fans flock to it before games.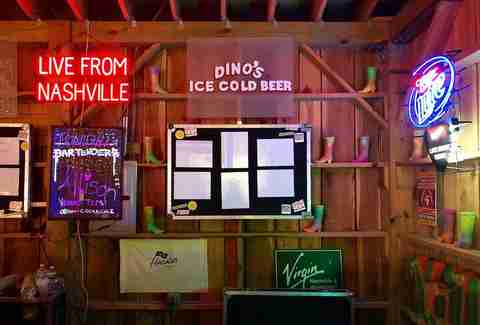 Est. 1970s | East Nashville
Oldest dive in East Nashville
Dino's would have been at the top of this list for divey-ness in its stickier, smokier iteration 10 years ago. Since changing ownership in 2015, the bar has more mass appeal as a neighborhood bar -- it even started taking credit cards. The Dino's burger made Bon Appetit magazine's Top Three Burgers in America in 2017. But from its neon signs to the questionable bathrooms, Dino's has retained its identity by adding only well-thought-out updates. Perfectly seasoned fries. Outdoor seating with twinkle lights but no opportunity for cornhole (whew). You can also get specials like a shot of tequila and a Tecate for $7.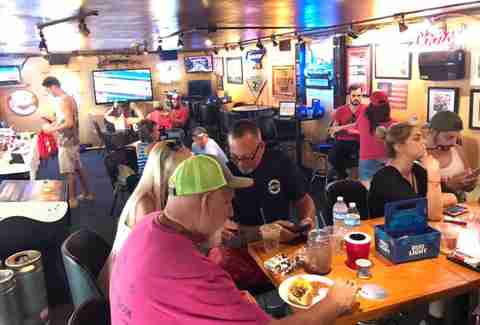 Est. 2006 | Downtown
Neighborhood sports bar near Ascend Amphitheatre
Why fight for parking downtown to pay exorbitant prices for questionably cold domestics when you can sit on a porch listening to tunes while crushing a cold one? Patrons at Batter's Box can save their money while listening to mega artists like Billie Eilish, Joan Jett, or Hunter Hayes play at Ascend Amphitheatre (which is a very short walk across the street). If the music of Music City doesn't interest you, watch sports inside and snack on weekly food specials like pork chops, beans, & taters, killer pizza, or breakfast all day. Batter's Box has a neighborhood feel with something for everyone.
Est. 1976 | Woodbine
Dive bar, burger restaurant, karaoke paradise
Like Dino's, Twin Kegs' 10 years ago was grittier and more locals-only. Long-time bartender Tia Rose Mirenda bought Twin Kegs two years ago, making changes like expanding the menu to include specials like this month's Burger, "Come Kale Away With Me" (add fries/tots for $2). Patrons can still smoke inside as they karaoke the night away, and most nights, the bar is pretty packed by closing time. Regulars are called "Keggers" and there's shuffleboard -- what more could you want?
Est. 2018 | Cleveland Park
$5 nachos & pool in a former biker bar
Visitors to Wilburn Street Tavern show up on the greyscale, closed-circuit TV monitor inside the bar -- the monitor former bar owners used to screen visitors in the bars more rough-and-tumble days. But today, Wilburn Street offers cold beer, cocktail specials, and a small-menu of delicious snacks (including $5 nachos and hot dogs) created by Teresa Mason (of Mas Tacos fame). Locals flock to Wilburn Street as their final destination or put their names in at nearby upscale restaurant Folk, and drink $6 Palomas at Wilburn as they wait.
Sign up here for our daily Nashville email and be the first to get all the food/drink/fun the Music City has to offer.