Ever since The Patterson House introduced Nashvillians to the concept of a properly constructed craft cocktail presented by a bartender with a sincere interest in the ingredients and techniques of classic mixology, new bars have sprouted up all over town that actually sell something other than Fireball shots to patrons used to elbowing their way to the front of the madding crowd. Here's a list of the latest and greatest spots to find something new to drink, shaken or stirred.
East Nashville
This East Nashville neighborhood hang has quickly become the place to gather after a hard day's work to make sure that Nashville maintains its status as an "It City." The tight menu revolves around classic cocktails made using top-shelf spirits. Yes, there's a daiquiri and a margarita listed, but these are the historical versions that Hemingway sipped on. Don't look for a blender behind the bar, you won't find one.
SoBro
You have to know where you're going to find this tiny cocktail emporium hidden away in a strip mall behind a strip club in SoBro. Look for the small brass sign at waist level to locate the door. Once in, dizzying decor stimulates the eyes while modernist cocktails tantalize the tongue. The crowd ranges from tweed vest-wearing hipsters to fluorescent vest-wearing construction workers sitting elbow to elbow at the cozy bar, enjoying a wide range of drinks from esoteric cocktails to canned beers.
Wedgewood-Houston
Josh Habiger and the Strategic Hospitality team behind The Patterson House have brought their brand of casual elegance to the burgeoning Wedgewood-Houston neighborhood in the form of Bastion, a new drinking and dining destination adjacent to the railroad tracks that often block your rapid egress from Downtown via 4th Ave. Don't try to beat the train… instead, relax in a sparse, yet comfortable bar area that Habiger describes as "an extension of my living room." Which means he must live in the best apartment ever if it has strings of hanging party bulbs and a list of cocktails that includes a creative punch of the day like Bastion does.
Midtown
Not only did sisters Alexis and Britt Soler create one of Nashville's most striking drinking spaces in the old boiler room of the former White Way Cleaners, they also won an an architectural award from the Nashville Metropolitan Historical Commission for the way they renovated the soaring space into a drop dead gorgeous bar. At the bottom of a sweeping staircase that enters a hidden alley through the middle of the building, the Soler sisters and their staff are mixing up a constantly changing roster of booze-forward cocktails that delve into the worlds of tiki and rare, hard-to-find spirits.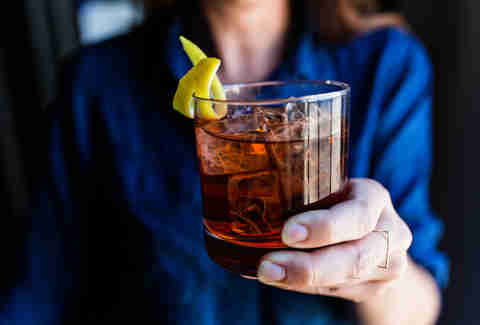 East Nashville
Although the restaurant side of Butcher & Bee has been open since the end of last year, it's recently opened the hidden second-floor bar. Which looks down on the bustling main bar and dining area like a secret skybox with great booze instead of stadium beers. The cocktail menu showcases spirits like mezcal and pisco, which might be unfamiliar to many casual drinkers but which should be a part of any proper drinking repertoire. Paired with some small plates of creative eats, there's no better spot in town to expand your palate.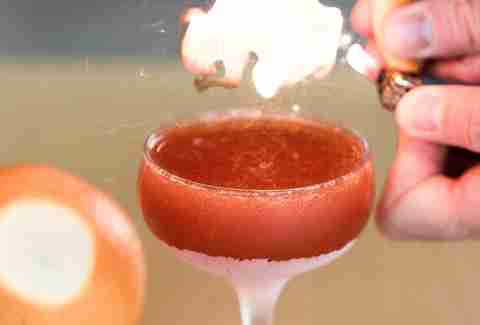 SoBro
A coffeehouse during the day, Steadfast transforms at night into a cocktail-slinging Downtown destination. And it's not just whipping up any drinks, as these cocktails feature esoteric ingredients including sherries, brandies, and aquavit as well as plenty of obscure brown spirits. Many of them are made with coffee -- naturally -- so you can still keep up the pretense of "meeting for coffee" when you're actually "meeting for a mixed drink with some remnants of coffee in it."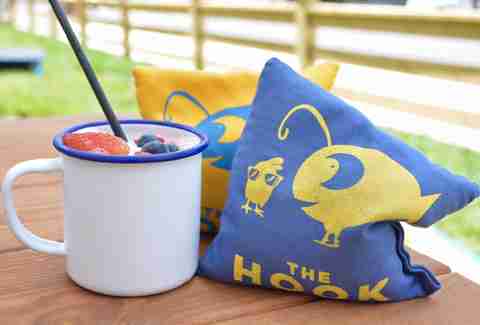 Melrose
For a restaurant that relies on fairly basic fast-casual fare like chicken and fish sandwiches, The Hook sure does serve some excellent boozy drinks. Its patio overlooking Franklin Rd is the place to watch Nashville drive by while you drink away an afternoon ordering slushy frozen cocktails by the pitcher or draft crafts by the carafe through The Hook's convenient walk-up bar window. The herbaceous smash drinks like lemon, basil & vodka or thyme, rhubarb & gin definitely live up to their smashing names, as well.
Gulch
Tucked into the back corner of the popular Otaku Ramen, Inryo Bar is a Japanese whisky bar modeled after the bars of Tokyo's Shinjuku Golden Gai district, where businessmen enjoy bracing highballs after slurping down bowls of steaming noodles and broth. With a broad selection of Japanese single malts, choosing what to sip or which cocktail to sample can be intimidating. Just say "o-susume," the drinking equivalent of omakase or "chef's choice" at the sushi bar, and you'll be in good hands.
Downtown
Recently reborn, the newest incarnation of the renowned Printers Alley chophouse, burlesque theater, and cocktail emporium is attracting an entire new generation of Nashvillians looking to party like their grandpas did back in the '60s. The steaks are still thick and juicy, and the PG-13 fan-dance show is still titillating... but it's the revival of the ornate bar and the classic recipes that make Skull's stand out over other Downtown drinking establishments.

Sign up here for our daily Nashville email and be the first to get all the food/drink/fun the Music City has to offer.