Mastering the fermented grape game takes more than a corkscrew and a few stemless wine glasses. What does it take? This stuff. Add some or all of the pieces of gear to your stable, and you'll be saying "sommel-yay" in no time. (Ed note: Don't ever, ever say that. We are so sorry.)
Recommended Video
Why You Should Think Twice Before Drinking Airplane Coffee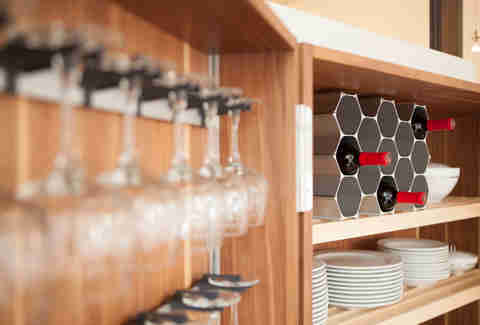 Wine Hive Modular Wine Rack
This classy aluminum grid is made up of surprisingly thin metal and is modular so it can be adapted to fit into any space you want. It's light, strong, and a lot more attractive than some of the wooden monstrosities you'll find at your parents' house.
Code38 Wine Knife
In order to prevent crumbly cork from ruining your vintage, Code38 gave their 'screw a low-friction coating to help it grab on without breaking off pieces in the process. And it will last through thousands of bottle openings -- justifying that price tag that may have raised your blood pressure a few seconds ago.
Waring Pro Electric Wine Opener
Price: $29
You put the cylinder on top of the wine bottle and it removes the cork without breaking it. It's quiet, quick, and the built-in battery has enough juice to open up to fifty bottles or one
Eat, Pray, Love
book club meeting before it needs to be charged.
Vinaera Electronic Wine Aerator
The Vinaera injects air into the wine as it's dispensed. As a result, it's like having perfectly aerated wine on tap as soon as you open the bottle. To top it all off, the seal keeps the wine fresh and makes it look like you own a Star Wars droid.
Corkcicle
Price: $50
This stainless steel icicle is filled with a freezing gel that brings white wine to the proper temperature. But like vintage Vanilla Ice, it does way more than stay cool. The cap has a spout so you can pour directly through it and the built-in aerator, so you can get at the rich flavors without going through the full breathing process.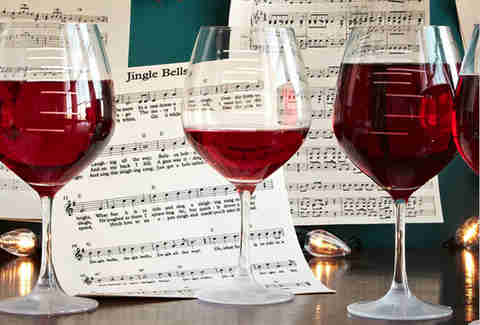 Major Scale Wine Glasses
Price: $65
Markings on each glass that show you what note they will play if filled to that level. So, with enough of them and a lot of dexterity, you could wow your dinner guests by figuring out the solo from "November Rain." And, once they get tired of that trick, you can play the melody of "Don't Stop Believin'" to get them the hell out of your house.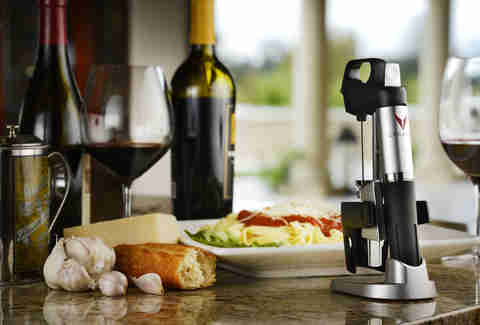 Coravin
This clever pouring system lets you
extract sweet wine without popping the cork
. It's like
No Country for Old Men
, except it's even more delicious than a milkshake. Attach the clamp, drop the pouring needle down into the bottle right through the cork, and pressurized argon gas pumps out the juice.
Haier 12 Bottle Dual Zone Wine Cellar
Two different climate controlled zones keep both reds and whites at the temps they require, and thermoelectric cooling means it won't vibrate and is extremely quiet. Plus, it has a soft interior light that will help you see what you're doing, but won't blast you in the corneas after you've already had a few glasses.
Built Origami Wine Tote
Price: $25
The folded cloth exterior keeps the bottle at a reasonable temperature while offering protection for the glass. The whole thing folds so flat (smaller than a coaster), so you can easily store it anywhere. It comes in five different colors, in case you want to match your outfit (you totally should, dude).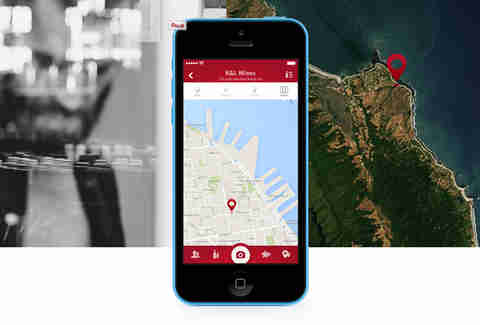 Vivino App
Just take a photo of a wine label and tap into the collective knowledge of millions of wine drinkers, getting information about everything from a wine's history to its best food pairings. It can even recommend wines for your dinner, seriously enhancing your pre-date prep.