Do you want in on a little secret? North of the border, there exists a fabled land -- called Canada -- that's been concocting a fresh-tasting spirit known as Canadian Mist. Yup, the Canadians have been churning out this whisky since the 1960's, and it's time this triple-distilled liquor complete with its crisp taste and vanilla undertones was known to all. If the following reasons don't convince you to try it, well, you've clearly made a huge MISTake. (Not sorry!)

1. It won big time at the San Francisco World Spirit Awards
Canadian Mist won their highest honor, Double Gold, two years in a row. In a row!
 
2. It's the first Canadian Whisky to use water from Georgian Bay
And that's a big deal because Georgian Bay is one of North America's most pristine, freshest water sources. And it truly puts the "Canadian" in Canadian Mist. Put that in your glass and drink it. (No, really, do it. It's so very refreshing!)
 
3. Oh, and Georgian Bay used to be a freakin' Ice-Age era glacier
Do you know how epically cool that is? You're literally drinking the runoff of a slow-moving ice-behemoth from the Pleistocene Epoch. You'll become a whisky-drinking viking-caveman by osmosis. That's so metal. Oh and even cooler, their name for a whiskey with ice? Georgian Bay Rocks.
 
Why? Because its aging process allows it to be crafted into a smooth and mature flavor that is perfect for mixing with something else. That speech in Plato's Symposium about people spending their lives looking for their missing half was actually about Canadian Mist finding the perfect mixer to complete it. Didn't you read the footnotes?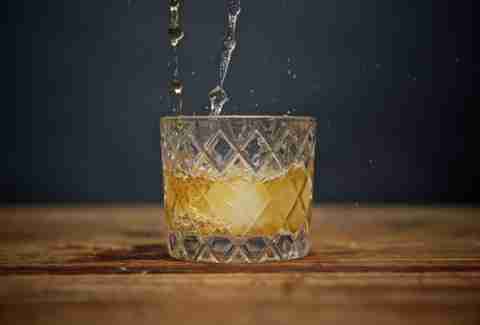 5. But if we're being honest, Canadian Mist shapes up just as well on its own, and it's got its own name: Georgian Bay Rocks
Drink a tumbler of the golden brown stuff neat and it'll go down smoothly with no bite. Thanks to its subtle notes of molten caramel and dark fruit, you'll understand why you should never underestimate a lone ranger. Like James Bond. Or Rambo.
 
6. It costs less than a pizza
You have more important things to spend your money on. Do you know how many tacos you can buy with all that extra pocket change? A whole lotta tacos.
 
7. People are obsessed with the model Canadian Mist seaplanes used in ad campaigns
Not only are they bright yellow, 7ft models of a floatplane (a type of seaplane that has floats mounted under its body), but they're nostalgic reminders of seeing the planes in ads, commercials, and hung up at the local liquor store. People still call up Canadian Mist to this day to try and snag one.
 
8. Canadian Mist is your one neighbor with the unbelievable holiday decorations
These folks gear up for the holidays in a big way. In '87, they ran one of the first musical ad campaigns in a physical publication, where they placed a chip in special editions of People magazine that would play "Deck The Halls" when opened. This was nothing compared with their holiday displays in liquor stores a few years later, complete with lights and sounds that would simulate a snowstorm. That's what we call aggressively jolly.
9. Canadian Mist once sponsored the city of Collingwood's annual Elvis weekend
If you ever have the urge to get to Collingwood, Ontario, home of the Canadian Mist distillery,  do so in July during the town's annual Elvis Presley weekend, where fans and impersonators get together to celebrate the King himself. We're pretty sure Canadian Mist will help grease up your Elvis pelvis for maximum hound-doggeyness.
 
10. Canadian Mist is an underdog, and who doesn't love a good underdog story?
Talk to any whisky whisperer and they will likely agree that Canadian Mist is severely underrated -- but this dark-horse whisky is a true champ and it's time this well-kept secret has its moment to shine.
 
11. There's never a MIST opportunity to make a solid Canadian Mist pun
Puns are a mist-understood art form.