12 beers brewed with meat, donuts, and other crazy ingredients
You might have expanded your drinking palate beyond Crazy Stallion since you finished college, but your love of double IPAs, ESBs, and other beers that combine acronyms with hops can always get deeper. Next time you're shopping for something new, check out one of these 12 beers that incorporate unlikely ingredients into something amazing. Or at least into something that allows you to tell your friends you drank bull testicles.
Twitter/Christmas Beer
The Lost Abbey Gift of the Magi
Brewers are always asking important, life-changing questions such as, "Who goes crossing the desert without beer?" Presuming the magi weren't so crazy as to do that, this inspired Christmas beer has frankincense bark for bitterness and myrrh in the wort. (It pours golden, rounding out the trio of Wise Men gifts.)
What you'll taste: It's a refreshing take on the routine Christmas ale, and the musty flavors and spicy notes work really well in this Belgian ale.
Flickr/Steve Montgomery
Rogue + Voodoo Doughnut Bacon Maple Ale
Rogue's got some of the most consistent-tasting brews out there, but they're also down with some strange experiments (just wait until you get to the bottom of this list). For this bad boy, they teamed up with the
Oregon donut kingpins
on a collab celebrating Voodoo's signature bacon maple bar.
What you'll taste:
 Don't worry: this isn't an April Fool's joke done with a Pepto-Bismol bottle. Smoky meat mixes with pure maple flavoring, so it's pretty much like when you dip your bacon in that
leftover pancake syrup
. Except with booze.
Twitter/Redhook Brewery
Redhook and Hilliard Joint Effort
While there's no actual
THC in the beer
, Redhook's and Hilliard's brewers were pretty adamant on honoring their home state's 2013 legalization of weed with the hemp ale's tagline, "A dubious collaboration between two buds".
What you'll taste:
 Hemp and hop are cousins, so the duo creates a well-balanced amber ale. More of note, the beer smells, well, like the parking lot at a Phish show.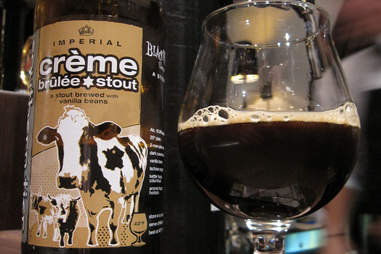 Flickr/Bernt Rostad
Southern Tier Crème Brûlée Stout
Fulfilling the dreams of diners everywhere who whine, "I just couldn't eat another bite", this beer lets you drink your dessert instead. And your dessert is 9.6% alcohol.
What you'll taste: It's like Harry Potter turned his wand on an actual crème brûlée and beer-ified it... a college-aged Harry Potter who was tired of raiding Dumbledore's liquor cabinet and only finding low-alcohol butterbeer. 
Flickr/K. Latham
Michelob Ultra Dragon Fruit Peach
The fruity, light lager takes exotic dragon fruit and mates it with sweet peaches. The combination amps up the Michelob Ultra's flavor about 400%.
What you'll taste: If we didn't know this was beer -- and we hadn't already spent years "infusing" our beers by dropping fruit-shaped candy in them -- we'd assume it was a fizzy new experiment from the PeachOs candy guys. 
Wynkoop Brewing Co.
Wynkoop Rocky Mountain Oyster Stout
The Colorado brewery isn't just the only hophead house co-founded by a future state governor... it's also the only one with the cajones to make a stout with bull testicles. 
What you'll taste: Unlike stouts that use not-testicle oysters for a faintly briny flavor, this stout has a meaty mouthfeel and a smoky flavor. That'll happen when you're drinking roasted bovine balls.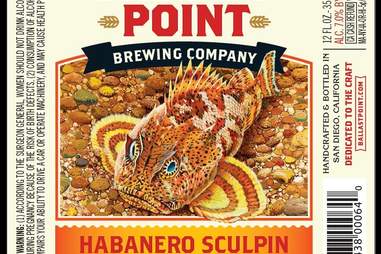 Ballast Point Brewing & Spirits
Ballast Point Habanero Sculpin
The San Diego brewers added habaneros -- those peppers you sometimes avoid in your tacos because you don't want people to see you cry -- to their award-winning Sculpin IPA.
What you'll taste: It hurts so good. No, really, it burns the throat, but the chilies are so busy complementing the slightly citric flavors that you don't notice for long.  

Flickr/Taber Andrew Bain
Budweiser & Clamato Chelada
To ensure it can be a part of your every waking moment 
(Editor's note: We don't encourage this)
, Bud canned the classic hair-of-the-dog combo -- clam/tomato juice and Bud Heavy -- for a beer that's kind of like a
Canadian Caesar
. Except, you know, beer-y.
What you'll taste:
 If you're feeling too under the weather to stir together a Bloody on your own, you're not exactly sitting on a tasting panel. But yeah, it tastes like a clammy Bloody with beer instead of vodka.
Untappd/Eleanor B.
Slippery Pig Pickle Sour
"Farm-to-table"
is
so
boring now that the couple behind Slippery Pig masterminded the "farm-to-beer" movement, using the produce from their own land to create brew flavors. And this pickle-brew is the next logical step in the age of the
pickleback
.
What you'll taste:
 Pickles and beer are natural friends, so for a brewery to turn from their Cucumber Pale Ale to this, is, well, natural. And delicious.
Shock Top
Shock Top Chocolate Wheat
Shock Top broke out this seasonal in 2013 with recommendations to mix it with the regular Shock Top, creating a Shock Top-ified Black & Tan that drinkers were encouraged to call... Choc' Top. 
What you'll taste: Chocolate porters and stouts are common, but a cocoa-flavored wheat is wading into less-brewed waters. The beer has a thinner mouthfeel than those heftier styles, but it's very strong on the chocolate taste.
Rogue Ales
Rogue Beard Beer
Already known for its uniquely-delicious flavor combos, Rogue grew -- like a bold, uncontrollable 5 o'clock shadow -- into brewing infamy by growing yeast that had collected in brewmaster John Maier's beard, which is somehow more appetizing than anything growing on John Mayer's anywhere. 
What you'll taste: Zest and a barely-there sourness from the wild yeast make the farmhouse-style beer much tastier than licking your roommate's beer-soaked beard any day.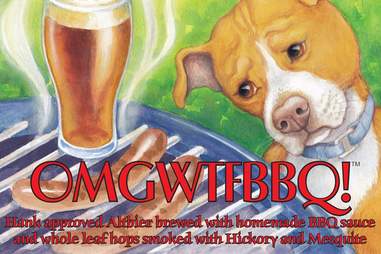 Short's Brewing Company
Short's Brewing OMGWTFBBQ!
The Michigan brewery, which regularly turns out experimental and creative beers, smoked the hops for this one with hickory and mesquite -- your ribs are so jealous -- and used actual BBQ sauce. It's basically got everything you need for a great Independence Day party, all in one glass. Except fireworks. Don't drink those.
What you'll taste:
The combo of smoky hops and tangy-sweet sauce flavors make this good enough to
not
give into every dog that'll stare at you longingly while you sip it.
Give them treats
instead.