13 things you didn't know about Yuengling
Adam Lapetina
Adam Lapetina
If you live in the Eastern US (or have good taste in booze), chances are you probably know all about Yuengling beer -- it's Pennsylvania's unofficial state drink, it tastes amazing, and it funded a bunch of sneezing contests in the 1930s. Oh, you didn't know that last part? Well, turns out there's more to the prolific history of this brewery than we thought, and it involves early energy drinks, ice cream, family drama, and lots and lots of presidents.
Here're 13 things you might not have known about Yuengling's superior suds.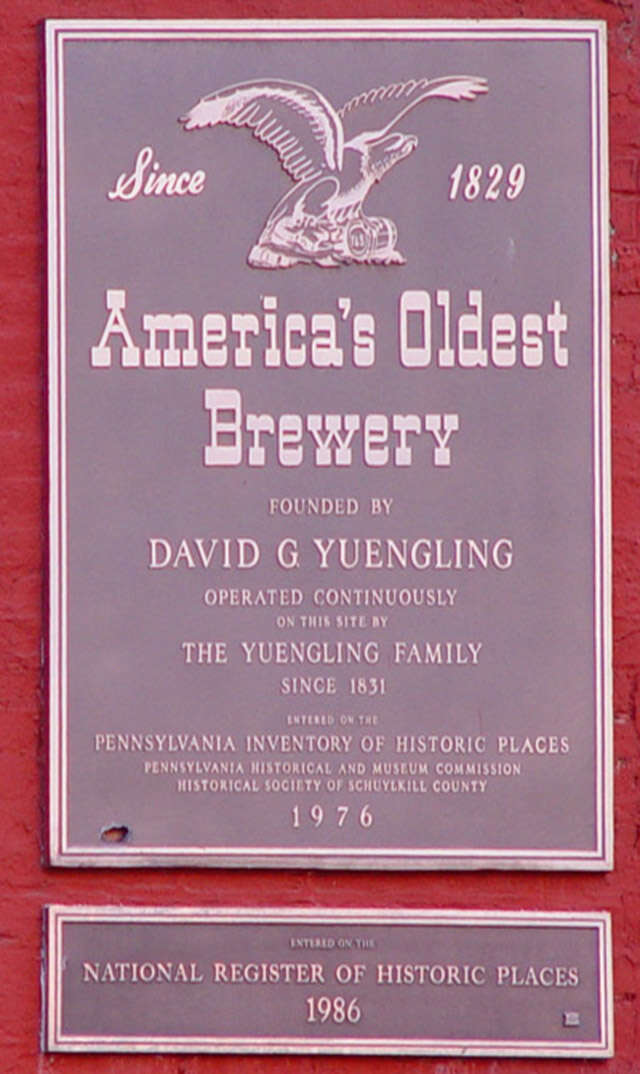 It's America's oldest operating brewery
If this plaque on the side of their building can be believed (it can), the brewery was founded in 1829 by David Gottlob Yuengling, an immigrant from Germany who changed his name from Jüngling (which means "young man") when he came to the States in 1823. The original name of the brewery in Pottsville, PA was "Eagle Brewery", which was good back then because nobody knew what a "Yuengling" was yet.
The current location has been in use since 1831
The original Eagle Brewery burned down that year, and the operation moved to this place on Mahantongo Street, where it still resides today. It's even on the United States National Register of Historic Places, which happens when the Feds deem sites "worthy of preservation".
Not all of David's sons stayed in the family business
While son Frederick joined his dad at the brewery in 1873, officially changing the name to D.G. Yuengling and Son, David Jr. ("YOU WERE THE CHOSEN ONE!!!") left his father's side to found the long-defunct James River Steam Brewery in Richmond, VA. The brewery made steam beer, which is an extremely bubbly beer variety made by brewing yeasts at high temperatures.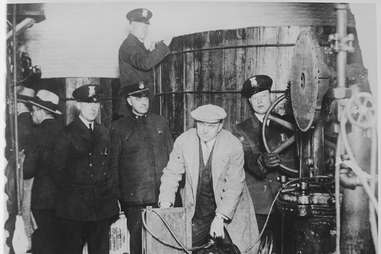 It survived Prohibition by selling "near beers"
When that awful and oppressive era rolled around, the brewery managed to stay afloat by selling "near beers" with a super-low (0.5%) alcohol content. These beers were called Yuengling Special, Por-Tor, and Juvo, which was an early energy drink brewed with cereal grains -- kinda like the 1920s version of Four Loko that flappers would drink if they wanted to get zozzled.
It delivered a truckload of beer to FDR when Prohibition ended
When Prohibition was struck down in 1933, Yuengling celebrated by brewing a special batch of "Winner Beer" and delivering a huge quantity of it to President Roosevelt on the day the amendment was repealed. Which was kinda suspicious, since Yuengling's brewing process takes three weeks to complete.
The Yuengling family also operates a dairy that PRODUCES ICE CREAM
The dairy department was started in 1920 and shut down in 1985. In March of this year, however, the dairy -- now operated by David Yuengling (second cousin to current brewery owner Dick Yuengling) -- will open its doors (and lids) to feed millions of hungry Americans flavors like Root Beer Float and Black & Tan, which is totally not made of beer, but rather Belgian chocolate and salty caramel. We'll accept it.
It funded the creation of dance halls in NYC and Philadelphia
Ol' David must've really been footloose, because the company used some of its proceeds to create dance halls (like Roseland Ballroom) in Manhattan and Philly, where -- in addition to dances -- sneezing contests, yo-yo exhibitions, and female prizefights were held.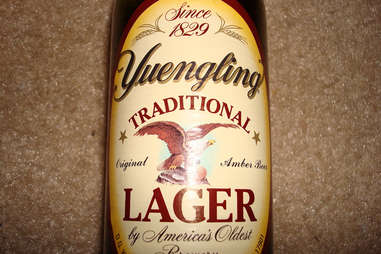 Yuengling Traditional Lager wasn't brewed for decades
The beer's now so ubiquitous in the PA area that requesting "a lager" will get you one, but for many years it was absent. It was later reintroduced in 1987 in order to take advantage of a surge in the popularity of heavier beers, and now accounts for 80% of all Yuengling production. May it never go away again.
In addition to its lager, Yuengling makes six other beer varieties
Premium, Porter, Black & Tan, Light Lager, Lord Chesterfield Ale, and Light Beer round out the Yuengling family of brews to a totally non-nuclear seven members. Fun Fact: The super-hoppy Lord Chesterfield Ale was named for an 18th century Whig statesman who was the bedroom attendant of King George II and probably could've used the help of Lord Chesterfield Ales to make it through the day.
It's currently available in 15 states with plans to expand to a 16th
The brewery distributes its beers to Pennsylvania, Ohio, New Jersey, New York, Delaware, Maryland, Virginia, West Virginia, Alabama, Tennessee, North Carolina, South Carolina, Georgia, Florida, and Washington, DC and will begin shipping to Massachusetts in 2014. Soon, all of this will be yours, Yuengling! (Not the curtains.)
It purchased an old Stroh brewery in Tampa to help with production
To cope with brewing 2,500,000 barrels of beer per year, Yuengling bought an old Stroh Brewery facility in Florida to help get the brews flowing faster. This level of output means they're tied with Samuel Adams to be the largest American-owned brewery. No matter what happens now, America wins!

Barack Obama loves it
After Obama admitted on the campaign trail in 2008 that he hadn't heard of the brewery, someone must've shown him the (green) light, because he later stated in 2010 that Yuengling had become his favorite beer.
It was involved in a cross-cultural beer exchange with the Canadian Prime Minister
President Obama likes the stuff so much that even when he lost a hockey bet with Canadian PM Stephen Harper requiring him to ship a case of Molson Canadian to Ottawa, he also sent a box of Yuengling Traditional Lager as a gesture of good will. The beer can now be seen in the Hockey Hall of Fame in Toronto, thus quite deservedly making Yuengling's distribution international.
Adam Lapetina is a food/drink staff writer at Thrillist, and wholeheartedly believes that the best things in life are fried. Read his musings on Twitter at @adamlapetina.