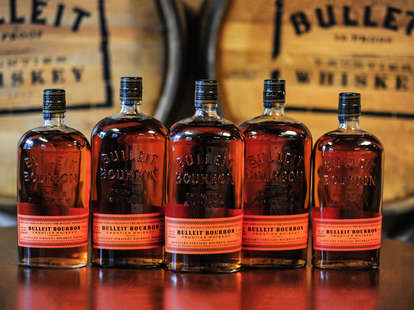 Bulleit
Bulleit
If you're a human being with a heart and a soul, chances are you love Bulleit whiskey. But enjoying the drink and knowing the secrets behind it are two vastly different things. Behold: 13 things you didn't know about Bulleit bourbon and rye whiskey.
1. Bulleit bourbon has so much rye, it's almost a rye whiskey
Though it's 68% corn, the bourbon contains 28% rye, which is more than half of what's mandated for it to be considered rye whiskey. This ratio has never been a standard for bourbon -- even back when the first batches were made.

2. Bulleit is a very real (and very badass) surname
Augustus Bulleit made the first batch in 1830, and it's been a long-standing family recipe ever since. Tom Bulleit, Augustus' great-grandson who grew up in the distillery, is responsible for the modern-day branding, though he's changed the recipe quite a bit. The mash bill used to be ⅔ rye and ⅓ corn -- today it's about ⅔ corn and ⅓ rye.

3. Mystery surrounds Augustus Bulleit
Not many people seem to be able to find records of Augustus Bulleit, and after 1860 nobody knows exactly what became of him. Legend has it that in 1860 he loaded up a flat-bottom boat full of bourbon barrels and left for New Orleans to sell them... and yup, he was never seen again. Search parties even went out, and came back with nothing. Soon enough it was the Civil War, and the search for Augustus Bulleit became lost in time. Where y'at, Augustus?
4. The brand made regular appearances on HBO's Deadwood
Though, the timeline doesn't quite add up since Deadwood takes place in the 1870s, and Bulleit was discontinued after Augustus Bulleit's disappearance in 1860 (it wasn't until over a hundred years later, in 1987, that Tom Bulleit revived the brand). Regardless, Al Swearengen makes a pretty great brand ambassador.

5. Bulleit rye was only launched in 2011
The recipe for Bulleit rye whiskey, which contains a Heisenberg-esque 95% rye (!!!), was developed by Tom Bulleit and his daughter Hollis, the current face of Bulleit. And that green label? That ain't just your standard color of green. The Bulleits went through hundreds of shades of green before finally settling on that one.
6. Bulleit rye was created because of, and for, bartenders
Bulleit bourbon was a huge hit in California bars. So much so, that when customers ordered rye whiskey cocktails, the bartenders began to lament the fact that Bulleit didn't make rye whiskey. When Tom Bulleit got word of this, he teamed up with Hollis and got to work on Bulleit rye. Thanks, bartenders!

7. Bulleit is meant to be paired with BBQ
According to Hollis & Tom, the complex blend of flavors exists to complement whatever you're eating, particularly if it's Lowcountry mustard-based BBQ (Tom's personal favorite style). In fact, some big-time Lowcountry chefs (like Sean Brock) prefer the stuff their cooking.

8. Bulleit doesn't have its own distillery... but will soon
The whiskey is currently distilled on other companies' properties, but the very first Bulleit-only distillery is due to open this year in Shelbyville.
9. Kirin allegedly owns one of the distilleries used for Bulleit
As in the beer that you only drink when the sushi place doesn't have Sapporo or Asahi. THAT Kirin. There's some discrepancy about where Bulleit is ACTUALLY distilled, though. The Kirin Brewery Company Four Roses distillery is where it's most commonly reported to be distilled, and that's what it says on the label -- however, when we sat down with Tom Bulleit, he said the bourbon is distilled at the Stitzel-Weller distillery in Louisville, and the rye is distilled at another spot in Lexington. The world may never know the truth.

10. The two best Bulleit cocktails are the BLT and the RGL
According to Tom Bulleit, anyway. The BLT (his wife Betsy's Little Treat) has bourbon, lemon, and tonic (he prefers Fever-Tree tonic) and the RGL has rye, ginger beer, and lime. And they're both perfect for sipping as you sit on the porch on a beautiful summer day.
11. California is Bulleit's biggest market
Though it's originally from Kentucky, Bulleit dominates the small-batch market in Los Angeles, San Diego, and the Bay Area. California was really the first market to latch on, and it's because of California that Bulleit has been able to grow and develop into what it is.

12. The bourbon and rye are aged for different amounts of time
The rye is aged for five to seven years, whereas the bourbon is aged for six to eight. UNLESS, of course, you're talking about...

13. The brand has a third product
AKA Bulleit 10-year-aged bourbon. Launched only in 2013, this baby is Tom Bulleit's select reserve. It's aged in American white-oak barrels and set aside for 10 years. Which means if you're drinking some right now, it was only Season 3 of Lost when they started making that batch. Think about that.
Sign up here for our daily Thrillist email, and get your fix of the best in food/drink/fun.
Wilder Shaw is a regular Thrillist contributor who is probably drinking some Bulleit right now. Ask him if he prefers the bourbon or the rye on Twitter at @WilderShaw_ or Instagram at @wildershaw.