If You Like Modelo or Corona, You Definitely Don't Want Donald Trump to Be President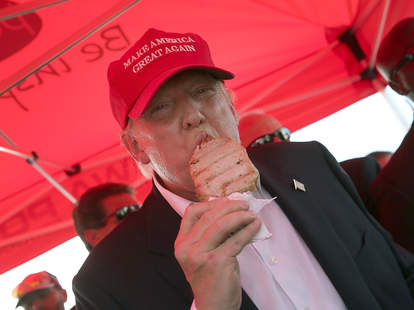 Win McNamee /Getty Images News / Getty Images
Modelo is known as the fastest-growing beer in America. Corona is known as that beer you drink in the summer while you set up a volleyball net in your backyard, but then change your mind and sit in a lawn chair all day.
But you might not see either of them on shelves or in lazily decorated Tiki bars in the States if Donald Trump wins November's election. So, if you've been sitting this one out because you are too busy sucking down Modelos to care, you might want to register -- or else your own personal beach may be gone forever, leaving you with nothing but harrowing, sober reality this coming summer. 
Here's what would happen
Corona Extra and Modelo Especial are owned by Constellation Brands -- and business is booming for the Mexican beer provider. But, if elected, The Donald might make it yugely difficult for Constellation to ship its brew north of the border. 
Pablo Zuanic, a food and drink analyst for Susquehanna Financial Group, issued a report stating that a Trumpified White House would have a "meaningful and negative effect" on the brands. The Trump effect would affect both Mexicans living in the States -- which comprise a large portion of the brands' target bases -- and the overall appeal of Mexican-sourced beer. 
While this seems like an abstract worry, the financial group (which literally gets paid to prognosticate on this stuff) clearly believes the backlash of Trump's potential immigration policies would screw over these Mexican brands so much that Constellation's stock would suffer greatly.
Lucky for them, Hillary Clinton is as likely to lose this election as an NFL kicker is to miss a 34-yard field goal. If you aren't a golfer, that's pretty much a sure bet. Laces out, kids. Stay thirsty.
Sign up here for our daily Thrillist email, and get your fix of the best in food/drink/fun.
Wil Fulton is a staff writer for Thrillist. He actually blames Gwyneth Paltrow for most of the world's problems. Follow him @wilfulton.