The 21 Best Tequila Bars in America
Adam Larkey
Adam Larkey
Tequila is most often enjoyed in three ways in this country: inside a margarita, as a shot, and on those hilarious T-shirts you buy at the beach that seem to imply tequila is quite potent.
But tequila is obviously more than just T-shirt fodder; it's an exalted Mexican spirit that deserves our respect. And there are no better places in the country to enjoy it than at these bars, which house extensive tequila selections (or smaller, handpicked ones), and boast creatively delicious cocktails accompanied by just-as-delicious food.
Here are the 21 best tequila bars in America: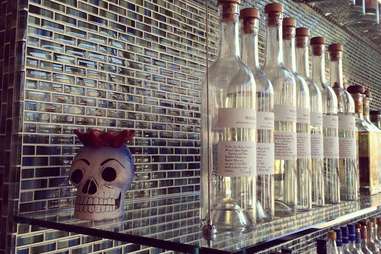 Chicago, IL
This tiny Logan Square Mexican joint has an impressive 50-plus tequila list, but what really makes Masa so masterful is their mezcal selection, which boasts almost as many bottles as their tequila, along with a sampling of sotol and bacanora. And they've mixed 'em all into carefully crafted cocktails like the Oaxacan Old-Fashioned (mezcal joven, tequila reposado, agave, mole bitters) and the Heart of the Dead (tequila blanco, blood orange, passion fruit, pomegranate, limonada, Sorel). Eats include tacos, tequila-infused ceviche, chipotle scallops, and fresh guac.
What you're drinking: Oaxacan Old-Fashioned

New York, NY
From the Death & Co. dudes, this tequila-focused speakeasy aims to put common misconceptions to bed, the way tequila put you to bed those 12 times in college. The East Village spot boasts a creative cocktail list that proves tequila isn't just meant for margs, with drinks like The Red Baron (mezcal, red peppers, basil, lemon, absinthe). Over 40 mezcals round out a focused bottle list.
What you're drinking: Ilegal Reposado
Austin, TX
Named after an Aztec myth about the goddess of agave birthing a legion of rabbits who traversed the country spreading the gospel of intoxication, 400 Rabbits was conceived by a grandaddy of the Austin cocktail scene, and is connected to an Alamo Drafthouse theater, so the next-level tequila complements everything from first-run films to Big Lebowski quote-alongs. Agave flights explore the different regions and classes of spirit, while infusions and creative ingredients, like mole bitters, level up the signature cocktails. Mexican street-snacks, like grilled corn, ensure you won't go hungry.
What you're drinking: Tequila Terroir flight

San Diego, CA
A drinkery actually named for the Aztec goddess of agave, CM features more than 200 tequilas to choose from. The kitchen's open, so indulge your voyeuristic side and watch as your sirloin or carnitas tacos are prepared. The margaritas are top-notch, and the "herbal shots" are worth a gander as well, like the Fortitude with Fortaleza tequila blanco, maca root, and cocoa bean.
What you're drinking: Blood orange margarita
Chicago, IL
Their tequila list may not be the longest, but 20-something options and a number of mezcals still makes Big Star a force to be reckoned with. Brought to Chi-town by James Beard Award-winning chef Paul Kahan, the honky-tonk dive has a killer outdoor seating area, margs with orange Curacao, an even-more-impressive whiskey list, and insanely delicious (re: James Beard-winning chef) tacos like the Al Pastor with spit-roasted pork shoulder & grilled pineapple, or the De Panza with crispy, braised pork belly.
What you're drinking: Big Star margarita

Los Angeles, CA
Decked out with vintage Mexican wrestling paintings and movie posters, this dark and divey joint makes for a deliciously unique experience. The tequila list is vast (100+), and the menu features dishes like tequila shrimp and brisket nachos. Margaritas are the move here, though, with options like cucumber mint and the spicy marg that's kicked up with fresh jalapeños.
What you're drinking: Spicy margarita
San Francisco, CA
With an eye-catching Mason jar-filled ceiling put in by celebs, staff members, and industry pros, this Mission tequila temple has the largest selection in San Fran -- we're talking more than 300. Never mind SF, this place has one of the most comprehensive tequila/mezcal lists in the whole damn nation. Ask the knowledgeable bartenders for recs to sift through the ridiculous collection, and opt for a tequila flight to try a few. Balance out your tequila intake with tacos stuffed with freshly shaved meat from their behind-the-bar trompo.
What you're drinking: Any tequila flight

Philadelphia, PA
This Northern Liberties neighborhood Mexican resto offers over 100 tequilas, and a bunch of flights, like intros to tequila & mezcal, and one for smoky-flavor lovers. Unique cocktails with ingredients like chile oil, maple bitters, ginger beer, and pomegranate liquor are viable options, but the margs really steal the show, with flavors such as prickly pear, passion fruit, pineapple, and guava. The food isn't just a distraction from the tequila -- it's reason alone to visit, and you can't go wrong with their complimentary homemade chips & salsa, mahi-mahi tacos, or anything with chorizo.
What you're drinking: Contrabandista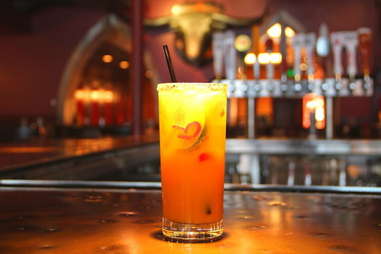 Minneapolis, MN
This tequila-centric Minneapolis spot has a swanky, slightly gothic ambiance with accents like dark wood, a back wall lined with tequila bottles (150+ types), and a crazy, wax-covered candelabra -- also an essential element to anywhere Evanesence records an album. They mix up a bunch of specialty margaritas like the sweet & spicy Macho Camacho (blood orange with ancho-infused tequila) and the fruity Mama Cita (hibiscus with orange and pineapple juices), plus tasty $10 lunch specials, and other affordable plates like ahi tuna and pork carnitas tacos.
What you're drinking: Macho Camacho

San Diego, CA
Situated within their tequila museum, which houses the biggest tequila bottle collection in the country (over 2,000 to try, including their house brand El Agave Artesanal), this place knows how to do tequila right while cooking up gourmet, authentic Mexican fare. Homemade salsas and a wide variety of moles made with freshly ground spices are standouts, but it's really the sheer number of tequilas (and the classic margarita) that earns this place a spot on the list.
What you're drinking: Any tequila you could ever want
Miami, FL
Translating to "land of tequila", TeQuiztlan is a casual Miami Beach joint that offers more than 100 tequilas served on tables with old Mexican movie flyers and out-of-circulation pesos built right into 'em. The quality of the food is on par with that of the tequila selection, throwing down tacos al pastor with pineapple, queso fundido, and guacamole made tableside. Pair all that with a drink from the extensive margarita list.
What you're drinking: Spicy guava marg

San Francisco, CA
Tequila is no joke at Tommy's, an SF tequila institution run by "Ambassador of Tequila to the US" Julio Bermejo, which carries only 100% agave tequila. While they carefully select their offerings and don't carry every 100% option, they do try to represent the expanse of the tequila industry in their collection, which features 325+ types. Julio gives on-point recommendations and a solid tequila tutorial, plus you have the option to join the Blue Agave Club, which requires members to try a number of tequilas and pass an exam to join. The classic marg made with high-quality tequila is the way to go here, and it's best accompanied by the carne asada plate.
What you're drinking: Classic margarita
Washington, DC
Decorated with butterflies dangling from the ceiling (their name references the mass migration of the winged insect to the Michoacán mountains), this José Andres-owned Mexican spot offers tequila flights that showcase everything from blancos to anejados to collectibles, and even one that explores the history and culture of mezcal. Time your visit right, and you'll experience a yearly tequila and mezcal festival. Their margs get creative with concoctions like the Blood Orange Chile Pequin or the signature Oyamel with a salt foam rim, but other cocktails like the Jamaica (housemade hibiscus & ginger tonic) are not to be missed, either. Pair one with a classic Oaxacan taco: sauteed grasshoppers, shallots, tequila, and guac.
What you're drinking: Blood Orange Chile Pequin

Orlando, FL
This is not drill: one of the best tequila bars in the country is seriously in Disney World's Epcot. In France, obviously. OK, fine, it's in the Mexican pavilion, and it's damn good. Built to look like a hacienda and adorned with original Mexican artifacts, La Cava keeps up appearances with 100+ tequilas and a decent selection of mezcals. The specialty margaritas are where this unsuspecting place really shines though, from avocado to pomegranate to wild passion fruit to spicy jalapeño with cucumber. Eat while you imbibe with the trio sampler of salsa, queso, and guac.
What you're drinking: Avocado margarita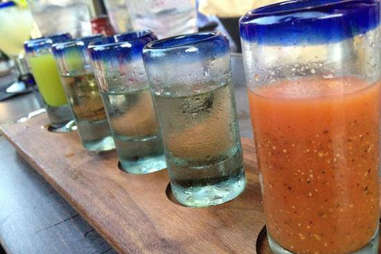 Houston, TX
This Heights neighborhood Southwestern resto has a number of tequilas on tap, plus flights and educational tasting events. But this place earns its spot on this list for its absolutely (te)killer happy hour. Monday through Saturday, from 3-7pm, and all-day Sunday, you get half-off apps like queso with green chilies and toasted pumpkin seeds or blue corn-fried oysters, along with $2 off tequila taps and house margs, which come in flavors like prickly pear and guava, for a cool $4.50.
What you're drinking: House margs during happy hour

Los Angeles, CA
Named for the type of foam that forms when shaking mezcal to test for purity, Las Perlas has one of the finest tequila & mezcal selections in LA, which makes sense considering it's a bar completely dedicated to the two. Inside the festive, brightly colored space, agave aficionados can sip on clever specialty cocktails like the Spiced Daisy (orange Curacao, juiced cucumber, cilantro, jalapeño), the Poblano Escobar (cumin, muddled poblano chile, pineapple, lime), or the 400 Rabbits (port wine syrup, egg white, lime, Pinot Noir).
What you're drinking: Poblano Escobar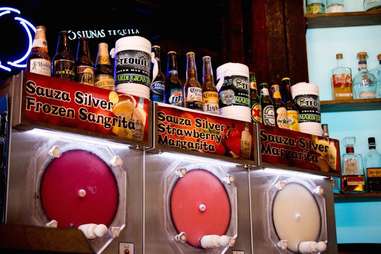 New Orleans, LA
Situated in the French Quarter, Rita's is Lousiana's only accredited tequila house and is one of four certified tequila houses in the US, which might have something to do with the 135+ tequilas behind the bar. Oh, and $2 Tuesdays, which include margs (like the Bahama Mama with Bacardi Limon and Malibu) and tacos, don't hurt either. If you're up for a challenge, you can try to down their Ghost Shot spiked with ghost pepper, and get your photo in Rita's Hall of Fame.
What you're drinking: $2 Tuesday margs

Boston, MA
This Back Bay resto & bar is dark, vampy, and gothic -- but unlike those kids who listened to a lot of The Cure back in high school, you'll actually want to hang out around Lolita. Their 50+ tequila list is loaded with the usual suspects of blancos, reposados, and anejos, split up into categories such as "The Good Stuff" and "Crazy Expensive!" (like Cuervo 250th Anniversary, for a casual $275). On top of that, there's some of the best margs around in varieties like spicy cucumber (serrano chilies, muddled cucumber) and spiced apple (fresh green apples, cinnamon, peach, lime). Soak it all up with a lobster enchilada or crispy pork tacos.
What you're drinking: Any tequila off "The Good Stuff" list
Atlanta, GA
Decked out in Day of the Dead decor, BGC provides the ATL with some of the freshest, most authentic Mexican food and 60+ tequilas. Must-have dishes on the totally a la carte menu include chorizo-stuffed empanadas, beef tongue tacos, and spicy chicharron sopes, while margs, like the Mucho Mez Smoky (smoky mezcal, agave nectar, bitters), and tequila-based cocktails, like the Tranquilo (lavender, green tea, citrus, mint), are perfect accompaniments. The real draw, however, is their tequila club, which gives members the chance to learn about and sample 50+ types over the course of their membership.
What you're drinking: Join the club and start with anything

Denver, CO
A relative newcomer to the tequila bar scene, Chef Richard Sandoval's library for lushes is home to over 350 kinds of tequila, mezcal, and sotol (a spirit distilled from the desert spoon plant), making it one of largest collections in the country. They even have house-infused tequilas, using ingredients like tamarind, serrano, and blueberry & lemon. Aside from serving Latin-Asian inspired cuisine, like smoked trout guac and mini banh mi hot dog sliders, what really makes this spot special is their library locker program, which allows patrons to rent a locker and 'check out' a bottle of tequila from their catalog, to be enjoyed whenever they come to the restaurant. Turns out Arthur was totally right when he said having fun wasn't hard when you have a library card.
What you're drinking: House-infused tequila tasting
New York, NY
With tequila expert Jay Silverman as beverage director, a man who's studied the production of the spirit in Mexico firsthand, Agave is a force to be reckoned with. Stocking a vast array of both tequilas and mezcals, Jay's specialty cocktails are some of the best in the biz, with elixirs like the Electric Feel (tequila reposado, fresh pineapple, lavender sugar), tequila rum punch (orange, pineapple, lime, passion fruit), and El Magico (tequila anejo, mint, ginger beer). But if you'd rather a traditional marg, their two-hour bottomless brunch is for you, which provides unlimited margs, plus delicious dishes like Southwestern Eggs Benedict, huevos rancheros, and a Sunrise Fiesta breakfast burrito.
What you're drinking: Anything made by Jay/unlimited brunch margs
Rachel Freeman is a food/drink editorial assistant at Thrillist, and would like to singlehandedly deplete the world's mango margarita supply. Follow her to agave, guac, and questionable decisions at @rachelifreeman.