From vampire strippers to zombie safe houses: 21 weird and wonderful theme bars
When most people think of theme bars, their minds either go straight for the tiki temples, pirate bars, or, even better, Hooters. But there are some out there that take their niche bar ideas to fantastic new heights -- places where geeks can be geeks, history buffs can be comfortably smug, and all are united under the banner of booze. And maybe vampire strippers, or whatever. Anyway, these are 21 of our favorite watering holes serving up beer with a side of weirdness.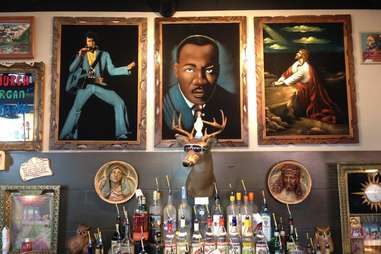 Sister Louisa's Church of the Living Room & Ping Pong Emporium (Atlanta, GA)
The theme: Religion. Or blasphemy. Or both.
First off, Sister Louisa is really an artist named Grant Henry. And Grant, well, he's a bit weird... and his crazy-ass "Church" is a testament to his bizarro vision. The two-story emporium is loaded with strange religious folk art, velvet paintings, and other oddities that you can stare at while slugging stiff drinks, sitting in a pew, and waiting your turn at the altar of the ping pong table. There's also a working organ for karaoke sessions, though we're thinking "Michael, Row Your Boat Ashore" isn't on the song list.
The Lovecraft (Portland, OR)
The theme: Sci-fi and horror
A place where you can take shots in honor of the mighty Cthulhu, The Lovecraft pays tribute to horror author H.P. by basically hosting a year-long goth Halloween party, complete with a giant pentagram hanging over a dance floor populated by ghoulish revelers getting down to DJ sets and metal bands amid a sea of horror memorabilia. They also show weird old movies, host the dark art of burlesque, and basically get down with everything you'd expect that kinda-hot goth chick from art class to enjoy.
Gotham City Lounge (Brooklyn, NY)
The theme: Comic books
The bar might be smaller than Ant Man's vacation home, but this den of geek is the real deal for comic nerds, with its walls emblazoned with comic panels and enough nerdy bric-a-brac hanging around to make it look like an 8yr-old's dream bedroom. With a $3 shot-and-tallboy special, this is the place to get into increasingly impassioned arguments about which Spider-Man movie is the best before realizing there are zero Mary Janes in the joint to validate your opinion.
Lala's (Austin, TX)
The theme: Christmas
The elf on the shelf doesn't give a crap whether you're behaving at Lala's, mainly because he's just a doll, his shelf is stacked with booze, and he's rigged up to dance whenever the door's opened. It's Christmas 24/7 in this Austin dive, which is lit by string lights and covered in holiday cheer that gets more and more hilarious with each stiff drink. It's a magical place where Santas are more Billy Bob Thornton than Tim Allen... well, they might be Tim Allen in pre-Home Improvement days.
Kuma's Corner (Chicago, IL)
The theme: Heavy metal
Kuma's is world famous for serving its metal-themed burgers -- Black Sabbath, Iron Maiden, Pat Boone and Mastadon provide inspiration -- to an ear-shattering soundtrack, but its beer selection is as formidable as John Bonham on a Friday night, and includes enough regional and national selections to fuel half a trip from Chicago to Detroit on Motörhead's tour bus.
The Alley (Oakland, CA)
The theme: Look Who's Talking Too An alleyway
The Alley's become a legend for many reasons: the steaks are cheap. The walls are covered with thousands of business cards (they were apparently sprayed with fire retardant to keep up to code). Oh, and it's not just a clever name: the entire place is set up to look like a seedy alley, complete with fake roofs and power lines. It's all presided over by pianist Rod Dibble, who performs nightly and invites patrons to take the mic and bust out lead vocals. For once, you won't be arrested for drinking and singing in an alley.
Heart Attack Grill (Las Vegas, NV)
The theme: A hospital ward for obesity
Heart Attack Grill makes no bones about its advocacy for terrible health: this is, after all, a place where patrons are encouraged to wear hospital gowns and wheeled around by waitresses who look like they work in a Hooters that doubles as a hospital cafeteria. Hell, customers over 350lbs eat free, and the high-calorie burgers come paired with high-sugar drinks from the full bar.
Safe House (Milwaukee, WI)
The theme: Spies
If Bond, Bourne, and Archer quit the spy game and opened a bar... well, they'd probably spend a lot of time beating the crap out of each other at 3am. But they'd do it in a place that looks a lot like this Milwaukee institution, which maintains the facade of a secret safe house despite being one of the city's best-known attractions. You need a password to get into the old-school lounge, but if you don't know it, you can get through the door by completing some goofy task for the doorman.
Jumbo's Clown Room (Los Angeles, CA)
The theme: The semi-nude circus
The iconic Jumbo's has a lot of scary stuff going on -- from the clown dolls scattered around on shelves to the memories of Courtney Love working as a dancer here before she went on to become whatever she is now -- but there's a reason this place has spent four decades as a must-see LA attraction, despite its strip-mall exterior. This is an old-school go-go joint that packs some serious surreality with its circus motif, making it like Cirque du Soleil if they ditched the phantasmagoria for a dive-bar theme. And who knows... maybe the dancer on stage will go on to become famously terrible in the future.
Villains Wicked Heroes (Atlanta, GA)
The theme: Supervillains
This ATL lair's best-known super powers are focused on high-end sandwiches, but the folks at Villains are also on a monomaniacal quest to dominate your liver. Set up like a cross between an underground command center and a mod lounge, the bar serves up super-strength cocktails like the Bulleit/Fernet/Shiner Bock Texas Chainsaw and the neon-green Gamma Crush, filled with enough gin to give new meaning to "Hulk smash".

Noir Lounge (San Francisco, CA)
The theme: Film noir
Harkening back to a time where dames were dangerous and calling a cop a dick didn't get you tased in the neck, this SF spot pays tribute to classic noir with a spot decked out with a bar made from a repurposed iron vent, silhouettes of femmes fatales and trench-coated gumshoes, and typewriters where you can peck out your internal monologue in real time. And if the theme didn't hit home, they'll screen classics like The Maltese Falcon while you get all Sam Spade at the bar.
B.E.D. (Miami, FL)
The theme: Bedtime
Though it stands for "beverage, entertainment, dining", this Miami place actually serves you food and drinks in real beds. Considering that most people in Miami turn the dance floor into an orgy of Matrix Reloaded proportions, this might seem dubious, but the place is more known for pillow fights than public copulation, and even has DJs spinning in an effort to keep you awake.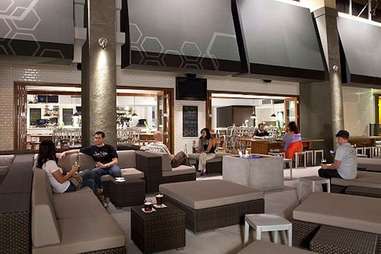 The Lab Gastropub (Los Angeles, CA)
The theme: Science
A college bar in the truest sense -- it's run by USC hospitality, after all -- this is the most fun you'll have in science class since sex ed. In the super-modern setting, you can order up beakers from the 40+ beer list while sitting in a leather chair and pretending you're not just looking for the female anatomy chapter of the science book you scored off the shelf.
The Kalamazoo Beer Exchange (Kalamazoo, MI)
The theme: Stock market
Think of the Kalamazoo Beer Exchange as the bar version of The Wolf of Wall Street, with all the booze, but none of the douchebaggery or ludes. The two-story beer hall features a huge screen displaying all 28 beers on tap, with prices changing as often as NASDAQ numbers, creating rushes to score your favorite pint at fluctuating prices. Occasionally, there's even a market crash that sends beer prices to all-time lows, making happy hour a constant, ever-changing affair.
Donny Dirk's Zombie Den (Minneapolis, MN)
The theme: Zombie safe house
Taking a cue from Shaun of the Dead, Donny Dirk's reimagines the pub as a safe-haven from the undead menace, a joint where cocktails and "immunization shots" are made with infused liquors and will send you shambling into the apocalypse with a little extra swagger. The walls are covered with mounted zombie heads, while emergency weapons like chainsaws are scattered throughout, just in case the dude next to you takes a turn for the cannibalistic.
The Way Station (Brooklyn, NY)
The theme:Doctor Who
At first glance, this Prospect Heights joint looks like your average British-ish pub, with dim lighting, exposed brick, and old-school taps. Then you notice the steampunk decorations scattered about, and the gigantic "police call box" off to the side. It's then that you realize that the tenants are David Tennant fans. That call box? It's the show's iconic Tardis... only you can pee in it after housing a few cheap beers, since it's actually a bathroom and not a time machine.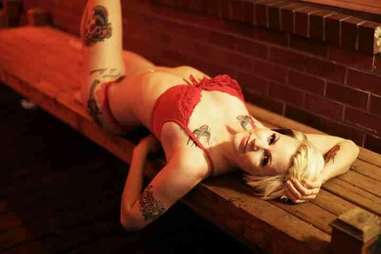 Casa Diablo (Portland, OR)
The theme: Vampire strippers
Set up to look like the South-of-the-border bar in the film From Dusk 'til Dawn, Casa Diablo's one of Portland's most notorious gentlemen's clubs, with three stages, $2 bills dipped in fake blood, and a huge outdoor patio area. Even stranger, the vampire thing's counteracted by a strictly vegan menu, which kind of makes you think the place is tamer than it lets on... until one of the dancers sneaks up and bites you.
The Mean Eyed Cat (Austin, TX)
The theme: Johnny Cash
The Man in Black may have laid off the sauce later in life, but this rustic Austin spot pays tribute to Johnny's wilder days. The place is covered in Cash posters and memorabilia that you can stare at as you shovel BBQ in your face and drink whiskey while contemplating taking your guns to town. "Come in and sin", beckons a sign on the porch. With a menu that includes a Boilermaker loaded with ghost chili-infused tequila, that's inevitable.
Unicorn (Seattle, WA)
The theme: A trippy circus
The weirdest wonder emporium around -- with respect to Mr. Magorium -- this Cap Hill funhouse has that look like a pack of Fruit Stripe went nuts, murdered the mascot, then mounted its head among a sea of taxidermy. The two floors are packed with weird circus stuff that could have been pilfered from Tim Burton's yard sale, and the hand-dipped corn dogs add to the circus vibe, pairing beautifully with drinks like Unicorn Jizz, that's basically just a martini with a gross name.
Local Edition (San Francisco, CA)
The theme: Old-school newspapers
News flash: Journalists like the sauce (seriously, there are probably, like, 30 typos in this story), and this basement pub pays tribute to journalism's huge debt to booze by serving up classic cocktails in a joint decked out with old news clippings, typewriters, and other artifacts from the era when you actually picked up a newspaper to get the daily scoop.
Cafe Mox (Seattle, WA)
The theme: Card and board games
Perhaps the only place where your status as a 6th-level Dwarf Lord might get you laid, Cafe Mox serves up an impressive array of beer that you can drink out in the open, or take into private rooms where you can throw down your D&D skills without being interrupted by some jackass playing Magic: The Gathering -- the card game from which the bar takes its name. It's that kind of knowledge that might get you under the armor of that sexy elven warrior who keeps making eyes at you.
Andy Kryza is Thrillist's national food/drink senior editor, and would totally be running a Point Break themed bar if Keanu would stop being a tightwad and throw some money his way. Follow him to the 50yr Storm via @apkryza.