How a company contest created 21st Amendment's spicy new Scotch ale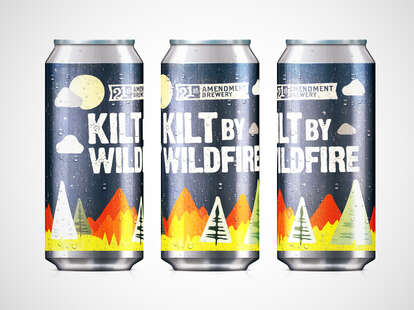 21st Amendment
21st Amendment
The 21st Amendment did two very special things for America. First, it gave us back our booze. And second, it provided the namesake for the authority on watermelon beers, 21st Amendment Brewery. While everyone has been busy buying up their returning winter ale, the company sneakily planned a brand-new January release, Kilt by Wildfire, that boasts some serious heat and an awesome backstory.
To produce the Scotch ale, 21st Amendment turned to their employees. But not just the ones with brewmaster cred. Kilt by Wildfire is actually a crowdsourced ale that came out of a company-wide exercise that beats the crap out of trustfalls. Back in September, the brewery broke up its staff (from brewers to dishwashers) into groups of eight. Each was tasked with coming up with a recipe for the newest 21st Amendment offering. The San Francisco Brewers Guild was brought in to judge the stuff, and the winning selection went on to Cold Spring Brewing Company, where 21st Amendment's beers are actually brewed and canned. There was then a boat party and custom T-shirts to celebrate the newborn Kilt by Wildfire, plus what we can only assume were infinity high-fives for the winning group, Team Glory.
Next month, this crowdsourced creation will finally hit drafts nationwide. Any potential canning plans are TBD, though if we hear any whispers from Team Glory, we'll be sure to let you know. That is, if we can hear them over the screaming eagles that presumably follow them 24/7.
Kristin Hunt is a Food/Drink staff writer for Thrillist, and will always respect 21st Amendment for putting FDR on a beer can. Follow her to fireside chats at @kristin_hunt.