3-Ingredient Rum Cocktails That Are Super Easy to Make
These simple recipes will up your at-home bartending skills.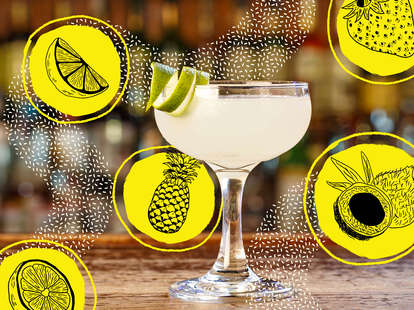 Photo: Shyripa Alexandr/Shutterstock; Illustration by Maitane Romagosa for Thrillist
Based on the explosion of tiki drinks and new releases of rums that are every bit as complex as whiskey, it seems like everyone suddenly remembered that rum is delicious. It works well in lowbrow drinks like a rum & Coke, which can be enjoyed at the seediest of dives, and is also equally at home in an elaborate parrot-shaped mug or as a neat, top-shelf pour.
You can also make a fantastic, complex cocktail out of it with just a few simple ingredients. Next time you're bartending at home for anyone, break out these three-ingredient rum cocktails to impress everyone with minimal effort.
Daiquiri
Like any sour, when done correctly, a daiquiri is sublime. Not the fructose-filled, blended variety you see at resorts, either. We're talking about the kind Hemingway enjoyed -- the boozy, simple kind. It's incredibly hard to mess up, which makes it a simple go-to cocktail, and a good benchmark to size up new bars. If you order a daiquiri and it's anything but amazingly refreshing, switch to beer or a new bar.
2 ounces rum
½ ounce simple syrup
1 ounce fresh lime juice
Shake all ingredients over ice and strain into a coup glass, serve straight up.
Piña Colada
Hands down the fastest way to achieve tropical vacation mode, the creamy blend of pineapple, coconut, and rum makes everything better. Insanely easy to make, this should be a year-round staple. It's perfect for celebrating the warm weather of spring and summer, and for pretending it's warm during the chill of fall and winter.
1 cup frozen pineapple
2 ounces Coco Lopez cream of coconut
2 ounces rum
Combine all ingredients in a blender on high until frosty and creamy. That's it.
Dark 'n Stormy
Ginger beer and lime make just about anything taste good, and seem especially well suited to sweet-and-spicy dark rum. This adult soda beverage pairs well with BBQs, sunny afternoons, and Instagram.
4 ounces ginger beer
2 ounces dark rum
Lime wedge
Combine ginger beer and rum in a tall glass over ice, garnish with a lime wedge.
Spiked Vietnamese Iced Coffee
Credit: Dan Q. Dao, spirits writer and bartender
Sure, your daily chain iced coffee does the job, but have you ever tried dripping your own java (and more importantly, adding rum?). Traditional Vietnamese iced coffee is made by a small metal drip filter slowly releasing ground coffee into a cup with sweetened condensed milk, then chilling it on ice. Kick things up a notch and add spiced rum -- Dao suggests Chairman's Reserve for hints of molasses and nutty flavors.
2 ounces spiced rum
5 ounces chilled coffee
1 ounce sweetened condensed milk
Combine ingredients in a shaker tin with several cubes of ice. Shake vigorously for 15-20 seconds, or until shaker tin is frosted over. Strain and serve in a highball glass with fresh ice cubes. Optional: garnish with a coffee bean.
Cuba Libre
This attempt to make a rum & Coke fancy by adding a lime and a Spanish name is a little silly, but very delicious. That's not to say you should order it by name at a bar if it's not on the menu, because chances are you'll sound like a pretentious ass. Just ask for a rum & Coke with lime, and if they roll their eyes and say, "So a Cuba Libre," then chances are they are a pretentious ass. Either way, the drink is delicious.
4 ounces Coca-Cola
2 ounces rum
Lime wedge
Pour the rum and Coke in a glass over ice, garnish with a lime wedge. Hold the self-deprecating comments and be confident in drinking what makes you happy.
The Golden Child
Presenting the Justin Timberlake of cocktails: a triple threat of flavors that will have you making your next round before you're done with your first. First, add tamarind cordial to your arsenal -- the pod-like fruit of tamarind combines with lemon zest and golden brown sugar for a unique liqueur that is equal parts sweet, tangy, and nutty. Its distilling methods also happen to make it the perfect companion to rum. But don't stop there: add a heavy-handed splash of ginger beer for a drink with invigorating zest.
1 ounce Tamarind Cordial (try: Von Humboldt's)
2 ounces rum
Splash of ginger beer
Stir ingredients over ice, then top with a splash (or two) of ginger beer. Garnish with a lime slice and serve.
Strawberry Daiquiri
Basically a smoothie, this drink is one of the more appropriate day-drinking options. It's not really about the spirit as much as it is basically about drinking a boozy popsicle, so any rum that is not spiced or super aged works well. For those who like it strong, add a rum floater on top.
⅔ cup frozen strawberries
1 ounce lime
2 ounces rum
Mix all ingredients in a blender on high until just combined.

Minimalist Rum Punch
This classic, which many of us remember from our honeymoon phase with alcohol, is still a potent, fruity mix worth your attention. Just like in the old days, pour a bunch of juice in a (probably Solo) cup, and add rum. Fresh, 100% juices are definitely best, but hey, there's no shame in substituting fruit punch juice product if that's your jam.
2 ounces orange juice
2 ounces pineapple juice
2 ounces rum
Combine ingredients in a cup over ice. Repeat. Frequently.
Rum Old Fashioned
Move over whiskey, because rum is about to school you at your own game. You'll need an aged rum for this twist on a classic, and unlike many of the other tutti-frutti rum drinks, this one is very much about the spirit, so splurge on something nice. Go ahead, you deserve it.
1.5 ounces aged rum
½ ounce simple syrup
2 dashes Angostura bitters
Combine bitters and sugar in a rocks glass, add ice and whisky, stir to combine. Classy.
Maggie's Fancy
Ah man, you've used up all your vacation days for the year, too? Luckily, you can still pretend you're on a tropical getaway with this pineapple-infused rum cocktail and your feet up on the ottoman. This is not your mother's Señor Frog's punch, with a little cardamom bitters adding a gingery, citrusy kick. Hey, it's cheaper than a flight to Maui.
2 ounces pineapple rum (try: Maggie's Farm 50/50 pineapple)
1/4 ounce simple syrup
2 dashes cardamom bitters
Stir all ingredients together and strain into cocktail glass. Garnish with pineapple frond.
Rum & Coco
If you are looking for a light and flavorful drink to sip on all day long (ideally from the dock of a boat), this should be your go-to. The ultra-hydrating coconut water allows you to put these away without having to stop for water breaks in between. Genius.
2 ounces aged rum
4 ounces coconut water
Combine over ice, sip, repeat.

Rum Spritz
It's easy to overdo it with rum because it goes down so easy. Break out this little number when you and your friends need something a little lighter on the liver but aren't quite ready to call it quits. The club soda and lime will make one serving of rum last longer, and your probable hangover shorter.
1.5 ounces rum
3 ounces club soda
Lime wedge
Combine rum and soda in a tall glass over ice and garnish with the lime wedge and a tiny umbrella if you're feeling extra fancy.
Brass Monkey
"Brass Monkey" by the Beastie Boys is, and always will be, a bop. The drink it references -- orange juice dumped in a 40 of Olde English -- is a fitting, albeit scummy, source of passion. This isn't that. It is basically a rum-spiked screwdriver. And unlike the original, it won't make you say "Hello Nasty." If you're feeling extra frisky, you can always batch them and serve them in 40s.
1 ounce dark rum
1 ounce vodka
1/4 ounce orange juice
Stir and serve over a highball glass full of ice.
Boston Rum Punch
Who needs a stuffy, pretentious cocktail like a Manhattan when you can mix up some rum and lemonade and call it a day? Many believe bourbon is the quintessential American spirit, but rum actually came here first. The founding fathers even celebrated signing the constitution with 14 large bowls of rum punch.
2 ounces rum
Store-bought lemonade
Add rum and cracked ice in a shaker and fill with lemonade. Shake. Pour into a pint glass and garnish with half a strawberry and an orange slice.
Cable Car
The Cable Car -- born out of the Starlight Room atop the Sir Francis Drake Hotel in San Francisco -- is Tony Abou-Ganim's modern twist on the classic Sidecar (cognac, orange liqueur, and lemon juice.) It's simple and balanced, yet a little ritzy.
1 ½ ounce Captain Morgan Spiced Rum
¾ ounce Marie Brizard orange Curaçao
1 ½ ounce fresh lemon sour
Rub the rim of a chilled cocktail glass with a lemon and dip in a plate of cinnamon and sugar to frost. Add Captain Morgan, Curaçao, and lemon sour to an ice-filled mixing glass, shake, and pour into the cocktail glass.
Tess Rose Lampert is a Manhattan-based philosopher-turned-drink expert who spends her nights grappling with tough decisions like what to pair with Thai takeout and Netflix binges. It's often mezcal. Follow her to south-of-the-border pilgrimages: @TessRose211.
Brooke Sager is a contributing writer for Thrillist. Follow her winey adventures on Instagram and Twitter
.
Alex Erdekian is a former editorial assistant at Thrillist
.