Most people don't know that Cinco de Mayo commemorates an important battle in Puebla, Mexico that helped the USA by blocking the French who were supporters of the confederacy (gracias Mexico). Thanks to our ability to turn any holiday into an all-out boozefest, Cinco de Mayo is also a welcomed opportunity to drink tequila (again, thanks Mexico), because any excuse to drink tequila is a good one.
 
Tequila is delicious, and when using a respectable 100% agave spirit, cocktails don't need much to complement the herbal, sweet, and spicy flavors. These simple three-ingredient drinks cover all the bases, from margaritas and agave-enhanced classics to nostalgic throwbacks like the Tequila Sunrise. Seriously, thank you Mexico.
 
Tommy's margarita
This minimalist margarita is quickly becoming the margarita of choice thanks to its tart and crisp flavor that lets the tequila shine. There's no orange liqueur to worry about, just sweetener (simple syrup, honey, and agave all work well), fresh lime juice, and a good blanco or reposado tequila. If you only learn to make one cocktail, it should be this dangerously good party starter.
2 ounces tequila
1 ounce fresh-squeezed lime juice (don't use bottled, just squeeze a lime, it's not hard)
½ ounce agave syrup
 
Combine all ingredients in a shaker over ice, shake to chill, and strain over fresh ice. Salt garnish optional.
Recommended Video
Whiskey Enthusiasts, This Bourbon Apple Crush Is the Winter Cocktail You've Been Waiting For
Tequila Negroni
Boozy and stirred, this classy drink is especially fun at upscale parties as the tequila gradually takes over and turns everyone wild. Suggest this for an office party as a sophisticated way to enjoy the holiday and revel in the mayhem that ensues when everybody actually listens to you. If you ever wanted to get intel from a co-worker or boss, this is the perfect prelude.
1 ounce Campari
1 ounce sweet red vermouth
1 ounce tequila
 
Combine all ingredients in a lowball glass with ice, stir to chill, and dilute slightly.
Tequila Sunrise
There is no shame in this drink (or the underrated Kurt Russell movie), even though it only still exists on cruise ships where time has been perpetually stuck in the early '90s. Actually, there's probably a hipster bar somewhere making this with fresh-squeezed organic OJ and homemade grenadine, which sounds pretty tasty. An easy way to introduce tequila into the system, this drink is for those who are unaccustomed to the strong flavor of the spirit but still want all the fun that goes along with it.
3 ounces orange juice
1 ½ ounces tequila
½ ounce grenadine
 
Pour tequila and orange juice in a tall glass over ice, stir briefly to combine. Add grenadine and watch as it sinks. So pretty. Like a sunrise. Or Kurt Russell.
Tequila soda
This cocktail kills two birds with one stone: delicious tequila drink, plus hydration. An especially good choice for those who are currently nursing yesterday's hangover, as well as those who are working on tomorrow's. Contrary to popular belief, this is not a diet-friendly beverage: even though it is low in calories, it often leads to high-calorie snacks like tacos and burritos.
2 ounces tequila
3 ounces club soda
Lime wedge
 
Pour the tequila over ice in a tall glass, fill with club soda, squeeze in lime wedge, and enjoy.
Bloody Maria
How do you make a Bloody Mary better? By replacing the vodka with tequila. This rule of thumb applies to almost any drink that uses vodka. The combination of spicy tomato juice with tequila is so natural that you'll wonder why this brunch staple was ever made with anything else.
3 ounces tomato juice (or Bloody Mary mix)
1 ½ ounces tequila
Tabasco to taste
 
Combine all ingredients in a tall glass over ice, stir, and enjoy your brunch.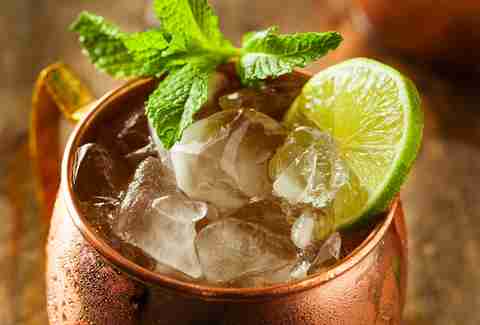 Mexican mule
This cocktail was born from a last-ditch attempt to sell vodka, which was so insipid that it needed to be mixed with other ingredients to be palatable (which is pretty much how vodka is still sold today). Like so many things that come from Mexico, tequila is immensely flavorful and complex, and makes a drink that's much more than palatable when combined with these two ingredients also native to the land.
1 ½ ounces tequila
½ ounce lime juice
3 ounces ginger beer
 
Combine all ingredients in a highball glass (or copper mug, if you're fancy) over ice, stir gently.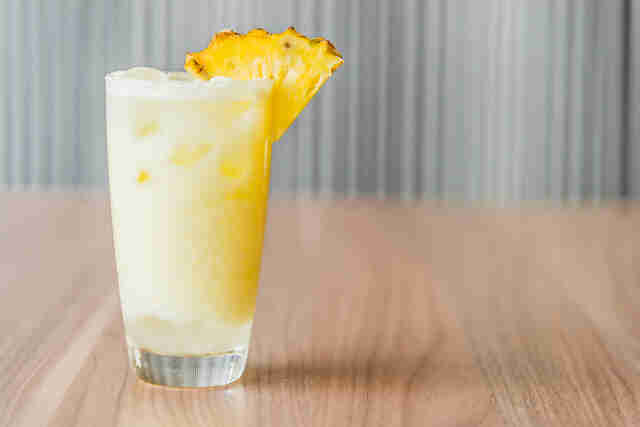 Tequila pineapple
The Spanish word for the agave heart, from which tequila is made, means pineapple. They are natural companions, so combining pineapple juice with tequila is a no-fail way to impress your friends and make them think you are an expert mixologist even if you know nothing and it is literally the first drink you've ever made. You're welcome.
3 ounces pineapple juice
2 ounces tequila
Club soda
 
Combine pineapple juice and tequila in a tall glass over ice. Stir to combine, top with club soda.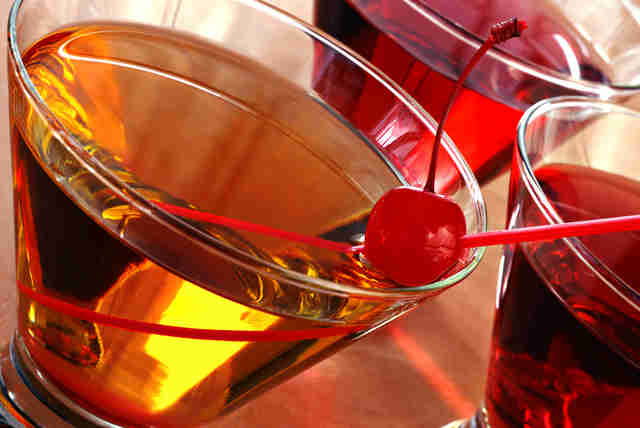 Tequila Manhattan (or "DF")
Whiskey is the drink of choice when you want to listen to Hank Williams and cry, tequila on the other hand, is a jovial spirit for parties and socializing. Curb the bourbon blues by switching the liquor in this classic whiskey drink. Opt for an aged tequila to keep the authentic depth and richness of the drink in tact.
2 ounces aged tequila
¾ ounce sweet red vermouth
2 dashes Angostura bitters

Stir all ingredients until chilled, strain, and serve straight up.
Sign up here for our daily Thrillist email, and get your fix of the best in food/drink/fun.
Tess Rose Lambert is a Manhattan-based philosopher-turned-drink expert who spends her nights grappling with tough decisions like what to pair with Thai takeout and Netflix binges. It's often mezcal. Follow her to south-of-the-border pilgrimages: @TessRose211.