3 Manischewitz cocktails even non-Jews will LOVE
While Manischewitz is the unofficial wine of the Jewish people (the unofficial whine of the Jewish people remains: "If I have to explain what [insert any Jewish holiday] is to one more person, I'm going to scream."), it's rarely consumed anywhere other than the Seder table and Shabbat services. We're here to change that with three actually delicious Manischewitz cocktails conceived by our pals at Denver's Vesper Lounge. And even though Hanukkah is the perfect time to enjoy a good hot cocktail, they don't hold upwards of nine candles to these 100% kosher beauties.
Maccabee Blood
What's in it: Much more delicious than drinking the actual blood the Maccabees shed in 160 BC, this is a take on the popular Argentinian/ Spanish cocavino cocktail with added cherry liqueur, which ties the Concord grapes from the Manischewitz and the cola together nicely.
How to make it: Mix 2oz Manischewitz, 1oz Cherry Heering, and 4oz cola of your choice. Garnish with lemon.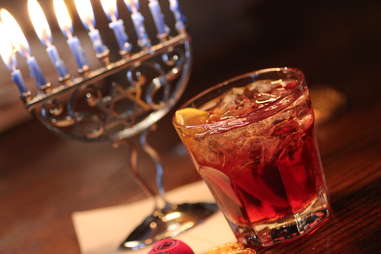 Gelt Chaser
What's in it: More than what Weird Al would call a Hanukkah parody song of Kanye West's "Gold Digger", Gelt Chaser is not only the perfect 'tail to wash down that chocolate, but it's also a holiday alternative to a Rusty Nail -- the Manischewitz adds a slight sweetness to it.
How to make it: Combine .5oz Drambuie, 1oz Manischewitz, and 2oz Cutty Sark blended Scotch. Enjoy your perfectly kosher drink.
Eight Daze
What's in it: A seriously delicious cocktail you'll want to drink on all eight nights, this doesn't have the super-sweet profile of Manischewitz. In fact, it's only slightly sweet, with a nice herbacious quality.
How to make it: Shake 1oz Benedictine, 1oz Manischewitz, .5oz lemon, and muddled mint. Pour over crushed ice. Complain to parents that your rich friend Adam got Hanukkah presents all eight nights, and it's not fair that you only got them for two.