4 Drinks That Prove Cognac Was Made for Summer
When windows fly open and air conditioners around the country whir into action, most people move their brown liquors to the back of the bar like jackets in a closet. But we have some advice for you this summer: don't.
The right brown liquor is a wool blazer, not a parka. It's a four-season, not-so-secret weapon that plays whether it's by the fire or by the grill (which, yeah, is also fire, but you get it).
That liquor, of course, is cognac. And its summertime appeal is thanks in no small part to how well it vibes with all of the foods you turn to when the temperature spikes.
"I've always been a fan of cognac," says Chef Kwame Onwuachi, James Beard Award-winning chef, author, and former executive chef at Afro-Caribbean favorite Kith/Kin in DC. "It has notes that I equate with summer, like caramel notes and fruity notes on the back end. You can just make it your own. You can make that base cognac into a cocktail that really speaks to you."
To prove it, Onwuachi walked us through some cognac drinks he likes to pair with summertime cuisine to honor his memories from different regions of the US -- and to keep cognac front and center when you go to fill your cup.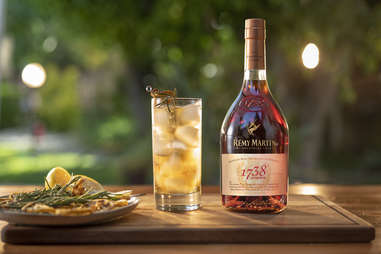 Royal Collins with grilled lemon
Unless you go anaphylactic around shellfish, summertime should be synonymous with seafood. If you're shelling out for lobster, try a collins with Rémy Martin 1738 to pick up on the char notes of the grill.
1 ½ ounces Rémy Martin 1738
¾ ounce lemon juice
¾ ounce simple syrup
3-4 ounces club soda
Lemon wheel (charred)
Combine cognac, lemon juice, and simple syrup in a cocktail shaker with ice. Shake and strain over ice into a highball glass. Top with club soda, then garnish with charred lemon wheel.
Rémy ginger with grilled pineapple
Pair with: Charred elote with grilled tuna & cioppino sauce
If you're standing over a grill all night, you'll want a refreshing drink to counterbalance -- especially if you're grilling something like elote or tuna. For a quick, simple cocktail, try ginger ale and lime with Rémy Martin VSOP. The VSOP's fruit and licorice notes go great with the aromatics and bubbles of the ginger ale, making it great for hot temps and spicy food.
1 ¼ ounces Rémy Martin VSOP
Ginger ale
Lime
Pour cognac over cubed ice, top with ginger ale, and garnish with a lime wedge.
Sangria
Can you call something a cookout without a pitcher to please a crowd? Sangria is a mainstay for folks who don't want to man the bar all night, but the cognac twist here is what sets this one apart.
3 oz Rémy Martin VSOP
3 oz Cointreau
12 oz Tempranillo (or another dry Spanish red wine)
2 oz lime juice
4 oz orange juice
8 dashes Angostura bitters
Simple syrup (optional, to taste)
Build all ingredients, including ice, in a 32-ounce pitcher. Garnish with fresh-cut fruit.
Rémy Martin 1738 on the rocks
Sometimes you just need to let a liquor speak for itself. The 1738 has smoky notes, butterscotch, and stone fruit all pitching in on each sip. That kind of complexity pairs best with a big ice cube -- and maybe a hot dog.
Pour 2 ounces of 1738 over a large ice cube and enjoy.