5 Coffee Chains That Could Be the Next Starbucks
Coffee snobbery has come in waves. In the first wave, brand-name roasters like Folgers entered the American kitchen. The second wave popularized sugary espresso-based drinks through coffee shop chains like Starbucks, and the third wave is best known for suspender-wearing baristas who have masters degrees in latte art history.
Fancy third-wave coffee culture is easy to loathe, but it's hard to argue with a delicious, delicious hand-poured cup of heirloom Ethiopian beans discovered by the coffee equivalent of Indiana Jones. Which is why so many pour-over pushers have received huge investments to help them expand into a market near you. Read on to learn about the five biggest brands and what makes each likely to blow up big.
Est. 2001, Oakland, CA
Number of locations: 25 in the Bay Area, LA, New York, and Japan, with 10 more coming in 2016
Why it's unique: Blue Bottle started with the mission of never selling coffee longer than 48 hours after it was roasted. It still holds fast to that principle even with a network of 25 cafes, which pair a sleek minimalist design with pioneering brew methods like Japanese siphons. More than any other company on this list, the company has worked to acquire some of the biggest, buzziest names in the industry, from roasters like Handsome to subscription services like Tonx, and even instant technology through Perfect Coffee.
Why it might blow up: If a $70 million round of investment isn't reason enough, the dedication to a perfect cup and pursuit of it -- through not only the brand's own means, but by bringing some of the industry's most promising young players into the fold -- bodes well for its ability to adapt from a specialty experience into something that could be on every corner.
Est. 1995, Chicago, IL
Number of locations: 10 in Chicago, Los Angeles, and New York
Why it's unique: Intelligentsia earned big points with coffee nerds in the late '90s for pioneering the type of direct-trade relationships with farmers that are now the industry standard, but over the years has still kept up a rock-solid reputation amongst educated consumers. Rare single-origin offerings are the stuff snobs salivate over, but it still strives for a coffee shop experience that's as accessible as the Green Lady's. Plus, it has a wholesale arm that supplies some of the best coffee shops in the country.
Why it might blow up: The company has become synonymous with good coffee in its hometown of Chicago and adopted LA headquarters through not only exceptional beans, but also unpretentious shops. A $100 million investment from OG specialty roaster Peet's means that it's only a matter of time before that reputation spreads even further.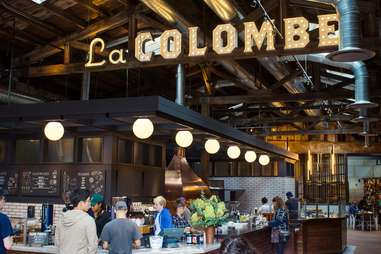 Est. 1994, Philadelphia, PA
Number of locations: 14 in New York, Chicago, Philadelphia, and DC, with a reported 150 more planned in the next few years
Why it's unique: La Colombe brings exceptional coffees to consumers in unexpected ways. Founder and coffee crusader Todd Carmichael has a rep as one of the most experienced sources of rare coffees on the planet as evidenced by his escapades on the Travel Channel's Dangerous Grounds, but his obsession also extends to brewing via an elaborate proprietary Dragon brewer (a manual brewer) and envelope-pushing innovations like draft lattes available both on tap and in special pressurized cans.
Why it might blow up: Like others on this list, La Colombe received huge investments ($28.5 million in 2014), which originally came from a private equity firm, but was then bought out by the founder of Chobani yogurt. The focus on innovative drinks is a big selling point, and the fact that the founder's enthusiasm has already earned him a place in pop culture bodes well for the brand to become a household name.
Est. 2014, Birmingham, AL
Number of locations: Five in Nashville, Birmingham, New Orleans, Chattanooga, and Atlanta, with three more coming in 2016
Why it's unique: While the other chains on this list started in coastal hotbeds of coffee culture, Revelator's roots lay in the South. Hospitality is paramount, and iced coffees and cold coffee cocktails are a big part of the offerings. However, the beans are still the first priority. Chemex pour-overs are the brew method of choice, loaded with one of four different seasonally sourced coffees.
Why it might blow up: No other chain on this list has made significant retail in-roads to the South like Revelator, and the company is doubling down on that success by partnering with local chefs to offer comfort dishes like Nashville hot chicken po-boys and gateway fancy coffee drinks like peach cold-brew sweet tea.
Est. 1999, Portland, OR
Number of locations: 10 in Portland, Seattle, New York, and Los Angeles
Why it's unique: Stumptown started off with the goal of elevating coffee to the level of more sophisticated drinks like wine, and its scrappy approach to that built it into one of the hippest brands in the food and drink industry. Everything about the brand screams Portland Cool, from the founder's punk-rock attitude, to footholds with some of the trendiest wholesale accounts across the country, to a fleet of cafes that evangelize both keeping it real and upgrading your coffee game.
Why it might blow up: In addition to investing in Intelligentsia, Peet's has taken a serious interest in Stumptown, going so far as to purchase the company outright. The cooler-than-thou image is a double-edged sword and it's much of what anti-snobs loathe about the third-wave coffee movement, but Stumptown's dedication to craft and quality should be serious enough to win over most skeptics.
Sign up here for our daily Thrillist email, and get your fix of the best in food/drink/fun.
Dan Gentile is a staff writer at Thrillist. He can't wait for these companies to open up shop in Austin, TX. Follow him to a stool at Figure 8 Coffee Purveyors at @Dannosphere.