Practical secrets to breaking into the bar industry from Dushan Zaric of Employees Only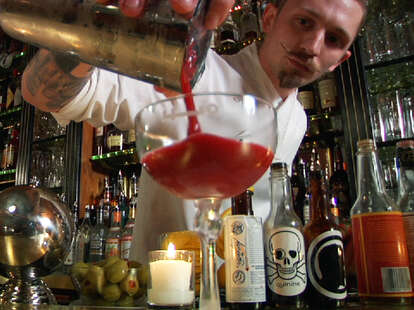 A man walks into a bar... and loses thousands of dollars, years of his life, and any chance at retiring before 75. While every dude dreams of running his own watering hole (even Flanders!), very few succeed, so to whet the pipe dreams of potential entrepreneurs we asked two of the honchos featured in the new craft cocktail documentary Hey Bartender! (premiered at SXSW, national release June 7th) to give their dos and don'ts of opening a drinking establishment
Dushan Zaric is referred to in the film as the Yoda of the bar industry. He founded Employees Only, an NYC cocktail spot whose expert mixology and unparalleled service earned them the distinction of World's Best Cocktail Bar from Tales of the Cocktail in 2011. Below he talks about the pros/cons of gentrification, drink pricing structure, and how important it is not to be a nickname for Richard to your staff. And after you're done, see how the advice of a seasoned, small-town barman compares
Don't name your bar Dick & Finger "The name has to inspire you to think about the concept in more ways than one. With Employees Only, it partially means that we want to primarily cater to other restaurant industry employees. But also, we as owners work that place continually for days and years every day of the week, which means we are employees as well. The third aspect is the speakeasy aspect. Your name has to tell more than one story." BONUS TIP: "I'm surprised by the lack of creativity in naming lately. Everybody has two words connected by an & -- like Salt & Pepper. Come on, alright already, be a little bit more creative. What's next, Rise & Shine?
A business plan is your best realtor "In business school when you want to open a restaurant, they tell you that you want a corner location, foot traffic, parking. It's all important, but how many people have those things and they still fail? You have to write a business plan before you find a location and choose your location based on the business plan. Either find a location that fits your plan, or you have to adjust it. If your concept is allowing you to make rent on an expensive location, hell yeah, go for it. But if you're going to open a reservation-only craft cocktail bar, and you pay $50,000 rent a month, don't do it. If you are opening in a high volume location, you have to have a high volume concept." BONUS TIP: "It's great to pioneer in a gentrifying area, but there's always this danger that you have now in Williamsburg -- the first question the clientele is still asking when they come is 'What is the cheapest beer?' If they can only afford one beer and a shot per night, you might look busy, but you're not making much money. Go out and do your research, spend your night on bar stools in the area and see what people are spending.
Find what makes you special (ask your mom!) "Your bar's identity has a lot to do with you as a founder and concept creator. How are you as a person? If you're that serious young mixologist who learned how to bartender from reading vintage cocktail books, I'm afraid you have nothing new to offer. A ton of other people have read those books. You're not going to be very unique. I would suggest very strongly to ask what makes you special as a human, and put that out there. Because you will always lead by example. Your bar will only be as good as you are." BONUS TIP: "If you're going to choose a theme, do your research. Visualize everything you're going to put into it before you even begin to build it. Know exactly what your lighting will be, your surfaces, the level and type of music, the attire, the way that the staff behaves.
Avoid a staff infection "Remember that hospitality starts from the top down. Your staff will pick up on your personality. It trickles from ownership to management to staff to guests. You can't be a dick to your staff and demand hospitality from them. It's ass backwards. Everyone who works for you, not just with you, should come with a smile on their face to work. It's your responsibility to make them happy about the place that they work." BONUS TIP: "Go around to people who you like the way they work and that subscribe to your philosophy and work ethic. Make them an offer to work for you.
Plan for the future or else you'll repeat the past "First thing I'd tell prospective bar owners is that it's easy to get into a deal, but hard to get out. Know what you're going to do when you need to leave. Nobody thinks about the way out. But you've gotta ask yourself, what am I going to do if it's not successful and I have to leave. Or if it is successful but I still need to leave. Contracts, operating agreements, very important." BONUS TIP: "How you price your drinks is all based on liquor costs. Take all the ingredients and they should be at most 20%. All the ingredients, ice, lemon juice, simple syrup, breakage of glass, everything."