How to Spot a Bullshit Beer Festival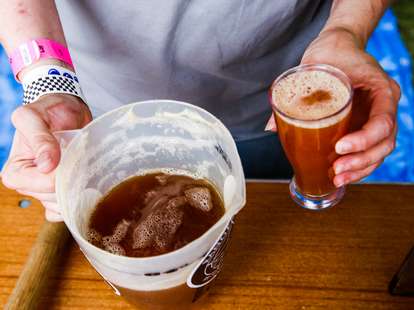 Craft beer festivals: love them or hate them, these sudsy money-makers have been not-so-quietly taking over the beer industry's eventscape at a mind-boggling pace. In 2015 alone, Beer Festival Calendar publisher Paul Ruschmann documented a record 1,478 different festivals worldwide, more than five times the number of events featured in the site's very first round-up back in 2001.
To him, this explosive gain makes total sense. "The proliferation of festivals goes hand in hand with the craft beer industry's growth," explains the accomplished beer writer. "The number of American breweries has doubled in just the past five years -- there are now well over 4,000 -- and with so many beers on the market, a festival is an inexpensive, low-risk way to try out new ones."
As a professional beer aficionado (aka massive nerd), I've seen my fair share of beer festivals. I've reported on them, judged them, volunteered for them, and Lord knows I've drank at them. Some are downright amazing -- where newbies rub elbows with industry legends and the next breakout brew is just a sample away -- but the ones that miss the mark, however, can be majorly awful fails. Picture hordes of pretzel necklace-clad mouth breathers and tank-topped spring breakers pounding corner store-quality imperial IPAs like vodka shots. These guys are all about drinking hard and fast -- which is fine, of course, but probably not worth that triple-digit ticket price. So how do you tell a legit fest from a bullshit one? Keep your eyes peeled for these seven red flags and thank us later.
There aren't many local breweries
This might be the most easily identifiable BBF red flag. If a fest's lineup is dominated by recognizably out-of-state breweries, it's probably a bust (unless it's an internationally focused festival, of course). With that kind of setup, odds are the actual brewers -- i.e., the guys that know the most about their beer -- won't show, and your brew will be poured by a bunch of confused volunteers and overtasked distribution reps whose primary concern is moving the line along.
Snacks cost extra
Depending on the ticket price, you should definitely expect to come across some sort of free food throughout the day. Advertising pay-as-you-go food trucks or restaurant booths is a clear sign that your fest is more interested in your hard-earned cash than spreading the good beer gospel. If a festival takes good care of you, it's likely taking good care of its beer.
Bottles outnumber jockey boxes
Though not always foolproof, paying attention to each booth's pouring system is a simple and subtle way to suss out a festival's legitimacy. Jockey boxes (or any other portable draft setup) ensure that the beer you're tasting is fresh and increases your chances of encountering a rare or experimental new batch. If everyday bottles way outnumber these little rigs, you could be paying $80 to soak up a distributor's backlog.
It's only pouring beers you can find at the grocery store
"Festival-goers expect to see beers they can't get at their local bar or the grocery store," Ruschmann says, pointing out one of the most prevalent BBF indicators. "It's immensely frustrating to pay $50 to go to a festival and find nothing but the usual suspects on the beer list." Before forking over the dough, make sure the brewery list is as diverse as it is long.
There's no water in sight
"No matter how good the beer is, logistical snafus can ruin the day," notes Ruschmann. "The better festivals look after the little things, which actually aren't so little, such as plenty of opportunities to stay hydrated." If a festival is drier than Los Angeles in August or only stocks bottled water for purchase, it's likely it's just trying to get you in, get you tanked, and get you out without much concern for your overall experience. Also keep your eye out for waterless brewery booths, since any brewer worth their salt prefers a rinsed glass.
Bloggers aren't repping it
Next time you spot a questionable fest, first search the local beer blogs to see if they've posted anything about the festival to their sites or social media. If prominent members of the craft beer community have publicly endorsed an upcoming festival, it's most likely worth your time and money. And if they don't know about it, you probably shouldn't either.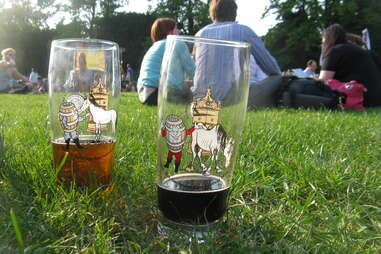 The tasting window is less than three hours
This is another logistical no-no. If you're dropping a bill on a beer fest, you better be guaranteed at least three hours of hang time. Craft beer has never been about rushing through life so craft beer festivals shouldn't be either -- and the ones that speed you along are clearly just trying to maximize profits. A quality beer fest knows these things take time to do right, especially when dealing with unavoidably long lines and a huge array of kick-ass beer.
Sign up here for our daily Thrillist email, and get your fix of the best in food/drink/fun.
Meredith Heil is a staff writer for Thrillist. She's got a drink on her mind and her mind on her money, yeah. See more badly appropriated hip-hop lyrics at @mereditto.