8 Mike Tyson's Punch-Out!!-themed boozy punch recipes, knocked out by the country's top mixologists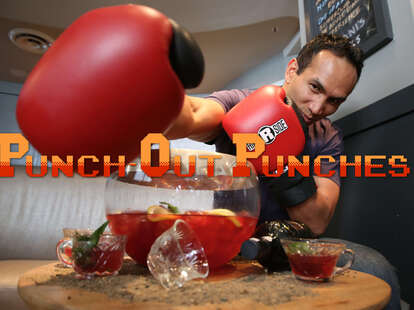 Since Punch-Out!!'s inception in 1987 as THE game you had to master if you wanted to have any chance to tongue-kiss Meredith Simms, the world has waited with bated breath for forward-thinking geniuses to come up with the idea to make booze-filled punches based on actual punches thrown by boxers in the game. But since those geniuses were too busy doing something stupid like creating the Internet, we decided to take it upon ourselves to ask some of the best mixologists from NY, Chicago, SF, Austin, Portland, Seattle, and Denver to make their own and give you the recipes.
Little Mac's Upper Cut Star Punch, by Hill & Dale's Elliot Carlson, New York City

If you want to look good in tight black tank tops and are willing to jump-punch dudes literally twice your size, kick things off with this simple, literally star-studded recipe that "doesn't look threatening" but is meant to be served in shot glasses and consumed quickly because, like Mac's punches, the speed eventually takes its toll. Oh, and the 151 on the side is apparently there to mimic Mac's "power up", because it will really "knock you on your ass".

How To Make It (Serves 10):
1 liter Earl Grey tea, iced
.25 liter Sailor Jerry spiced rum
1 part orange juice to taste
1 part fresh squeezed lemon juice to taste
A handful of star anise
Soda water
1 bottle Bacardi 151

Directions: Combine the tea, spiced rum, OJ, and lemon juice in a punch bowl. Top with soda water and a handful of star anise. Serve quickly in shot glasses with an occasional 151 "power up". Start wearing tight black tank tops ALL THE TIME.
Soda Popinski's Soda Fury Punch, by Headquarters Bar's Tim Williams, Chicago

You know what giant, Speedo-clad, Soviet boxers love to drink before punching people? If you said cream soda and Commie-red cherry liqueur, you've clearly been cheating and reading ahead.

How To Make It (Serves 10):
10oz Evan Williams
7.5oz Cherry Heering cherry liqueur
5oz fresh lemon juice
12oz IBC cream soda

Combine in punch bowl and ladle out into ice-filled Collins glasses garnished with lemon peel and luxardo cherry.
Great Tiger's Magic Punch, by Raven & Rose's Dave Shenaut, Portland

Shenaut's take on India's bobbing, weaving, and teleporting big cat lover features a special tea syrup made using Bombay Breakfast tea, and the Indian booze arrack, which, according to the Internet, is now illegal in certain parts of that country, making it even more awesome.

How To Make It (Serves 12):
18oz Cruzan single barrel rum
6oz Batavia arrack
9oz oleo tea syrup*
9oz fresh lemon juice
3oz B.J. Reynolds orgeat

Dilute using 2 cups of crushed ice and 6oz of Boylan's seltzer, then garnish with fresh grated nutmeg and lemon wheels.

*Four simple steps to make tea syrup and feel cool:
Peel 2 grapefruits.
Cover with .5 cup of super fine sugar and let sit for an hour.
Stir in 8oz of double strong Bombay Breakfast tea (Jasmine Pearl Tea Merchants).
Strain and discard peels.
Piston Honda's Sakura Punch, by Drink.Well's Jessica Sanders, Austin

Drink expert Sanders punches you straight in the mouth with her logic behind this one, noting that "Beefeater 24 gin has a unique botanical structure that includes Japanese sencha green tea - a fitting base spirit to pay homage to Honda." Not enough for you? Well, "the theme music played for the character in the game is "Sakura", a Japanese folk song that pays tribute to the beginning of cherry blossom season." So, yeah. Also awesome: Honda is portrayed in the above photo by Austinite and noted badass ramen maker Shion Aikawa of Ramen Tatsu-Ya.

How To Make It (Serves 12):
16oz Beefeater 24 gin
6oz chilled cherry sencha tea
4oz Bittermen's Citron Sauvage liqueur (or other bitter grapefruit liqueur)
4oz coriander-infused simple syrup
4oz fresh lime juice
6oz sparkling sake

Use a large tupperware container to freeze a punch bowl ice cube the night before making your punch. If you want to be extra fancy, freeze some fresh cherries and lime wheels in the cube overnight. Mix all the ingredients for your punch and pour over the large cube in a punch bowl. Stir gently until chilled and diluted just a bit. Serve in punch cups (or even tea cups!) and garnish each cocktail with a fresh cherry and lime wheel.
Don Flamenco's Una Rosa Punch, by Punch Bowl Social's Patrick Williams, Denver

Though it's hard to believe you can be a ladies' man when you just make squawking noises, Williams plays off of the Don's Spanish background and penchant for "tossing roses to ladies at the fight" with this concoction.

How To Make It (Serves 10):
15oz of Torres 10yr Imperial (Spanish) brandy
5oz DOM benedictine
7.5oz fresh lemon juice
7.5oz lavender syrup (simply steep lavender petals in a hot simple syrup)
.5oz Fee Brother's rose flower water (to taste)
10 dashes of grenadine
15oz of Torre Oria cava, or Spanish sparkling wine

Make a punch bowl ice cube the night before (see Honda recipe above), then mix all your ingredients for the punch and pour over cube in punch bowl. Top off with sparkling wine and serve in Hurricane glass, "since Don is tall and skinny".
Vodka Drunkenski's Vodka Punch by Primo's Max Borthwick, Seattle

A nod to the character Soda Popinski was before Nintendo execs freaked out about children battling perhaps the most crudely named Russian stereotype in the history of video games/life, Borthwick balances the boxer's native spirit of choice with a bunch of fresh things you could never buy in the Soviet Union. U-S-A! U-S-A!

How To Make It (Serves 10):
1 pint Monopolowa Russian potato vodka
10oz fresh beet juice
5oz fresh lemon juice
5oz raspberry liqueur
5oz simple syrup
1 dozen raspberries, and lemon & cucumber wheels
1tsp cucumber bitters
Champagne float

Mix all ingredients together in a large punch bowl, then garnish with raspberries and lemon and cucumber wheels. Top off with Champagne.
Mister Sandman's Dreamland Express Punch, by Jasper's Corner Tap's Kevin Diedrich, San Francisco

One of the top bartenders in the Bay and a rather large Punch-Out!! fan, Diedrich's take on Mister Sandman has shout-outs to Philly with the Bluecoat gin because the Mister Sandman character "is based on the Philly boxer Joe Frazier", and includes Sandeman port because… his f&%$ing name is Mister Sandman.

How To Make It (Serves 10):
1 cup Bluecoat gin
1 cup Sandeman port
.75 cup Pierre Ferrand Dry Curacao
.75 cup fresh squeezed lemon juice
.5 cup cane syrup
1 cup sparkling wine

Mix all the ingredients in punch bowl, top off with sparkling wine, and garnish with seasonal fruit.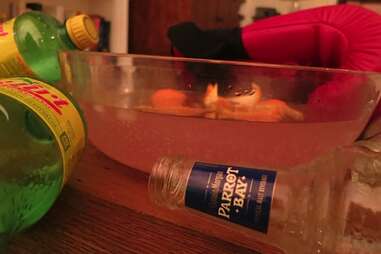 BONUS: Glass Joe's Weak-Ass Punch, by the Thrillist Editors

To celebrate the dude who is literally weak as sh*t, we spent HOURS in the Thrillist Test Kitchen trying to come up with a comparable punch recipe. And when that failed, we did this:

How To Make It (Serves 10-12 pathetic dudes):
22oz of Captain Morgan Parrot Bay Matava Blue Berry & Kiwi malt beverage
40oz of Squirt soda
Orange peels for garnish
Ice, or whatever

Open two bottles of the Captain Morgan Parrot Bay Matava Blue Berry & Kiwi malt beverage you bought from your local bodega because he was selling them individually and didn't have Smirnoff Ice Raspberry Burst. Smell them. Shudder. Empty them into a plastic salad bowl. Add two 20oz bottles of Squirt. Dump in some old ice from your freezer tray. Eat an orange. Stare at the orange peels for awhile, then realize you could probably throw those in, too. Ladle into glassware, obviously.