Most people's coffee habits are deeply ingrained, and hopefully not pre-ground. But the times they are a-changing, and with them a whole new wave of coffee innovation.
This year at SXSW Interactive we sat in on the Next Wave Coffee: Technology and the Way We Drink panel with Erin Meister (Counter Culture), Cameron Hughes (inventor of the Invergo), and Lawrence Marcus (senior digital editor at Food & Wine) to learn a few ways your coffee-drinking might evolve in the future. Read on and be one step ahead of the morning cup of tomorrow.
Technology will make it to origin
Most coffee farms are still relatively low-tech, but innovations like mechanical dryers can do processes that used to take three weeks in a single day.
 
Commodity coffee will become less common
Just like how the craft beer movement has taken some market share from macrobrews, the same will happen with specialty coffee.
 
Sustainable farming will become more common
More consumers are starting to realize the dangers of factory farming, and that sense of social responsibility will eventually also apply to coffee farms. Issues like farmer wages and climate change will become more common knowledge, and as more money begins heading to responsible farmers, their neighbors will take notice.
 
People will be willing to pay more
Consumers in Asia are shelling out $20 a cup for limited lots of ultra high-grade coffee; that trend will eventually trickle down to the US.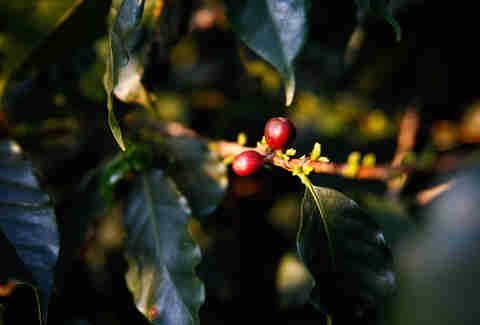 Coffee's taste will change
It's easy to forget that coffee's actually a fruit, not a smoky bomb of sprudge. As specialty roasters become more popular, fruitier flavors will become more prominent.
 
The Invergo
Pour-overs are all the rage in coffee nerd circles and convenience is the trend everywhere else. Invented by one of the panelists, the recently Kickstarted Invergo is an efficient middle-ground.
 
The Internet of things will include coffee makers
A pair of super-expensive coffee machines have just hit the market (the Blossom One and BKON) with Wi-Fi capability such that they can download and execute recipes from coffee roasters for the best way to make their specific beans.
 
Milk and sugar will become less popular
As appreciation of more complex coffee flavors grows, people will be less likely to douse their coffee with milk and sugar.
Dan Gentile is a staff writer on Thrillist's National Food and Drink team. The future of his coffee-drinking starts at 3pm today. Follow him to afternoon pour-overs at @Dannosphere.