Paid Content For
The Perfect GREY GOOSE® Cocktail For Every Occasion
Paid Content For
Try and dispute the versatility of the almighty cocktail. Come on, try. From the spirits to the mixers to the garnishes, you can't deny cocktails -- particularly vodka cocktails -- have infinite range, making them the perfect companion for any and every occasion. Of course, going through them all would be impossible, so we're starting with one of our favorite spirits: GREY GOOSE® vodka, worthy of the most special celebrations, big or small. Using their various flavors, the expert mixologists at GREY GOOSE have devised hundreds of cocktails, each one perfect for a festive party, a quiet night in, or just a regular Sunday in the backyard. And sure, this might sound daunting for the home bartender, but fear not. We've put together a guide that proves no matter the celebration, there's a perfect GREY GOOSE cocktail to match.
Toasting to the freedom of a Summer Friday:
Nothing calls for a celebration quite like getting out of work at 2pm. When the clock strikes Summer Friday, it's time to whip up a light and refreshing Le Grand Fizz. This cocktail has chilled PERRIER® to add some liveliness, GREY GOOSE vodka, and ST~GERMAIN® elderflower liquor (with aromatic fruity taste). Perfectly sweet and just slightly tart, this cocktail is just what you need to wrap up a long week.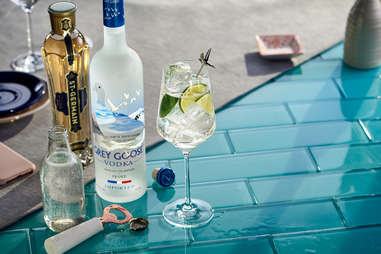 Le Grand Fizz
INGREDIENTS:
1 part GREY GOOSE vodka
0.5 parts fresh lime juice
0.75 parts ST~GERMAIN
2 parts cold PERRIER
DIRECTIONS:
1. Add spirits and other ingredients to a wine glass.
2. Garnish with a fresh lime wedge.
Impressing a big date:
OK, so you're bringing a date back to your place. Don't panic…unless, of course, you forgot the cocktails. Cue the Black Orchid. In addition to GREY GOOSE L'Orange flavored vodka, this cocktail includes Crème de Violette®; this underappreciated liqueur is made from actual violet flowers and has a deep purple color and sweet, floral flavor that won't be easily forgotten. While this one is relatively easy to make, it takes a little bit of planning when it comes to the edible flower garnishes -- but it's well worth the payoff. The delicate flavors pair well with food, too. Try something that won't overpower -- like semi-briny oysters -- and your date will be calling you "the one" in the car ride home.
Black Orchid
INGREDIENTS:
1.25 parts GREY GOOSE L'Orange flavored vodka
1 part fresh lemon juice
0.75 part Crème De Violette
0.75 parts simple syrup
dash of peach bitters
DIRECTIONS:
1. Add all ingredients to a cocktail shaker filled with ice, and shake vigorously.
2. Strain into a chilled martini glass, and garnish with an edible orchid or other flower.
Beating airport traffic with an hour to spare:
Early to the airport and breezed your way through security? Why not toast to the occasion with a pre-flight drink? But definitely not a flat, overpriced beer. Instead, see if the bartender can whip up a French Hawaiian. This modified Mai Tai -- which features 100% naturally flavored GREY GOOSE L'Orange flavored vodka instead of rum and curaçao -- contains the full range of citrus flavors. It combines lime, blood orange, GREY GOOSE L'Orange flavored vodka, and aromatics for a Tiki-esque cocktail that'll have you in beach mode before you even take off.
French Hawaiian
INGREDIENTS:
3.5 parts GREY GOOSE L'Orange flavored vodka
1 part freshly squeezed lime juice
1 part blood orange syrup
0.5 part orgeat syrup
dash of aromatic bitters
DIRECTIONS:
1. Build and serve over crushed ice.
2. Garnish with pineapple leaves and a couple of drops of bitters.
Hosting on a moment's notice:
When friends or in-laws decide to drop by last minute, you'll need something to quickly set the mood and prove that you're the hostess with the mostest (no matter what's sprung on you). The solution is the Salty Dog. The drink is simple to mix up with just two easy-to-find ingredients, and the fresh grapefruit juice gives it a bright pink hue. Two quick garnishes complete the look and add a level of sophistication that says, "Stressed? Who, me? Psh, I can host a party in my sleep." Total prep time is short, but the result is a picture-perfect cocktail that'll look planned out.
Salty Dog
INGREDIENTS:
1 part GREY GOOSE vodka
2 parts freshly squeezed pink grapefruit juice
salt for rim
lime quarter
DIRECTIONS:
1. Combine the vodka and juice in a cocktail mixer.
2. Shake and pour over ice in a salted-rim Collins glass.
3. Garnish with a lime quarter.
Post-hike relaxation:
Some people hike for the workout; some people hike for the views; some people hike so they have an excuse to kick back afterwards. We're the last. Nothing makes cooling off from a hike better than some shade, a hammock, a cool mixed drink in hand. Once you've made it off the trail, kick back with a Fresh Berry Lemonade. Since this cocktail doesn't rely on any delicate flavors or complicated ingredients, you can mix up a batch before your trek and have it ready to serve as soon as you're back -- and fully reclined.
Fresh Berry Lemonade
INGREDIENTS:
1 part GREY GOOSE Le Citron flavored vodka
small handful of raspberries
4 parts fresh squeezed lemonade
1 tsp sugar (optional)
DIRECTIONS:
1. In a cocktail shaker, muddle half the raspberries and sugar.
2. Pour into a highball glass with ice and add the GREY GOOSE Le Citron flavored vodka and fresh squeezed lemonade.
3. Garnish with lemon and remaining raspberries.
Enjoying a quiet movie night at home:
Everyone needs a night off from the crowds and the parties -- we get it. But there's no need to go it completely alone. Summer movie nights call for a flavorful sangria. This unique GREY GOOSE spiked version also blends blood orange juice and Crème De Mûre (a deep purple blackberry liqueur) for a fruity, cozy cocktail. Add in fresh juice instead of cut fruit, so the sangria won't need to marinate all day like other varieties. The end result is a drink that's refreshing and not too strong -- and pairs well with even the biggest tear-jearker.
Blood Orange Sangria
INGREDIENTS:
1.75 parts GREY GOOSE vodka
1 part French pinot noir
1 part fresh lemon juice
6 parts fresh pomegranate juice
1 part fresh blood orange juice
0.5 parts Crème De Mûre
3 orange wedges
3 lemon wheels
pinch of powdered clove
DIRECTIONS:
1. Add spirits and other ingredients in a wine glass over crushed ice.
2. Stir well and garnish with fresh pomegranate seeds and a slice of blood orange.
When the party starts at midnight:
Everyone loves a little late-night dinner followed by dancing -- but that three-course meal and truffle linguine is making you love the idea of bed just a bit more. Enter the Espresso Martini Cocktail, a drink that combines the jump-start of espresso with the feeling of dessert. A little bit of sweetness and salt brings out the coffee flavor and balances it perfectly with GREY GOOSE vodka. It's the perfect after-dinner digestif for when you know the evening isn't ending anytime soon.
Espresso Martini Cocktail
INGREDIENTS:
1.75 parts GREY GOOSE vodka
1.25 parts single origin espresso
1 part PATRÓN XO Café®
3 coffee beans
pinch of salt
DIRECTIONS:

Add spirits, salt, and espresso in a shaker.
Shake briskly and strain into a cocktail glass.
Garnish with three coffee beans.
The extra special picnic:
Forget the chips and warm wine. Anyone can throw a well-to-do picnic with some fancy cheeses, gourmet finger foods, and the perfect elevated cocktail. Might we suggest the Cotes d'Azur (a drink that sounds so lavish and French, you might even convince yourself you're European royalty). There are two secret ingredients in this cocktail. The first is GREY GOOSE Le Citron flavored vodka, which is made from 100% natural flavors, has no added sugar, and is gluten free. The second key ingredient is Fleur de sel, known as "the caviar of sea salts". Together they have a refined taste that add a touch of delicacy to the drink's flavor. Add in the layered grapefruit flavor, and this cocktail makes a perfect complement to creamier cheeses like brie, or sweet foods like palmiers. Plus, it's simple enough to mix in a cooler and carry to wherever you plan on spreading your blanket.
Cotes d'Azur
INGREDIENTS:
2 parts GREY GOOSE Le Citron flavored vodka
3 parts pink grapefruit juice
1 pink grapefruit wedge
1 pink grapefruit zest
Fleur de sel
DIRECTIONS:
1. Rim the outside edge of a rocks glass with a small wedge of grapefruit.
2. Carefully coat the outside edge with Fleur de sel.
3. Add ingredients.
4. Add cubed ice and stir.
5. Garnish with a pink grapefruit zest.