How I Learned Bartending Is a Seriously Hard Job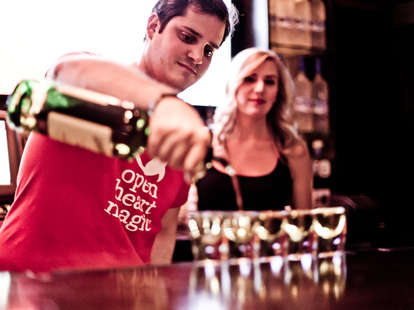 Steven Karl Metzer
Steven Karl Metzer
Staying calm under pressure: it's an essential skill for firemen and astronauts, but I've always had my doubts about whether it was really all that crucial for bartenders. Sure, everyone knows the gig brings some stress, but does it really bring "hurtling a million miles an hour towards the sun in a tin can" levels of stress? So it was pretty much perfect that Thrillist and Gillette Clear Gel sent me -- a novice who's never poured a pilsner professionally, much less muddled a mojito -- to work a guest shift behind one of Chicago's busiest bars.
After my first and probably last bartending shift at The Fifty/50, I'm ready to apologize to every bartender whose job I so wrongly considered a breeze. Making drinks for people like me is a freaking nightmare.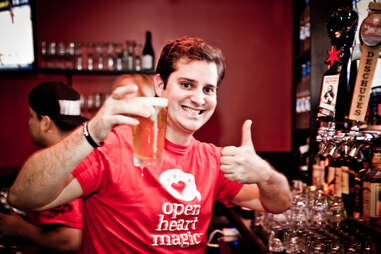 Even the basic stuff is tough
Brittanni (there's not even one typo there, I swear) would be my trainer and muse for the duration of my shift. Seeing her handle everything thrown our way without breaking a sweat or throwing a shot glass at the wall was awe-inspiring. Thanks to the Gillette Clear Gel, I wasn't breaking a sweat either, but I was a lot closer to the hurling-shot-glasses stage than I realized.
The night started out easily enough though. It was a private party of 20 bros who seemingly didn't realize their wristband package included anything more complicated than light beer. Their unawareness gave me a chance to master the technique of opening a screw-top beer with a bottle opener -- sanitation rules apparently mean that when you're behind the stick, even the simplest tasks can get at least a little more complicated.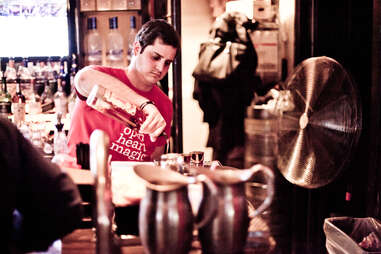 A few brave souls ventured beyond the triple-hopped macro to order a gin and tonic or vodka soda. While those basic drinks sound simple enough, it turns out bottle shape and volume make free pouring far more difficult than simply counting to four. Trust me; I pride myself on my counting skills, and it didn't matter.

It was like The Fifty/50's gravity got turned up. While my body wasn't crushed like my dreams, the effect on the liquid was such that one lucky guy got what was basically a glass full of gin with just the memory essence of tonic. Who knew there was an art to the act of turning a bottle upside down?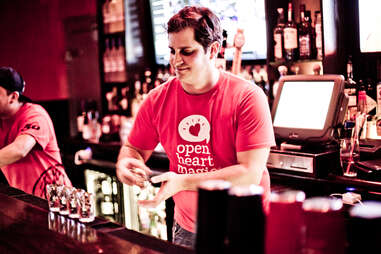 They have to pump up the volume
It didn't take long for patrons without wristbands to roll in. Even with just five people waiting for drinks, it was tough to keep up. Customers started waving at me like I was a spider monkey on display at the zoo. Do people even realize that bartenders have eyes? And that spider monkeys don't appreciate people waving at them? I was on the verge of stabbing someone with a cocktail straw I'd sharpened into a shiv while Brittanni casually danced behind me with shots for what seemed like 150 people.
They've got to deal with every kind of crazy
I quickly learned a valuable lesson: There's a certain breed of customer that'll discover they have something/anything in common with their bartender and instantly become their best friend, which in my case was terrible, because when you're frantically trying to remember where the whiskey's at you don't have time for best friends. I brought it on myself by wearing a hat of a certain professional sports team that's the most popular in Chicago, drawing the attention of the only other fan in the bar, who kept calling me over just to reiterate the knowledge of our shared passion.
Go home, dude.
They've got to remember a bazillion (estimated) recipe combinations
I botched my first non-wristband drink of the night by using soda instead of tonic, and it happened to be for a regular. So that was a good omen. The Fifty/50 has a lengthy list of specialty cocktails, and I was dreading the moment someone would order something with more ingredients than the two I'd already proved I couldn't deal with.

Naturally, a friend of mine decided to test me by ordering a Tom Collins. Now I've had plenty of Tom Collins in my day, but never once have I stopped to think exactly what was in it, or how much, or whether the plural was actually Tom Collinses. All I knew was it involved gin, citrus, and something bubbly. Helpless, I asked my buddy to Google it – on his flip phone, no less.

As I learned to make an ancient, foundational cocktail from a relatively old phone, the barback Angel cracked up in the corner. Thanks man! At least my deodorant was supporting me.
Brittanni looked over after the fact and rattled off the ingredients, as well as those in two-dozen other drinks she thought people might order that night. I was able to remember about zero percent of what she said.
Female bartenders get hit on constantly, and not like in a good way
We were slinging drinks in rapid succession (or at least one of us was rapid) when a liquidly courageous guy who'd been trying to engage every lady in the bar turned his attention towards Brittanni. He thought one in the morning would be the perfect time to ask the bartender to dance. If I were her, I would have belittled the guy, lost any chance at a tip, and potentially been fired, but she managed to peacefully turn him away in sub- 5 seconds all while continuing to simultaneously make cocktails and pour rounds of cinnamon-infused whiskey.
They sometimes have to deal with people like me
Brittanni somehow remained calm for the entire night while I repeatedly considered drowning myself in the glass-cleaning sinks. Five straight hours of non-stop service is rough enough; adding in having to deal with my incessant mistakes would've pushed a mere mortal over the edge, but she never got rattled. Now that I've experienced what it's like, I'm getting the sense that a lot of the better bartenders I've had share her Zen. Here's to you, barkeep. Thanks for doing on the regular what I might not have the courage to try ever again.
And thanks to Gillette Clear Gel for keeping me dry throughout. If I'd gotten as drenched as I was befuddled, I might now be too embarrassed even to come back here and drink, and I really love this bar.