A crazy, behind-the-scenes tour of the New Belgium brewery
It's hard to believe that New Belgium blasted open its doors at the dawn of Grunge -- 1991, three years after Fat Tire was first brewed in Kim Jordan and Jeff Lebesch's basement. Despite no longer being headquartered underneath a house (they're now the third largest craft brewer in America), the company remains a quirky playground populated by both microbiologists and circus folk. We did their famous tours one better and went behind the scenes to see just how different, unique, and flat-out odd things in Fort Collins could get.
Rebecca Stumpf
This is the "Mothership" -- no matter how state-of-the-art its equipment gets, it never fakes the funk.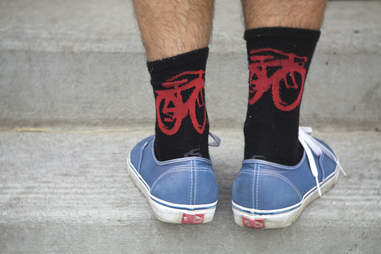 Rebecca Stumpf
One of two OG New Belgium beers (the other being Abbey), Fat Tire was named after a bike co-founder Lebesch rode on a beer-soaked 1980s tour of Belgium. Tragically, it took several more decades to get the logo on these sweet socks.
Rebecca Stumpf
Pouring six days a week, the "Liquid Center" public tasting room is the starting point for all tours…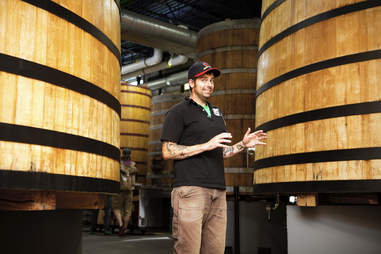 Rebecca Stumpf
… followed by a descent into Cache La Foeder, the largest wood cellar in the U.S., so named for a combination of Cache La Poudre (the kind of hilariously named river just outside) and "foeders", the giant oak barrels their sour beers are aged in.
Rebecca Stumpf
Peter Bouckaert, former brewmaster at Rodenbach, joined the team in 1996 and nurtured the sour program. How it works: Oscar lager is aged 1-3 years. Every three months, the foeders are tasted and blended with each other, each receiving a bit of the original, Foeder 1. Through a long process of master blending and microbial activity, the flagship sour, La Folie, is born.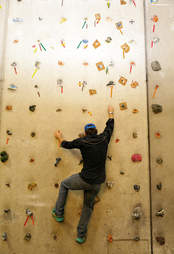 Rebecca Stumpf
The Cache's rock-climbing wall. Do not try this at home, unless you also have a rock-climbing wall.
Rebecca Stumpf
"Brand Activist Man" Adrian Glasenapp's been around well over a decade, contributing to a kind-of-ridiculous employee retention rate of 97% -- apparently also the percentage of time Glasenapp spends shirtless on any given work day. The two main reasons for that retention: the aforementioned shirtlessness, and the brewery's 100% employee ownership.
Rebecca Stumpf
The Mothership's seen 25 or so major expansions, including the construction of "The Bottling Plant", which was quickly renamed "Thunderdome". The super-efficient system pumps out 700 bottles per minute and only takes eight people to run smoothly, among them 20yr vets (seriously, no one ever leaves) Devon and John, and a night guy named Jay Brower, who is legendary for... many, many things.
Rebecca Stumpf
The brewing underbelly involves miles of tubing, meters, gaskets, plugs, protective eyewear, and… dope beats. Speakers are at every corner and brewer, and music authority Eric Salazar spins tunes like Clutch, Beastie Boys, and early Allman Brothers ('70-'71 only!).
Rebecca Stumpf
Ping pong's been a bottling plant staple since the original site in what's now the Cache La Foeder. Badminton Sundays were too until they were shut down because badminton is strictly forbidden in bottling plants (who knew?).
Rebecca Stumpf
While this solar panel is clearly more sexually attractive than most, it's not the facility's only ray-grabber -- 881 of these bad boys sit on the roof powering the Thunderdome.
Rebecca Stumpf
When New Belgium hit batch number 40,000 they celebrated by first cracking open 40s, then by brewing their own malt liquor, Cobra Horse. Why is it called that? Because Cobra Horse.
Rebecca Stumpf
Widely credited with cashing more 40s than anyone is "Social Networking Nerd" Michael Bussmann, who started out as a New Belgium carnie. A what? Glad you asked:
Rebecca Stumpf
In a small garage behind the brewery, next to the Methane Bubbles (more on those later), across the Pit of Despair, and through the Fire Swamp is the Carnie Workshop.
Rebecca Stumpf
These full-time employees (along with several New Belgiumites not pictured here) are responsible for running the fantastical, nation-touring bicycle procession known as the Tour de Fat. They build the installations, make totally rad mutant bikes, set up the sh*tters, lock down the musical talent, and attach baby doll heads to a bunch of stuff.
Rebecca Stumpf
Accidents can happen here. Rest assured the proper medical treatment will be administered.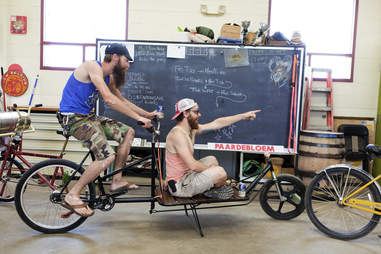 Rebecca Stumpf
Bryan King and Pete Limbach: a talented crew who know that a proper Tour de Fat means screws loose in your head, not on your bike-monster.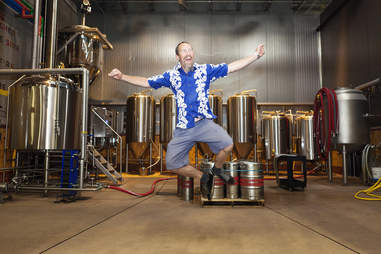 Rebecca Stumpf
As "Director of Fun", Brian Callahan is in charge of boosting company morale through quality bathroom reading, departmental retreats, volleyball tourneys, getting people beers, driving them home, and making them breakfast.
Rebecca Stumpf
"Oh, hey, I didn't even see you there." Underneath this sexy male model is the E-Beer stockpile, an initiative that gives employees a free weekly 12-pack based on the crazy theory that people who work in breweries like to drink beer.
Rebecca Stumpf
New Belgium brewer Jared Leidy has a credo we could all stand to live by: "Life is too short to wear long shorts".
Rebecca Stumpf
The art of brewing starts at a microscopic level.
Rebecca Stumpf
That's why New Belgium employs highly trained scientists who wear lab coats and everything. They are: Kelly (she runs the show), Brent ("Mr. Biologist") and Ryan (Greg Brady impersonator/microbiologist).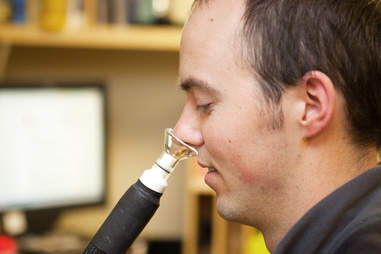 Rebecca Stumpf
The Quality Assurance Department's fancy gadgets include this gas-chromatograph machine with olfactory port attachment… aka the SMELL-O-METER. Place a drop of beer inside and smell individual properties like grapefruit, bubblegum, wheat, manure… it's so delicious.
Rebecca Stumpf
What's funny is that, despite all the science, all new beer recipes are ultimately decided by the ancient Belgian "game-show method".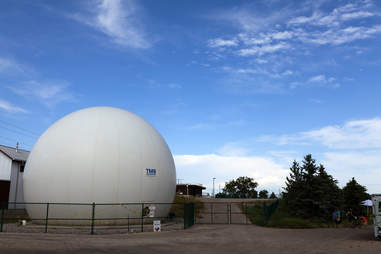 Rebecca Stumpf
3.9 barrels of H2O to one barrel of beer means three barrels of water waste that's piped out to these giant methane bubbles, where anaerobic digesters eat the impurities like they were at a Vegas buffet. The methane is pumped back into the brewery, where burning it in an ozone-safe manner covers 15% of New Belgium's electricity nut.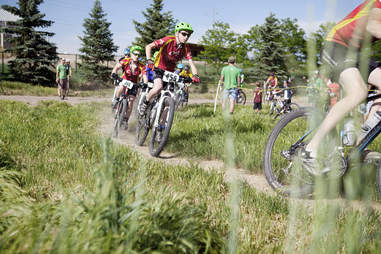 Rebecca Stumpf
Every Tuesday night behind the methane bubbles, New Belgium hosts short track mountain bike races for everybody (kids, beginner adults, semi-pros, dudes who ride in jean shorts, old men in revealing biking shorts), with all proceeds going to the Ciclismo Youth Foundation.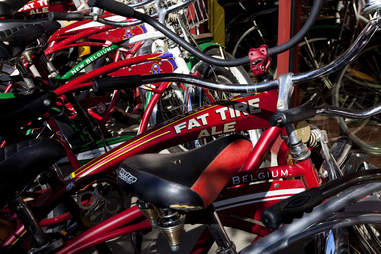 Rebecca Stumpf
After that, everybody hops on their own Fat Tire, and the Circle of Beer and Thing Beer Was Named After is complete.